South African Online Casinos – Current Legal Situation in the Country
South Africa is one of many countries around the world where only land-based gambling is permitted. The National Gambling Board has a role equivalent to that of the UKGC, which means that it is responsible for regulating the gaming venues located within the borders of South Africa. That being said, there are some South African Online Casinos that have been granted licenses to operate and provide their services to citizens of the country. Find out more in the following guide!
Are Online Casinos South Africa Legal – Details on South African Online Casino Laws
The history of gambling in South Africa is one of proscription and prohibition. It has been strictly forbidden in all of its forms since 1673. In more recent times the 1965 Gambling Act had once again banned all types of gambling, with the sole exception of horse betting which is regarded as being a sport. It took another 30 years and over 2000 illegal casinos before the newly elected democratic government took the required steps to legalise all forms of gambling in 1994. Two years later the 1996 National Gambling Act came about and with it, South Africa finally had a working system for regulating, promoting and sanctioning gambling.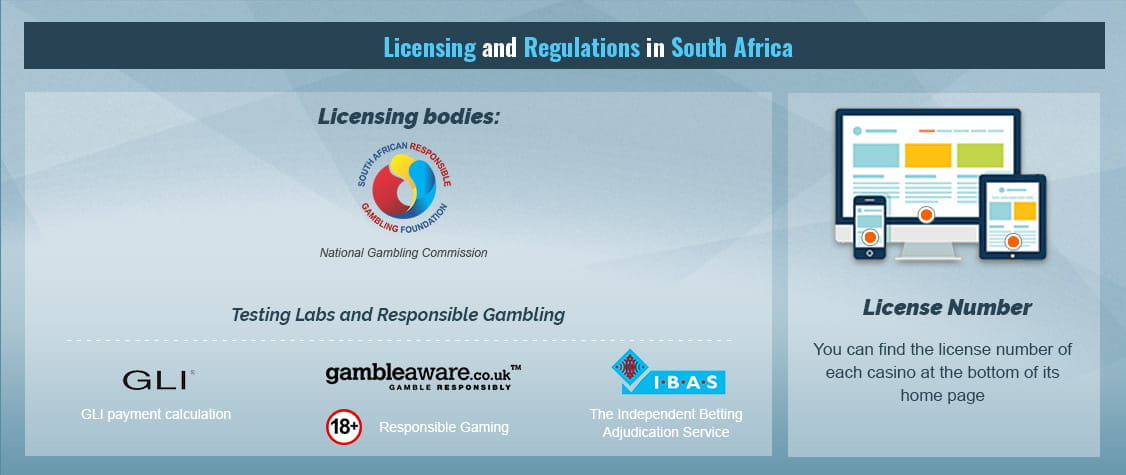 And the organisation whose job is to regulate and supervise the gambling industry in South Africa is the National Gambling Board, which was also founded with the 1996 National Gambling Act. Their main goal is to popularise South Africa as the go-to jurisdiction in the region by effectively and unimpeachably regulating the sector. As you know, we believe that safety should be the very first priority of both the players and the gaming establishments, which is why our advice is to only visit casinos or sportsbooks that have been licensed by the Sout African NGB.
And while the last 30 years have seen huge advancements made in the field of land-based gambling, the same could not be said about offshore gaming. In 2010 it became officially illegal to play at online casinos that don't have a South African IP. Having said that, we would like to make it clear that there are several remote gambling venues that have been licensed and are open to players from the country. If you decide to ignore that, however, you may face a huge fine or even worse – end up in jail. So make sure that you are not violating any laws and play only at the licensed South African online casinos!
Online Casinos in South Africa – What Games Are Legal?
As we already mentioned, gambling in South Africa is legal as long as you visit land-based venues or the approved South African online casinos. What this means is that you can expect to find all popular game genres and many of the latest and player-favourite titles. Down below you will find a list of all the games that have been endorsed under the South African gambling law.
Video Slots
Roulette
Baccarat
Poker
Blackjack
Live Casino Games
Wheel of Fortune
Craps
While players can currently count with a relatively rich choice of games, we expect the available options to grow in the future. Before we move on, we would like to remind you that most of the games are only available at land-based casinos and that the accessible casino sites may not always be safe.
Gambling Trivia & Curious Facts
Having taken a detailed look at the current gambling situation in South Africa it is now time that we share some of the most interesting facts and figures that we came across in our research. So sit back and relax while we take you through the quirks of gambling in South Africa.
The National Lottery is by far the most popular type of gambling in South Africa. The little available research shows that an incredible 80% of the population are buying tickets on a weekly basis and an almost 100% have participated at one point or another. Recent figures, however, suggest that the number of people interested in playing the lottery has shrunk with 6% between 2016 and 2018.
Biggest Gamblers in the World – It is a common misconception that South Africans are the biggest gamblers in the world per capita. And whilst there is absolutely no doubt that they love to wager, people from South Africa are not even close to the number one in this list. Instead, for the past 4 years, it has been occupied by the Australians who are spending an average of $1000 per adult resident per year.
Mark Vos and Raymond Rahme are South Africa's most famous gamblers. Both of them have become real stars in the world of poker having won multiple events at the World Series of Poker. Between the two of them they have bagged well over $5,000,000 in the WSOP alone and who knows how much in the numerous online tournaments that they have taken part in.
Frequently Asked Questions
In the last section of our review to gambling in South Africa, we are going to take a minute and attend to your most frequently asked questions on this topic. We hope that you find them useful and interesting and as always we've tried our best to keep the answers short and easy to read.
⚖️

Is Gambling Legal in South Africa?

Yes, gambling is legal in South Africa. That is especially true for land-based establishments as they are regulated and completely legitimate. Offshore gaming, on the other hand, is only possible at the approved South African Online Casinos list included in the guide. Find out more by reading our guide to the current legal situation in South Africa.
💛

Which are the best paying online casinos South Africa?

Choosing the best paying online casinos South Africa is especially hard as they all stand out with awesome welcome bonuses, diverse game collections, flawless mobile compatibility and state of the art security. Thus, whichever one you end up choosing you will not regret it!
🎲

What casino games can you play at the best online casinos in South Africa?

The South African online casinos offer a wide range of gambling genres such as video slots, roulettes, blackjack, poker, baccarat, craps and many others. Check out the full list of available games at the online casinos in South Africa to learn more!
Conclusion – Future Perspectives for Online Casinos in Country
Having reached the end of our guide to gambling and online casinos in South Africa it is now time to give you a quick recap. First and foremost, we would like to note that all forms of conventional land-based gambling are permitted within the borders of the country. Whether these are poker halls, casinos or sportsbooks they have all been legitimised and regulated under the 1996 and 2010 National Gambling Acts. However, if you want to play at an online casino in South Africa you should better stick to the venues officially approved by the National Gambling Board unless you want to pay a massive fine or end up behind bars. That being said, if the gambling law undergoes any changes you can rest assured that we will be the first ones to let you know.