Try iSoftBet Slots for Free & Find the Best Casinos
London-based iSoftBet is an up-and-coming software developer that has been making moves in the industry for a couple of years now. The company, which also has offices in Luxemburg, burst onto the scene with plenty of iSoftBet slots that enjoyed great admiration and took everyone by surprise. iSoftBet has also landed a couple of smash-hit titles from its original ideas factory as well. The future looks bright for these guys.
Popular
Best Rated
New Slots
In this iSoftBet slots review, I'll dig deep into what makes this developer tick. Of course, I will focus on the games it makes and the way this company is having an impact on the overall market, but I will also be showing you the best iSoftBet casinos to play slots in the UK today. You can jump to individual game reviews by clicking the links in the table above. All games reviewed here are free to play on this site.
The Best iSoftBet Casinos for Playing Slots
If you're not familiar with the way this industry works, I'll quickly fill you in. There are two types of online gambling providers in this business. There are those that stock their game libraries exclusively with products from a single developer. Playtech, for example, has a reputation for signing up operators to these types of deals. Then there are the mix-and-match casino sites. The ones that fill their online casinos with games from several software developers. It is in this second group, the pick n' mix guys, where you are likely to find iSoftBet slots and casino games.
£200 Welcome Bonus
iSoftBet Slots: 23 Slots Total: 434 Mobile Slots: 148
100

Fair Spins

+
10
no deposit spins
iSoftBet Slots: 5 Slots Total: 180 Mobile Slots: 87
50

Free Spins

+
£100
Bonus
iSoftBet Slots: 1 Slots Total: 858 Mobile Slots: 614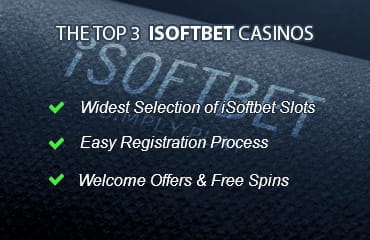 These iSoftBet games are seeping into the UK market but they are by no means widespread yet. There are a handful of casino operators that are currently offering free iSoftBet slots to UK customers. If you want to enjoy top slots from this developer, then these are your best options at the moment. In cases where there is a wider selection of iSoftBet casinos offering the games, I considered bonus amounts, wagering requirements and overall performance to make my decision.
Тhe Best Slot Games from iSoftBet
OK, so iSoftBet does not currently boast the vastest library of slots in the industry, but there is a real sense of quality over quantity here. Anyone can knock 300 versions of the same dull slot game, re-skinned and re-packaged, but it takes time and effort to create something unique. Don't get me wrong, the iSoftBet back catalogue has its fair share of tired luck-of-the-Irish-themed games too, but there's also innovation and creativity here that really stands out from the crowd.
Some of the Most Popular and Well-Known iSoftBet Slots to Try for Free
The four games I've chosen here are my favourites from the iSoftBet slots library. Forest Mania, a leafy, mysterious slot game, provides a beautifully designed backdrop and one of the most innovative gameplay twists. Booster is a classic slot with a deep space backdrop, and Happy Birds is a slot game take on the popular Angry Birds game, but with some rewarding special features and bonuses. Finally, Red Dragon Wild taps into the martial arts scene with a roaring set of reels and knockout wins. But this is merelely a sneak peek of what's under the hood of iSoftBet, and there are lots of other titles worthy of a mention. For instance, the movie-themed Platoon game, shown below, or the online slot 24, based on the popular TV series.
Gameplay Innovation and Jackpots
The only way to really describe the style of iSoftBet games is eclectic. The company is clearly taking inspiration from some of the biggest and best in this industry, whilst maintaining its own sense of self. Some slots have that high-end graphical feel that NetEnt is famous for, yet there is little in the way of gameplay innovation per se, aside from Forest Mania.
There is also a real sense of nostalgia to the whole licence strategy. Games such as Rambo, Platoon and Basic Instinct hark back to an era that clearly had a major influence on the individuals behind the company today. Rather than trying to compete with the big boys for the big movie contracts of today, this provider has managed to bring licenced TV and movie franchises to its customers by being smart and selective. It's impressive.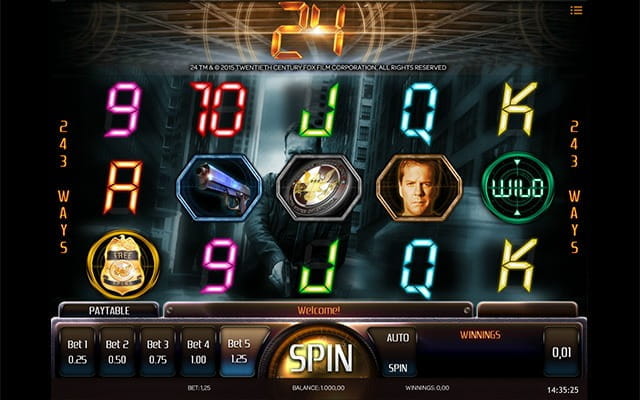 24 – TV Licences
Anybody familiar with hit TV shows in the early noughties will be familiar with Fox Network's 24, featuring the relentless field agent Jack Bauer. The iSoftBet slot game based on the show is very compact with all the controls and reels housed in a screen. After you spin, the symbols appear just like the digital time shown in the shows opening credits and you can enjoy listening to the TV soundtrack while you play.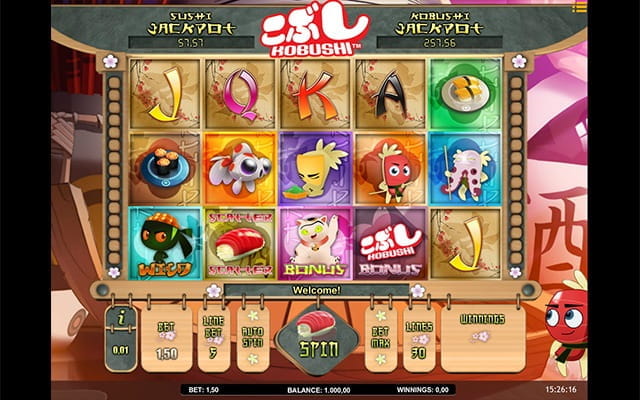 Kobushi – Awesome Graphics
This slot game tells the story of what happens when a Japanese restaurant closes up at night and the sushi comes to life. Featuring likeable characters such as a wide eyed fish, a purple octopus and various sushi minions, you can get lost in this interactive slot game. It features two different jackpots, Nintendo-esque graphics and an amazing oriental soundtrack which all adds up to hours of unique play.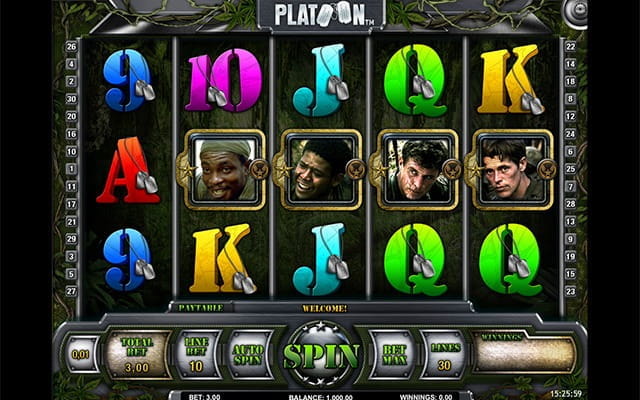 Platoon – Film Licenses
Based on the 1986 anti-war movie, Platoon has cemented itself in pop-culture history with its own video slot game brought to you by iSoftBet. The game features many of the film's central characters, including Chris Taylor played by Charlie Sheen. The symbols are portrayed around a Vietnam theme complete with dog tags, tanks and helicopters. This game includes a free spins bonus round and its own take on wilds.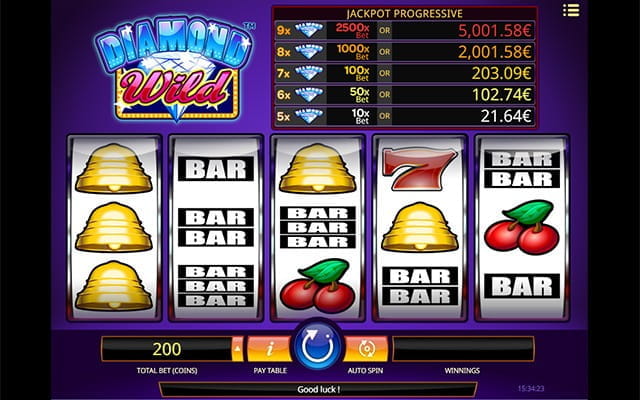 Diamond Wild – Jackpots
Whilst Diamond Wild has all of the markers of a traditional slot game, with symbols such as the bell, cherries and a red seven, there are actually many hidden extras lying beneath the surface. Within this iSoftBet game, you will find bonus free spins, wilds and five unique progressive jackpots. The exciting experience is completed with a glitzy diamond-inspired backdrop, complete with the fitting sounds and music as you spin the wheel.
.
There's not a lot to see here if you're looking for iSoftBet jackpots. Unlike casino gaming giant Microgaming, which develops progressive jackpot games that pay out millions of pounds every year, iSoftBet doesn't really mix it with the Mega Moolahs and the Age of the Gods of this scene. That doesn't mean that there are no progressive jackpots at all, though. The Best Witch, a magical-themed slot with enchanting special features, packs a progressive jackpot as well. And the futuristic Neon Reels slot also features a progressive jackpot right next to stunning 3D graphics.
In February 2018, iSoftBet expanded its operations into Latvia and Estonia. The Latvia move, in particular, is interesting. Riga is the live dealer casino studio capital of Europe, and you have to wonder if this company is looking to expand into this sector of the market.
How Do iSoftBet Games Perform on Mobile?
A wide range of iSoftBet games are available on mobile devices thanks to the company's state-of-the-art Pulse framework. I won't bore you with the technical details because, frankly, I don't really understand it myself. What the Pulse technology allows, though, is the same game can be launched across desktop and mobile platform. Pulse negates the need for mobile-optimised games. It's a unique approach to mobile gaming that I have not seen much of in this industry yet. With Pulse, iSoftBet is removing mobile play from the conversation altogether, in favour of unity across all devices, and that can only be a positive thing.
Company Information and History
This game software powerhouse is based in London and is a relative newcomer to the online gambling scene. As a game developer, this company has achieved success with attractive iSoftBet slots titles and under-the-radar licences. One of the more interesting products this provider makes, though, is something it calls its Game Aggregation Platform, or GAP. The advanced platform suite enables gambling providers to manage different game features such as free spins, bonus rounds etc, across all vendors from one back office. In plain English, this developer reckons it can get its clients content anywhere. The idea seems to be selling, and big-name software providers such as SG, Quickspin and Realistic now use iSoftBet's GAP. Live casino goliath, Evolution Gaming, is also a customer. You might not have heard of iSoftBet before reading this review, but its fingerprints are all over your online casinos in this country.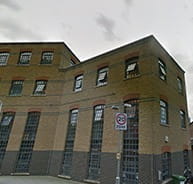 Company Details
| | |
| --- | --- |
| Manufacturer | iSoftBet |
| Software Developer | iSoftBet |
| Located | London, UK |
| Founded | 2010 |
| CEO | Nir Elbaz |
I would highly recommend exploring iSoftBet games if you are interested in vibrant slots, have any nostalgia about the late 80s or early 90s, or if you want to do your casino gambling across multiple platforms without a drop-off in quality. You can find more information about the best slot games in the UK today if you visit our homepage, or you can find more details about this developer on its informative website referenced in the table above. There's also a free newsletter if you are interested in receiving regular updates from iSoftBet.