Play Realistic Games Slots for Free & Find Recommended Casinos
Berkshire-based Realistic Games is not exactly what you'd call a leading star of the iGaming industry, but since 2002 the company has been steadily establishing itself as one of the key members of the supporting cast. The online slots business is undergoing a period of diversification. The big names in software development continue to pump out the hits, but there is something interesting going on in the second tier where innovation and creativity is rife. Realistic is not exactly a newcomer to this field – it has been making slots for more than 15 years now – but its library of products feels both modern and outdated at the same time. You can take a look at our collection below and try out as many Realistic Games slots for free as you like.
Popular
Best Rated
New Slots
As you can see, this is not exactly what you'd call a vast library when you compare it to other big-name developers in the business, but there are some hidden gems in here that are well worth your time and money. Realistic Games also makes the official Liverpool Football Club slot game, exclusive to BetVictor Casino, for fans of the famous Merseyside club.
Which Are the Most Popular Realistic Games Slots?
Also, take a look at some of the other great slots from this software provider which, one way or another, became quite famous games at some UK gambling sites. We included only five slots but there are so many more that deserve a place in this Realistic Games slots review. That's why the following list can never be complete but you won't get wrong by picking either one of these five amazing masterpieces or maybe all.
| Realistic Games Slots | Theme | Reels | Rows | Paylines | Rating | RTP |
| --- | --- | --- | --- | --- | --- | --- |
| Crystal Clear | Gems, Crystals, Nighttime | 5 | 3 | 10 | 4.4 | 95.45% |
| Time Is Money | Science, Time, Steampunk | 5 | 3 | 20 | 4.4 | 95.45% |
| Hot Cross Bunnies LoadsAbunny | Entertainment, Fruits, Bunnies | 5 | 3 | 20 | 4.1 | 95.47% |
| Sunset Reels | Food, Fruit, Exotic | 3 | 3 | 5 | 3.7 | 95.34% |
| Hot Cross Bunnies | Nature, Fruits, Exotic | 3 | 3 | 1 | 3.6 | 95.64% |
As you can see, 'Crystal Cleat' and 'Hot Cross Bunnies LoadsAbunny' are some of the older games of this slot provider, while 'Time is Money' is one of its latest releases. They all feature the same layout of the play area of 5×3 and a moderate number of paylines. However, the high quality of graphics and the amazing storylines is what really helped increase the popularity of these games. Nowadays, they can be enjoyed at some of the UK's greatest online casinos as well. If you want a more classic, old-fashioned interface, then you have to try the other two games in the list above because they have a 3 by 3 layout with just one or five paylines.
The Best Realistic Games Casinos in the UK
To understand the current saturation of Realistic Games content throughout the UK online casino market today you first have to dip into the history of this game-making company. Between 2002 and 2011, Realistic was making slots, roulette and blackjack games and releasing them via third-party partners such as Bet365, Ladbrokes and BetVictor. Then, in 2011, Realistic launched ReGaL, a remote games server that streamlined the distribution of all of its online content. What the new platform does is allow Realistic to maintain the core functionality and algorithms of its games, as well as player data and activity logs of course, on its own servers. It also means that this developer can customise its products for mobile casinos, and this was a major factor in the spread of these titles across online Realistic Games casinos in recent years.
*T&Cs apply. Licence issued by the UKGC. Please gamble responsibly! You must be 18+
Stan James was the first to sign up for the new platform in April 2011, but the system has since launched for a load of other big names on the UK casino scene such as BetVictor, Ladbrokes, Paddy Power and William Hill. My top three choices above were chosen on the strength of not only their Realistic Games slots games but also depending on their overall credentials as a slot-friendly casino site.
New Realistic Games Slots
Now, let's take a look at the provider's latest releases. The new Realistic Games 2018 are numerous but we included just one in the table above. It is the classic-looking Money Matrix slot which features a rather old-school 3 by 3 layout as well. Just about all other games in the table below are released in 2017 and you can find more details about them and many other new Realistic Games 2018 on the company's official website.
With that in mind, it is easy to notice that Realistic Games count on classic rather than high-performance video slots as new additions to their game portfolio. Of course, there are a few exceptions here and there, for example, the games Symmetry and Time Is Money. These latter two slots are amazing and you certainly need to give them a go. The high quality and the special sound/video effects are only a hint of what makes them so appealing. Play them and find out more!
Ingenuity, Creativity and Highest Standards – All at Once!
Realistic Games does not boast a huge library of slots in the 100s like some of the other software developers in this business. Instead, the company focuses its efforts on a small number of three and five-reel games. The company has built a reputation as somewhat of an expert in the virtual pub bandit space. Like the expat who moves to Paris with a three-pack of turtlenecks and a carton of Marlborough lights, Realistic Games embraces the cliché of what a fruit machine should be. The bright, noisy attack on your senses is softened by the warm nostalgia of the included nudge and hold features. There are games that are prettier, that run in higher resolutions, that feature more exuberant animations, but there are few that feel as interactive as Realistic's fruties.
Some of the Most Popular Realistic Games Slots to Try for Free
The company also dabbles in blackjack, roulette and instant win games and you get the sense that the slots games do suffer as a result of this strategy compared to a slots-only developer such as Thunderkick. Picking up official television and movie licences does not appear to be a major part of this developer's strategy, either. Realistic Games has identified a niche here, and is dominating this small corner of the market happily. It is not going to take on Playtech, Microgaming or NetEnt any time soon, though.
About the RTP Percentages of the Realistic Games Slots
When it comes down to RTP, you should know that even the best Realistic Games slots can barely get close to some of the benchmark games by top software providers like NetEnt or Playtech. Based on the scale from 75% to 99%, the slots of this software developer can reach a maximum of 96%. You may think that two or three per cent does not make much of a difference, but it does. RTP stands for the payout rate or the money that the player receives back of his/her wager. It is measured per spin and on average, and it is an absolutely theoretical percentage. Check out the next comparison of some of the Realistic Games slots with the highest RTP rates.
Overall, a great idea is to count on your luck instead of the numbers because if it is your lucky day, you could strike a huge jackpot or big win. We picked only a couple of the most famous slots with high RTP to show you how the little deviations make a big difference. After all, playing new Realistic Games 2018 is a great opportunity but the games with the highest RTP mean that they have the greatest return. So, what would be your choice?
Realistic Innovation and Jackpots
When reviewing a slot game developer, we think it's important to look for signs of progress. You must ask yourself the question, are these guys really pushing the industry forward? Are they breaking new ground, sparking ideas or changing the game in any way? Unfortunately, for Realistic Games, the answer is no. OK, the retro pub fruit machine space is locked down. Realistic delivers the best standing-in-the-local-boozer-slots-experience that can be had without standing in a local boozer. But beyond that, the library is sparse.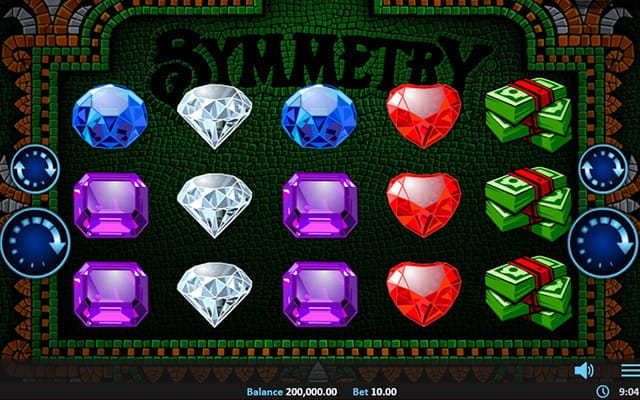 Symmetry  – Gem Stones
Symmetry is a game that's all about landing 'clumped' symbols of three of the same or more. Once you trigger the bonus round, you have to stop a flashing reel at random and this reel is held whilst all remaining reels are re-spun to either one, two or three of that symbol, creating a guaranteed win! The bonus can be triggered simultaneously with normal reel wins. Landing a full house will award 2x, even for the jackpot!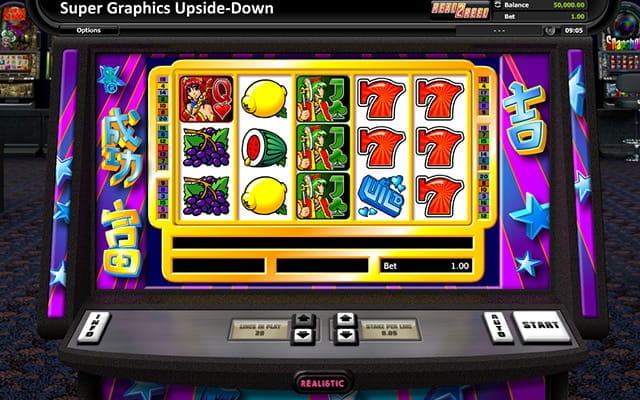 Super Graphics Upside Down  – Japanese Fun
Super Graphics is a 20-line Japanese-themed slot that's bright and vibrant. The 7s and wilds are powerful in this game but, unfortunately, they're mostly on the right-hand reels. However, get three or more Super Graphics symbols and the reels will rotate around, giving you 15 free spins with all those high-value symbols now on the left-hand side – where wins are paid from!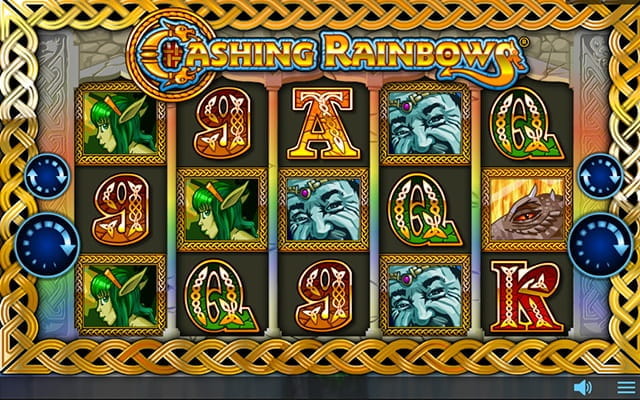 Cashing Rainbows  –  Fantasy Slot
Cashing Rainbows is a fantasy-themed slot played over 20 lines. Landing two bonus scatter symbols on reels one and five will grant you access to the free spins bonus round. During this feature, landing wilds for the remainder of the round can boost returns. A maximum win of 250x the bet is available. Wilds can be locked in place during free spins.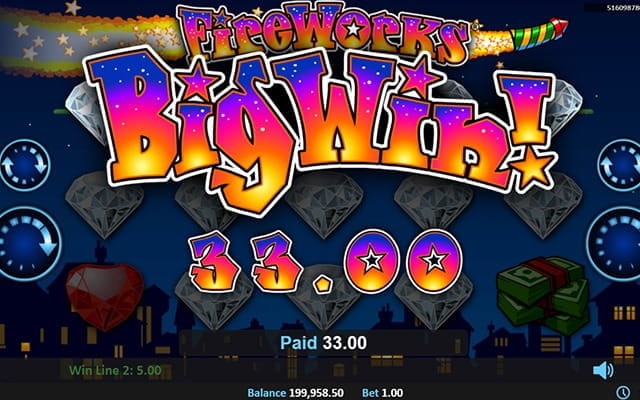 Fireworks  – Explosive
Fireworks is a 10-line slot game that Realistic says is its "first full-screen slot". Quite what that actually means, we're not sure. The bonus is activated when the firework goes off next to the fifth reel. The firework's fuse wire is lit at the start of each game. Any reel not landing with three identical symbols will extinguish the fuse. There's a maximum payout of 500x the bet and a re-spin bonus round. Sparks will really fly with this one!
There is logic in adopting a strategy of finding your niche, and doing it better than anyone else, and we're not criticising Realistic when we say this, but if you are looking for a modern online slots experience then look elsewhere. Sure, there are features here that you will not find on old-fashioned land-based slot machines that are only made possible by software-driven games, but compared to what some of the other major players are doing in this market, there's nothing to get excited about here. There are no Realistic Games jackpot slots, of the progressive type at least.
Many beautiful old-school games that look like classic land-based slot terminals;
High-roller players can find several Realistic Games jackpot slots with big prizes;
First-time players at UK casinos can take advantage of free spins to play Realistic slots;
Even the best or the new Realistic Games 2018 slots load quickly and effortlessly;
Playing an old-school looking slot on a modern mobile casino app is unparalleled;
The Realistic Games slots are licensed and their RNG is verified for fairness;
How Do The Games Perform on Mobile?
Since 2011, Realistic Games has been providing its ReGaL platform to UK operators meaning that the quality of its products is maintained across all platforms. In 2012, the company became one of the first suppliers to produce HTML5 mobile casino content with the launch of several slots and casino table games. That was six years ago! In April 2017 Realistic Games launched its first HTML5-only game, Symmetry, across desktop, phones and tablets.
Honestly, it is 2020. If you are still concerned about mobile casino performance in this day and age you might want to double-check who the Prime Minister is, listen to the number one single of today or find out if your favourite author is still alive, because you may have just woken from a rather long coma. Realistic has consistently shown a drive to get mobile gaming right and this has resulted in some high-quality games being produced over the years including Time Is Money and Pentagram.
Company Information and History
Realistic Games started out in Reading, Berkshire. The company now has offices in Gibraltar, of course, but could still be classed as a British software developer. Since its inception in 2002, the company achieved relative success making games for third-party platforms. In 2011, though, the company switched up its strategy with the launch of ReGaL, changing the way all of its content is distributed. The company was even nominated for an EGR Operator Award in 2013 when Super Graphics Upside Down was up for Game of the Year. Quickspin's Big Bad Wolf eventually took the title that year.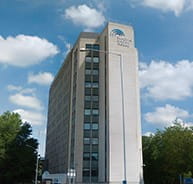 Company Details
Manufacturer:

Realistic

Software Developer:

Realistic Games

Located:

London, UK

Founded:

2002

CEO:

Vacant Role
Since its move into the platform business, Realistic has gone from strength to strength. Between 2013 and 2016, the company struck deals with high-profile gambling customers in the UK and Europe. February 2014 marked a significant date for Realistic when it was issued a Remote Gambling Licence by the Gibraltar Gambling Commission. The green light meant that this developer is permitted to provide facilities for remote gambling by making its products available to customers of UK operators.
Go Beyond Slots with Live Casino Games
Rather than supplying its game software directly to remote gambling operators, Realistic can host its own casino games on its own server, and UK players can access them through casino websites. Essentially, it's a bit like holding a regular gambling commission licence but without having any Realistic Games casinos, but crucially it has allowed the company to make money on UK customers whilst enjoying all of the tax breaks of Gibraltar. That's what they call a profitable combination.
Alternative Software Providers and Their Top Slots
It's always good to know that you can find the same or even better pastimes for your online casino adventure. Well, we provided you with not just one or two, but with 6 alternative software providers to Realistic Games. You can find their games at some of the most famous UK online casinos too while the next table includes further information.
*T&C's apply; click the bonus ammount or the casino for more information; must be 18+. Gamble responsibly!
Bear in mind that some of the leading software developers like Microgaming or NetEnt do not take part in this comparison because their games are somehow better than the Realistic Games slots. We tried to keep it fair and well-balanced, and that's why you can see slots with relatively low RTP of 95%-96%. ELK Studios or SG Gaming are also not among the top software providers at the UK gambling sits, so they really are among the top alternatives to the Realistic Games slots.
How About Some FAQs In This Realistic Games Slots Review?
Finally, check out the next questions and answers before getting started with your favourite video slots at your preferred online casino. From how to find the safest site to play Realistic Games slots to key aspects of this provider's jackpot games – there is plenty of interesting info in this FAQ section. Take a look!
How to Find the Best UK Online Casino with Realistic Games?
First things first, always the greatest tip is to start looking for casino or slot reviews in blogs or other sites. Secondly, once you open your favourite online casino, use its search engine and try to find out the specific titles of the Realistic Games slots that you are after. Thirdly, not all but some UK online casinos feature a pretty handy option to filter the portfolio of slots by a certain criterion, such as 'game provider'. Whatever method you choose, the UK's best Realistic Games casinos certainly offer the greatest number of the provider's slots and now you know how to find them!
How Fair and Safe Are the Games from this Provider?
The Realistic Games are absolutely safe and fair as this software provider is licensed by the UKGC (Ref.: 3000). This alone is enough to be confident in the company's trustworthiness when you find its games at your favourite UK casino. Moreover, the best Realistic Games slots and all others work on an RNG principle, which is tested by independent organisations whether or not it meets the specifications set by the provider. Realistic Games is also a gambling responsible organisation, certified by BeGambleAware and GamCare.
Are There Any Realistic Games Slots with Low Volatility?
Yes, indeed many of the Realistic Games releases feature low volatility. Examples include Diamonds & Rubbies, Pentagram, Over the Rainbow, Big Wheel and Store Thing, some of which can be found on our Realistic Games slots review page. Slots which volatility indicator is low, are more likely to award you with smaller but frequent wins. Basically, the volatility index measures how much the RTP of a slot game will vary during a certain number of spins played.
Does a Slot's High RTP Percentage Mean a Guaranteed Win?
No, it is an absolutely theoretical number, measured by lots of actual play. Thousands upon thousands of spins are required to calculate the first decimal, then even more trials are done in order to calculate the second decimal. However, the higher RTP percentage undoubtedly means that the slot offers a greater return. Striking the huge jackpot or landing a perfect combination for a big win depends purely on how lucky you get while playing.
The Best Realistic Games and Online Casinos – Overview
The bottom line is that although there are no Realistic Games jackpot slots, you can still find a wide number of video and classic games at the UK online casinos. Most sites feature over three dozens of Realistic Games slots while others only a few. Either way, you can enjoy a truly awesome gambling experience with nice payouts and lots of unforgettable moments. The new Realistic Games 2018 are another awesome treat that is not to be missed. Overall, you will have plenty of fun with these slots and down below, we recommended the top 3 UK gambling sites to do so.
£20 Welcome Bonus
Realistic Games Slots: 17 Slots Total: 230 Mobile Slots: 117
50Free Spins
Realistic Games Slots: 33 Slots Total: 420 Mobile Slots: 360
Realistic Games Slots: 26 Slots Total: 260 Mobile Slots: 219