The Best Yggdrasil Games, Slots and Casinos Reviewed
Yggdrasil likes to think of itself as a superior online and mobile casino game developer. The company calls itself an underdog amongst giants, but this plucky puncher is delivering knockout blows and making the big boys of this business look like lightweights when it comes to game design. There's a big difference between how Yggdrasil games and some of the other developers go about their business. These guys are not interested in the endless re-skinning of tired formulas in the pursuit of profit. This developer, as a company, believes it is creating something more artistic, more worthwhile. So how does it all hold up?
Popular
Best Rated
New Slots
You can play a selection of Yggdrasil games by clicking the links above. Each title is accompanied by an in-depth review written by one of our slots experts. These reviews go into detail about the game rules, the bonus features, free spins round, and the overall payout rates of each game. You'll also find the best online casino for playing each game by clicking through to specific games. Have fun!
The Best Yggdrasil Casinos in the UK
For a company that only acquired its first licence in 2013, Yggdrasil has been rather productive with its output. Pumping out a large number of games is not really an achievement in this business. It's easy to put a fresh lick of paint on a dull three by three or five by three slot game and churn out the same thing over and over again. What is impressive, though, is putting out quality and plenty of it. The casinos earmarked below are the ones we feel offer the best selection of Yggdrasil output in the UK today.
20

Free Spins

+
£300
Bonus
Yggdrasil Slots: 27 Slots Total: 861 Mobile Slots: 523
50Free Spins
Yggdrasil Slots: 40 Slots Total: 420 Mobile Slots: 360
50

Free Spins

+
£100
Bonus
Yggdrasil Slots: 30 Slots Total: 858 Mobile Slots: 614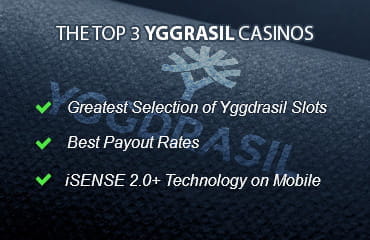 Choosing the best place to play free Yggdrasil slots is not a simple totting up process. We have considered a variety of aspects including bonus deals, appropriate wagering requirements attached to any promotional cash or free spins, and the overall performance of the casino in our regular testing phase. The quality of these games is starting to show and as the developer achieves more notoriety, we expect its titles to become even more widely available in the UK, especially at the newest casino sites.
The Best Yggdrasil Slots & Licences
Dig into this game library and it doesn't take long to realise that you are dealing with a serious player here. Yggdrasil moved from Flash to HTML5 based games as early as 2014 and companies are still catching up today, several years later. The result is a library full of quality. The most impressive thing about Yggdrasil games though is the variety. It feels like every single game has been designed from scratch, with love, care and new ideas. This is not the kind of company to develop one game and release it 30 times using different skins.
There aren't any officially licensed games here or Yggdrasil jackpots to speak of. This developer is quite good at producing almost-licensed games that aren't really licensed games. Jungle Books, for example, is based on the original short stories and not the Disney film of the 60s. Beauty & the Beast is a similar story. The release of the Orient Express game coincided with the buzz around a 2017 movie set on the same train, but is not associated with the picture. The Holmes game is very careful not to mention Sherlock. This goes on and on. It's a smart approach, and that fact that it never really feels tacky or cheap is testament to how well Yggdrasil has pulled it off.
Gameplay Innovation and Jackpots
Yggdrasil has got a reputation for introducing innovative gameplay mechanics into the market and you can see why. Games such as Jungle Books, which features characters that fundamentally change the gameplay with their interactions, and Orient Express, which features multiple levels and settings that change the game's behaviour. There's a real sense that this developer tries to make its games playable. By that we mean, rather than creating something you sit and watch hoping to win, Yggdrasil games are designed to make sure the player is part of the gambling experience.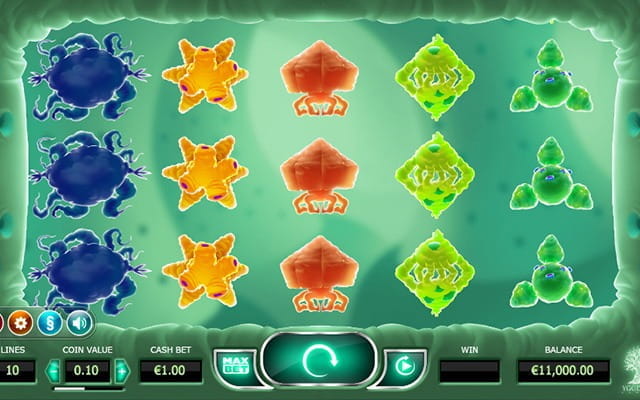 Cyrus the Virus  – Bacterial Banter
A colourful online slot in an unusual world of bacteria, viruses and germs. This light-hearted game is full of humour and the expanding wilds and re-spin features that keep the gameplay interesting enough to keep players coming back for more. This game is definetely worth a try!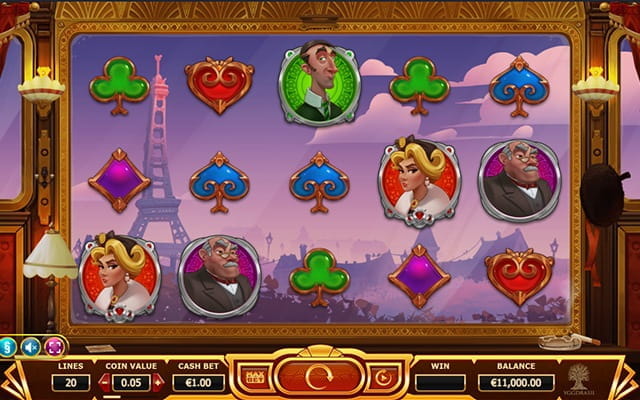 Orient Express  – Luxury Travel
Travel on the legendary luxury journey through Eastern Europe with this gorgeous-looking slot game. There are four levels to explore, each with different perks and gameplay features. Once you've completed the four levels the option to choose becomes available.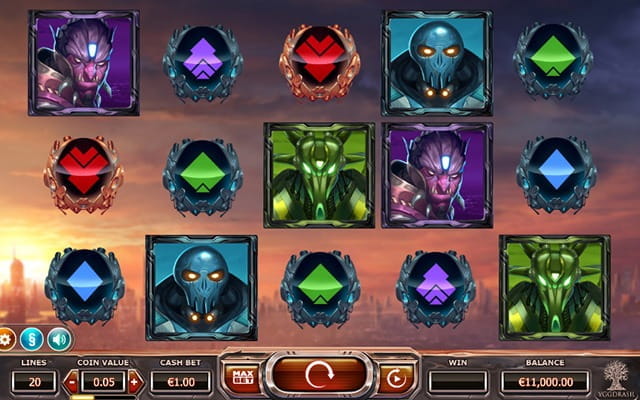 Super Heroes  –  Apocalyptic Action
All the superheroes in this game perform animations that award players with features such as wild reels, multipliers, extra free spins and more. Every spin can randomly activate the game's Hero mode, where any two features are triggered at once to give a mix of bonuses.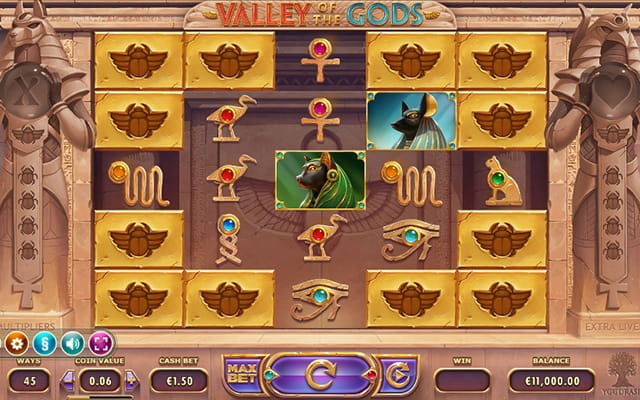 Valley of the Gods  – Bust the Blockers
This ancient Egyptian game features what the developers are calling blockers. The blockers need to be destroyed by landing wins in order to open up the reels for even more winning combination opportunities. There's also multipliers and a re-spins feature in this handsome online slot game.
.
The company is finally starting to become recognised for its innovation in the field of online slots. In 2017 and 2018 Yggdrasil won the international Gaming Awards Innovator of the Year prize. It also won the B2B Awards 2017 Slot Provider of the Year title. The games are getting better and better, as well. Sure, some of the early stuff is what you might consider below average by today's standards – we're talking about a game like Bicicleta – but the most recent releases are the best we've seen from this company. The future looks brighter with every new slot, and that can't be said for all software developers in this business.
How Do The Games Perform on Mobile?
In April 2017, Yggdrasil announced the launch of its revamped version of its HTML client framework titled iSENSE 2.0+. What the technology enhancement meant, in real terms, was a dramatic improvement to the mobile performance of its slot games. iSENSE included minimalistic user interface designs that were perfect for smartphones and tablets that use smaller screens than desktop computers and laptops. The technology also supports Force Touch and Retina Display screen ideal for modern high-end mobile products. All of this combines to produce a mobile package that can compete with even the very best bespoke mobile casino games in the world. Providing your device isn't old as dirt and it meets the system requirements for the latest mobile casino apps, you'll encounter a very fluid and polished experience.
Company Information and History
Yggdrasil is based in Malta, but the company has licences in several different European regions including Great Britain, Gibraltar and Romania. Since it acquired its first licence in 2013 and ditched Flash technology the following year it has gone from strength to strength. In 2015 the company launched its in-game promotional tool Boost. By 2016, the company had launched its Brag social media sharing tool, and in the same year, its White Label Studios came to fruition. In the last couple of years, the games and awards have started to flow, and right now, this is one of the top slot game developers in the world, it is as simple as that.
Company Details
Manufacturer

Yggdrasil

Software Developer

Yggdrasil Gaming

Located

Global

Founded

2013

CEO

Frederik Elmqvist
If you are the kind of online gambler who likes to explore contemporary game mechanics, unique features, and enjoys fantastic soundtracks, then these Yggdrasil slots are the ones for you. There is little here for fans of classic or retro slot machine vibes, or even for those that don't really care what their games look or play like because they are just in it for the rush of chasing a big win. This developer appeals to the cultured online slots player. The thinking slots enthusiast, you might say. For more information on some of the other top slots developers in the UK iGaming industry, visit our slots homepage.