Try Betsoft Slots for Free & Find Recommended Casinos to Play
Founded in 2006, Betsoft has achieved the impressive feat of building an individual identity in a slots market that is full of plagiarism, copycats and tired ideas. That's not to say that this online game developer is not immune to the bandwagon jumping business, but the company has managed to carve out a library of games that looks distinctly like Betsoft slots. It has done this by focusing on the cinematic potential of online gambling games and, as a result, has garnered momentum in appealing to casual slots players.
Popular
Best Rated
New Slots
You can get a taste of the 3D animation style that has become synonymous with this developer in the library of free to play demo slot games above. Just hit the play button to jump to the individual game articles. If you'd like to find out what makes these games so special, and the best online casino where you can play them, keep on reading our review!
The Best Betsoft Casinos for Playing Slots
Despite launching in 2006, Betsoft did not make its first Slots3 – the trademarked name for its true 3D video slots – until 2010. Since then, more than 70 titles have been released to Betsoft casinos around the world. Betsoft games are now available at more than 500 casino sites worldwide. In the UK you can play Betsoft games at some of the biggest online casinos in the business such as LeoVegas and Mr Green.
£200

Bonus

+
11
Welcome Spins
Betsoft Slots: 5 Slots Total: 1355 Mobile Slots: 720
100

Fair Spins

+
10
no deposit spins
Betsoft Slots: 8 Slots Total: 180 Mobile Slots: 87
No Welcome Bonus
Betsoft Slots: 6 Slots Total: 747 Mobile Slots: 482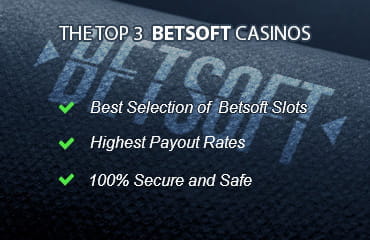 Betsoft casinos benefit from the company's passion for pushing forward with technological advancements in this field. It's not just the trademarked Slots3 technology, or the trademarked ToGo mobile technology, or even the trademarked The Shift technology (Betsoft likes to trademark meaningless terms in the name of, one can only assume, branding) that makes Betsoft slots popular with its gambling partners. Its in-house casino management package gives operators a selection of tools for monitoring play driving promotional material. For you, the player, that means you can expect to see Betsoft products at more and more online casinos in the future.
The Best Slot Games From Betsoft
Betsoft slot games are always brightly colourful and richly animated. There is an underlying sense of humour to all of this developer's titles that feel a little Disney Pixar. This is, of course, a bit of an uncomfortable sight given that gambling products should never be marketed towards anyone under the age of 18 in the UK. With some titles, you can write it off as a just an art-style for delivering adult themes, but in other cases – Kawaii Kitty being the most notable – Betsoft flies very close to the sun in terms of how child-friendly its adult gambling content is.
Some of the Most Popular and Well-Known Betsoft Slots to Try for Free
The other common theme across the game library is the company's creativity when it comes to copyright and intellectual property. There's a fine line between inspiration and plagiarism, and Betsoft treads it like tightrope-walker Philippe Petit in Man On Wire. Fire up games such as Barbary Coast and Weekend In Vegas and it quickly becomes obvious where the idea came from. Others are marginally subtler. The Rock Star online slot game features a solo-shredding guitar player with long curly hair and a top hat that is definitely not, if anyone asks you, Slash from Guns N' Roses. There is a third category of slot games that are more tongue-in-cheek, a little more light-hearted and good-natured. The Slotfather and The Slotfather Part Two are prime examples. All Betsoft slots here are made to the same high-standards though, with an emphasis on fast-gameplay and jaw-dropping visuals.
Gameplay Innovation and Jackpots
Betsoft creates the majority of its games these days using what it calls its Slots3 technology. Plenty in the online casino business have tried to develop games with a heavy focus on the visuals, but few have done it as successfully as Betsoft. The attention to detail is exceptional. A lot of these Betsoft slots feature cinematic introductory videos to set the story. Bonus rounds are thoughtful, and often nothing to do with Betsoft free spins or tried and tested reel-based features. In The Tipsy Tourist, entering the featured round pits you in a drinking contest with the Hawaiian-shirted main character. This could not be further from your bread and butter slot games of the past.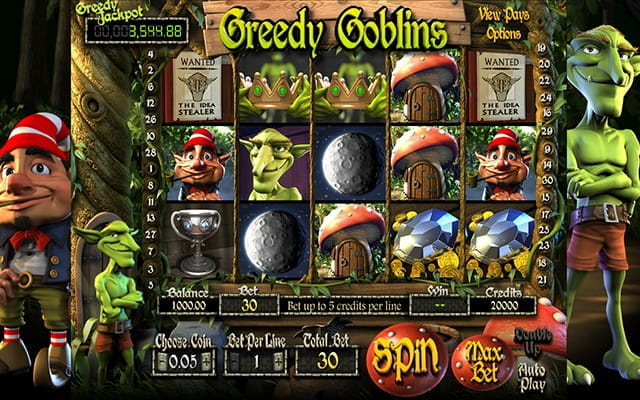 Greedy Goblins – Greedy Jackpot
Dive into the Elvin forest and steal as many of the valuable ideas as you can for the Greedy Goblins. Built using Betsoft's famous graphical style, this game looks amazing. With collapsing coin symbols, sticky wilds and whole bunch of extras, Greedy Goblins is a 30-payline 3D progressive jackpot slot that you cannot afford to miss out on, so what are you waiting for?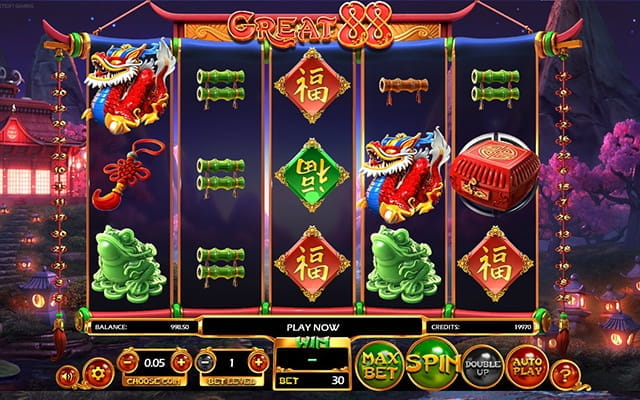 Great 88 – Lucky Boxes
Are you out to find your fortune? Why not try the Great 88, the Chinese good luck and fortune slot game? The game includes tons of bonus extras including free spins, multipliers and the opportunity to unlock Lucky Boxes which hold many different types of prizes. Find the Golden Dumpling and you can spin the Bonus Wheel with the chance to win 6,000 times your intial bet.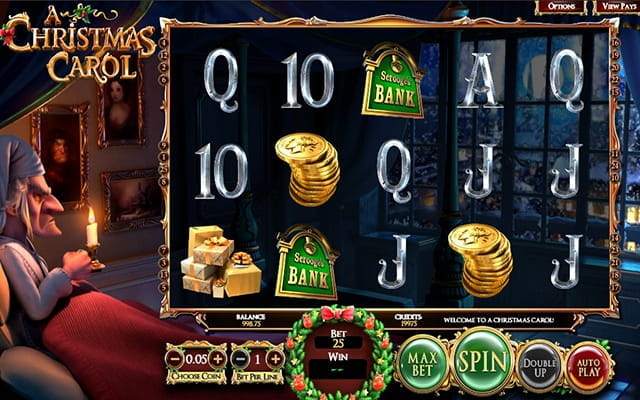 A Christmas Carol –  Ghostly Spins
Enjoy this Betsoft take on the timeless Charles Dickens Christmas story, A Christmas Carol. Spin the reels from old Ebenezer's bedroom and rejoice as the Ghosts' of Christmas Past, Present and Future bring with them free spin opportunities and bone-chilling wilds. It's not the most visually impressive Betsoft game, but it has charm, and that's enough for a lot of players.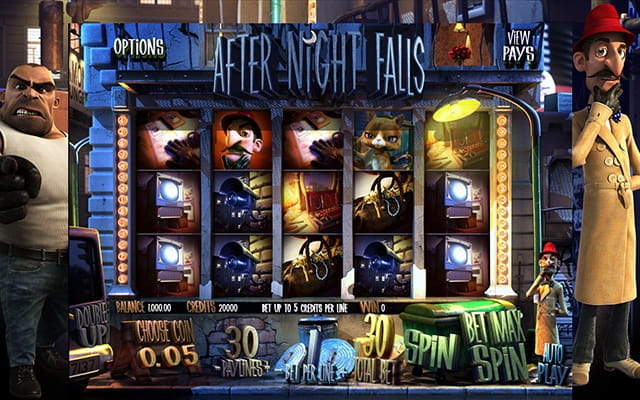 After Night Falls – Moving Wilds
Join Detective Rousseau as he hunts down the crafty criminal who has been running amok on the dank streets of an urban metropolis unchecked for many weeks. With crime-solving bonuses, loot filled prizes and free spins to boot, the After Night Falls 3D slot from Betsoft is well worth your time. This is a real gem from the company that is an expert at creating storylines in online slot games.
.
Since 2015 Betsoft has switched to creating HTML5 games built on what it calls The Shift. This iGaming innovation acts as a framework for building games. It means that there is no longer a need to develop dedicated desktop or mobile version of titles, resulting in simpler, faster and more secure games across the board. As Flash dies its slow and painful death, HTML5 is taking over the online slots business and Betsoft seems ready for the future. In a throw-back to the beginning of online gambling from home, Betsoft also offers all of its games as part of a downloadable package. They call it Betsoft Vault, and the company says it allows players with even the crappiest internet connections to enjoy its true 3D slots. There are currently only a small handful of Betsoft slot games that feature a progressive jackpot, including Good Girl, Bad Girl and A Night in Paris.
How Do Betsoft Games Perform on Mobile?
Betsoft created its first true mobile game in 2011. It still knocks out titles under the ToGo platform to this day, but things are changing. The idea was to carefully re-engineer games so that they would be suitable for mobile devices and look just as good on the go as they did on desktop. In truth, its proprietary Shift technology, aimed at making the most of HTML5 technology, kind of solves this problem and ToGo feels almost redundant in 2019 with a modern smartphone or tablet at your disposal. Still, Betsoft saw the importance of mobile gaming early and continues to invest in this area of the market. We expect to see the ToGo platform quietly fade away as HTML5 technology continues to make the mobile versus desktop discussion more and more redundant. Shift lends itself to faster, smoother mobile games with higher-frame rates and more complex animations and graphics. Ultimately, it means that new Betsoft mobile titles will be of the same quality on mobile and desktop.
Company Information and History
Today, Betsoft is based in Malta where it develops its product suite in a bid to earn its place as one of the world's best producers of modern 3D video slots. The company places a huge emphasis on graphics and the cinematics of online slot games and, as a result, the company has achieved success in both Europe and the Americas. Betsoft was on the shortlist for the 2017 EGR Casino Content Supplier of the year award but lost out to iGaming giant NetEnt. Still, expect to see Betsoft as part of the conversation for this award going forward.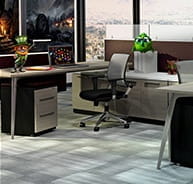 Company Details
| | |
| --- | --- |
| Manufacturer | Betsoft |
| Software Developer | Betsoft |
| Located | Valletta, Malta |
| Founded | 2006 |
| CEO | Undisclosed |
Website and Contact
| | |
| --- | --- |
| Website | www.betsoft.com |
| Email | Contact form only |
| Telephone | +35621224481 |
| Employees | 100+ |
Aside from making online slot games, Betsoft also makes money from its Casino Manager. The state-of-the-art administration package is designed to be fully customisable and allows Betsoft customers to access a load of tools to track what happens when you are playing such as key performance indicators and financial reporting. The software developer also makes casino table games such as blackjack and a virtual horse racing simulator featuring a variety of bets. If you are interested in learning more about the biggest game developers and the top online gambling operators, then check out our list of the best slot games in the UK today.