Best NextGen Slot Games for Free & Recommended Casinos
This Australian software provider has been knocking out top-quality casino games since 1999. In 2011, the company secured its 'made-it' status when it was bought out by tech goliath NYX Gaming for a silly sum of cash. The NYX Gaming Group has since been sucked up by Scientific Games to create SG Digital. NextGen's slot games are what it still does best, and you can try a selection of its catalogue right here for free. Hang around if you'd like to dig deeper into the devs from down under.
Popular
Best Rated
New Slots
This NextGen summary will give you all you need to know about this developer's games and their most memorable titles. There are several functionalities and features which we'll address as well, and give you some background info on the company behind this superb gambling software supplier.
The Best Casinos Running NextGen Software
Casinos live and die by their software providers and game libraries. Sure, bonuses and branding play a part, but today's online players are smart and use the market competition to their advantage. There has never been a better time to get into online gambling in the UK. With several top operators vying for your business, the online casinos are pushing each other to get better and better. For newcomers, the sheer body of information out there can be intimidating. We've put all of our years of online gaming experience into choosing the best online NextGen casinos currently offering this software, streamlining the decision process to make it easier for newcomers.
£1,000 Welcome Bonus
NextGen Slots:5Slots Total:431Mobile Slots:81
up

to £1,500

+
100
Spins on Starburst
NextGen Slots:78Slots Total:470Mobile Slots:329
50Free Spins
NextGen Slots:98Slots Total:420Mobile Slots:360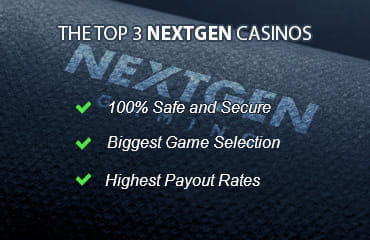 The NextGen casinos above are all excellent choice if you'd like to experience some of the most standout NexGen products. You've got a variety of bonuses to choose from, including perks like free spins if you're lucky, on top of a fantastic selection of this developer's online reels. Mobile gaming is no issue, either. All recommended operators enable gaming on the go with sleek, high-performing apps for mobile phones and tablets. Dive in and experience the world of NextGen!
NextGen Slots: The Games, Licenses and Jackpots
There's a wealth of titles to browse among and try as you see fit, with reels for fans of pretty much every genre – from classic and retro reels, to innovative fantasy or nature themes, to futuristic creations with a unique look and sound. Movie-themed slot games stand out in particular – there's some real treats hiding there! The star of the NextGen slots library is Foxin' Wins. The game clearly takes inspiration from Wes Anderson's re-imagining of Fantastic Mr. Fox starring George Clooney and comes packed with all the same bourgeois panache and humour minus the Roald Dahl seal of approval. Another popular game is the officially licenced Psycho slot game – yeah, the Alfred Hitchcock one. Spooky, slick and full of nods to the 1960 horror classic, Psycho is a stand-out slot.
Some of the Most Popular and Well-known NextGen Slots to Try for Free
NextGen software reviews tend not to mention the company's creative process, but the secret to the developer's success is in the distribution of expertise. The company calls it a 'two-pronged approach'. First, artists are given all the leeway they need to express their creativity and come up with new characters and concepts for games, before a product team takes over and works out ways to enhance the player experience. The result is creative, character-driven games that actually work from a gameplay perspective. Bravo.
Find Fun Features while You Spin
NextGen slot games come packaged with several identifying features that a trained eye will have no problem spotting. For instance, the additional game enhancements can be unlocked via the Super Bet button. Super Bet does require a small additional wager, but it is an optional feature so you're free to choose if and how often you activate this special function. Super Bet unlocks extra free games and higher win multipliers, though, so it might be worth considering. There's a handful of NextGen games where this functionality really ups the excitement and could be the one thing in the way between you and a massive payout. Another one-of-a-kind functionality you'll find with this provider's products is the exciting Select-a-Play feature. It allows players to adjust the free games vs. win multiplier ratio – effectively setting their game volatility – and is a truly unique gameplay trait.
Slide a Wild is a patented game feature allowing manual control over the placement and behaviour of certain symbols. Wild symbols, which can be substituted for any other symbol, can be placed in the most advantageous positions, maximising the potential for a win. It's clear that this is a very valuable feature, and you won't find anything similar with other game-makers, to be honest. Combined with Up Wild – a feature that allows the wild symbol to makes its way vertically up the reel leaving extra wilds in its wake – these quirks blend to create a satisfying gameplay experience that can't be found elsewhere.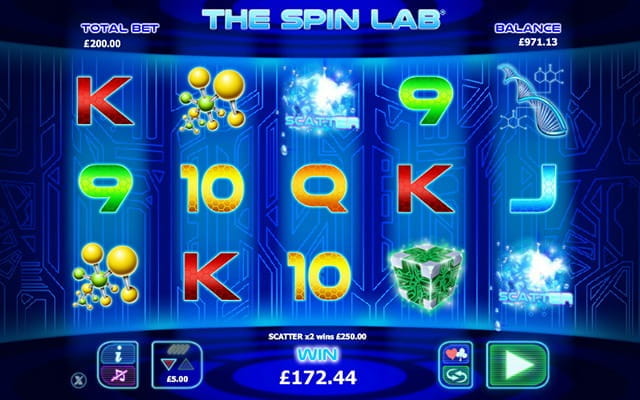 The Spin Lab – Unique Theme
This science laboratory themed slots game is one of a kind in its appearance. It also features rewarding scatters and bonus round special features. Despite the unique and complicated looking graphics, The Spin Lab is a very straight-forward slot with potentially big wins on offer.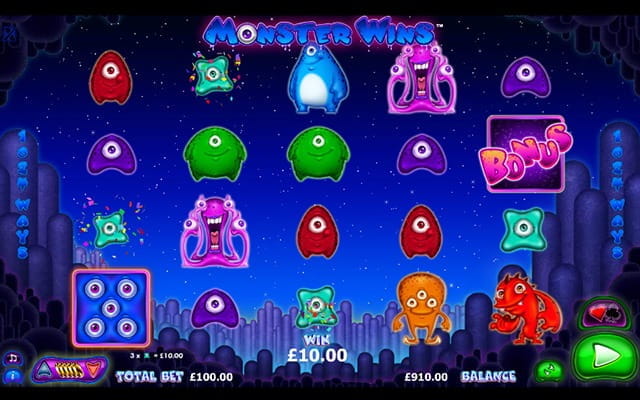 Monster Wins – 1024 paylines
Monster Wins is a great 3D slot with 5 reels and 1024 ways to win. It features neat and tidy graphics, and its main characters and payout symbols consist of cute little monsters. It has a classic arcade machine feel to it and will appeal to retro and modern online slots fans alike.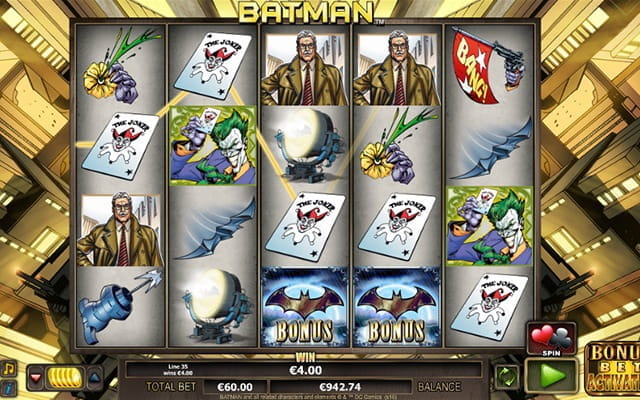 Batman – Comic Book Action
Batman is one of a number of high-profile franchise tie-ins that this game supplier is happy to be associated with. The familiar characters and theme can appease fans of the comic books or movies. All in all, it's another smooth and satisfactory offering. Other comic book-themed titles include The Flash, Judge Dredd and The Green Lantern.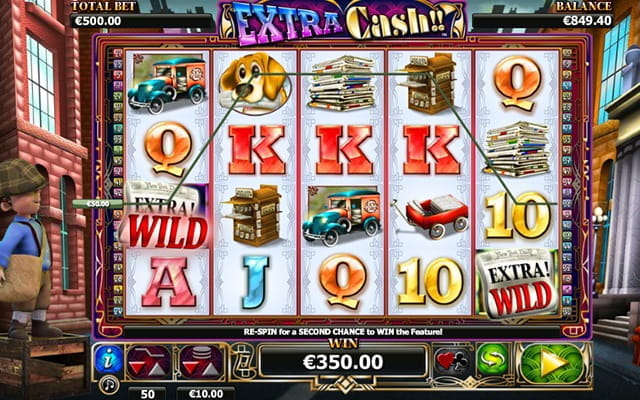 Extra Cash – Re-Spin feature
Let's face it, we could all do with some extra cash and that's where this slot comes on. Play for a multiplier of 25,000 as you escort a cheeky paperboy doing his daily rounds. Overall, this is a well designed and thoroughly enjoyable slot with much more than pocket change up for grabs. Relive your youth with NextGen's Extra-cash.
.
All games from this developer look fantastic. The online casino business has really upped its game in the past couple of years. Trashy graphics and soulless designs just don't cut it anymore, and the industry's top developers such as NetEnt, Microgaming and NextGen have raised the bar significantly. The biggest difference between NextGen slots today and slots five years ago is diversity. Compare the hand-drawn artistic style online slots to the epic blockbuster games with 3D animations lighting up the reels. Slots libraries of NextGen casinos today are a melting pot of innovation and creativity. You'll find vibrant colours, crisp sound effects, and smooth graphics all throughout, with some reels really taking things to the next level with 3D-like animations and blink-and-you-miss-it details around the main play grid.
A Closer Look at Mobile Slots and Games
You won't survive very long in this industry if you're not offering some kind of mobile version of your product. Mobile internet usage is overtaking desktop in the UK and most of Europe, and the game devs in the online casino business have reacted. Like its competitors, this provider has optimised its games for mobile platforms, meaning you can enjoy the likes of Foxin' Wins and Irish Eyes on the bus or in the staff room at your office. To experience this provider's games on the go, the process is simple. Visit one of our recommended NextGen casinos through your mobile's or tablet's browser, and you've got the instant-play HTML5 web app at your disposal. This is commonplace for casino operators these days, as native apps take longer and are much costlier to develop and maintain. This one-size-fits-all approach is more forthcoming to those looking for quick access – though it does carry some disadvantages as well. To read up on those and get additional info on gaming on the move, check out the dedicated mobile guide we've put together for you. Depending on the website, there might also be a downloadable app – if you're a fan of quicker loading times and simplified browsing. To give you some inspiration, LeoVegas has a world-class mobile casino, offering a selection of games including the excellent Merlin's Millions Super Bet – and that on both a native and download-free platform!
Company Details and Information
NextGen is part of a wider talent pool owned by the NYX Gaming Group, which itself is now owned by the even bigger Scientific Games. The developer provides its games to more than 70 online casinos, across 20 languages and currencies to match. A truly global company, then. Based in Las Vegas, the NYX Gaming Group is licensed and regulated by the United Kingdom Gambling Commission in this country. It also uses SSL encryption to protect its users from those lurking in the dark corners of the internet. The NextGen Gaming arm, which mostly produces high-quality online slots, is made up of around 200 employees. NXY's Open Gaming System was named platform of the year at the EGR B2B Awards in London in June 2016, much to the delight of CEO, Matt Davey. For more information about the best online slots in the UK, stick with slots.info.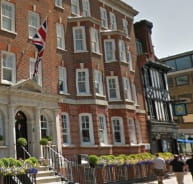 Company Details
Company

NextGen

Software Developer

SG Digital (NYX Gaming Group)

Headquarters

Las Vegas

Founded

1999

CEO

Matt Davey
Website and Contact
Websitewww.sgdigital.com
Email

Contact form only

Telephone

+61 2 9964 9111

Employees

350+
Considering their commitment to keeping players on the edge of their seats, NextGen is consistently pushing the boundaries on the direction their online slots will take. Take their most recent slot 'Prosperity Twin' for example. This game marks the start of many with a pretty cool new feature. Their unique expanded bet function allows players to win in both directions, which is a real treat in comparison to most of the traditional video slots. Needless to say, there's a lot to look foward to with this developer, and we're excited to see what comes next!