The Top 10 Best Animal Slots for 2021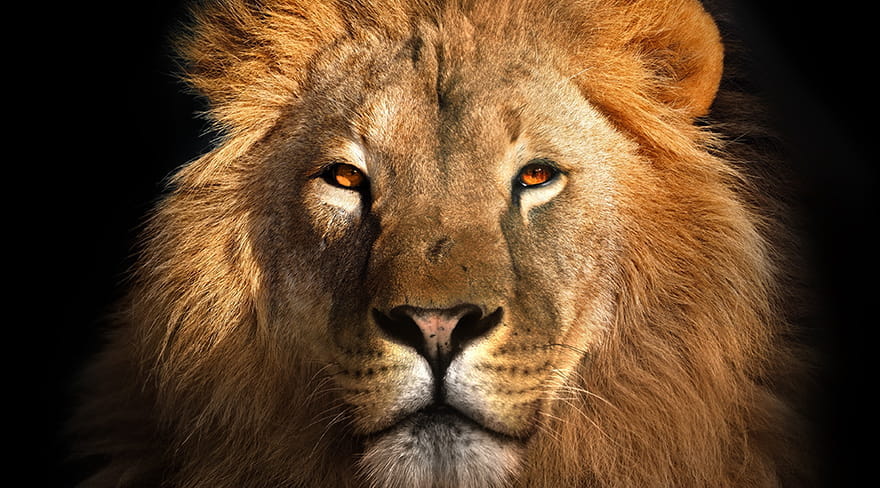 Of all the slot themes and aesthetics, none are as popular as animals. Animal slots have conquered the online slots genre, with thousands of them on offer. You now have the chance to try your luck on many premium titles with this theme. Naturally, before you do so, you first must settle on a specific game. For your convenience, we have listed some of the best animal slots currently available.
The Top 10 Best Animal Slots for October 2021
Animals are always fun to look at and even more so when you add winning bets into the equation. The online casino scene is full of top-tier animal slots for you to play and the most popular of them can be found at any gaming platform. Below, you will find the ten most played animal slots on the Internet.
1. Buffalo Blitz
This game is a Playtech creation and that alone increases the standards by which we judge it. Playing Buffalo Blitz is, without a doubt, a rewarding experience. Unlike other slots on the market, this one features 6 reels and the 4096 ways to win system. This means that you will score more wins on average than usual.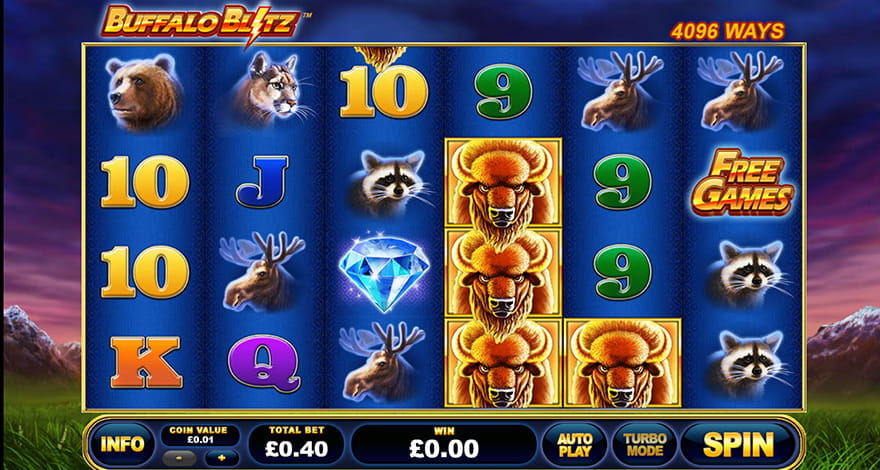 Furthermore, you also have the chance to trigger free spins and benefit from excellent multipliers. With a maximum payout of x300, one cannot go wrong playing Buffalo Blitz. For more information on the game, feel free to read our Buffalo Blitz review.
2. Wolf Gold
The first entry on this list comes to us courtesy of Pragmatic Play. Wolf Gold is one of the most notable animal slots to come out in recent years. It has a place in every casino lobby and it is enjoyed by thousands of players every day.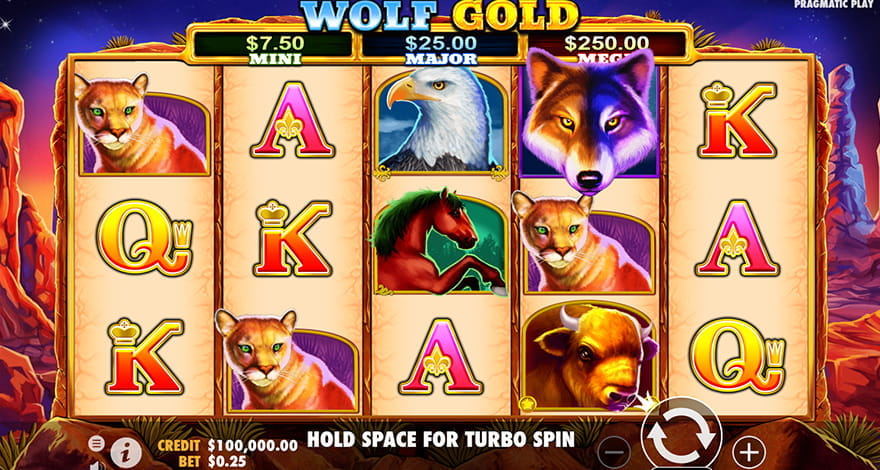 It would be best if you too considered giving Wolf Gold a try. This game only features excellent visuals, but the gameplay is fun and engaging, as well. The Wolf Gold feature, after which the game is named, has the potential to bring in massive wins. The progressive jackpot tied to this slot is nothing to scoff at and we are certain that anyone would be glad to win it.
3. Mega Moolah
Who hasn't heard about Mega Moolah?! This progressive slot is possibly the most popular of its kind in the iGaming scene. Offering players millions from the prize pool, a lucky few players have the chance to become instant millionaires. You too are only one spin away from claiming a small fortune. If that idea sounds good to you, consider reading the full Mega Moolah slot review.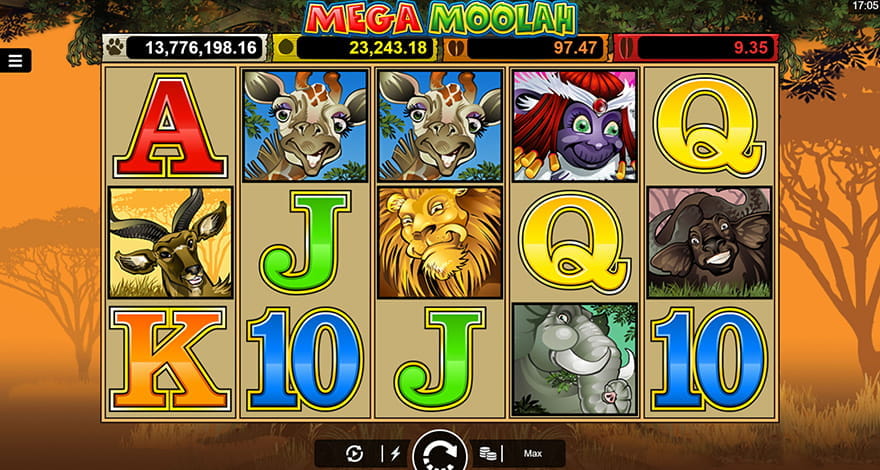 On the base gameplay level, Mega Moolah is somewhat simplistic. However, this is to be expected, considering the age of the game. Regardless, it still manages to hold its own in today's iGaming scene.
4. Epic Ape
Epic Ape is another Playtech masterpiece, one that anyone can get behind. This game puts you in the middle of the jungle, surrounded by pumas, tigers, and, of course, the Epic Ape. The theme really stands out and will keep you playing for hours on end. The 6 reels are a welcome addition and will add more excitement to your experience.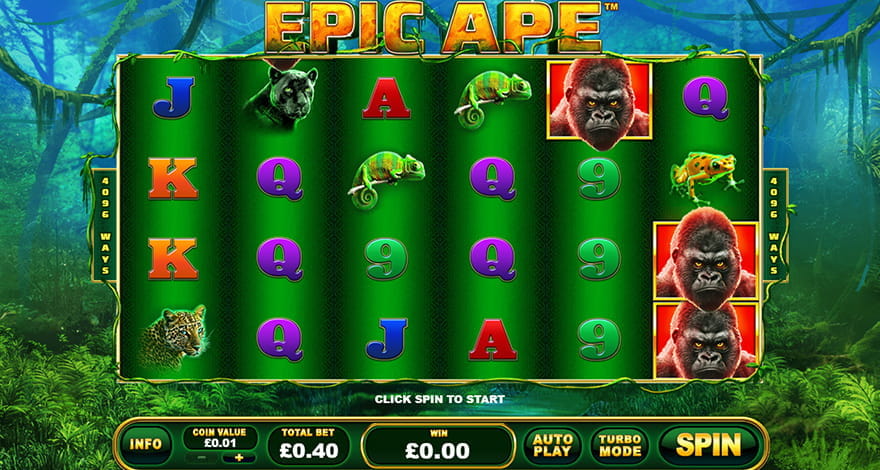 As far as the bonus features are concerned, Epic Ape gives you the chance to win up to 100 free spins in specific situations. The 4096 ways to win system, on the other hand, will make every other spin a winning one. With enough luck, you can get away with a lot of cash.
5. Raging Rhino
Raging Rhino is one game that you will not want to ignore. This SG/Williams title is commonly found in the lobby of most online casinos that offer it. With 4096 ways to win, you will find no shortage of paying bets. Free spins are at your disposal whenever you meet certain criteria, while the maximum win of up to x250,000 will keep you spinning for days.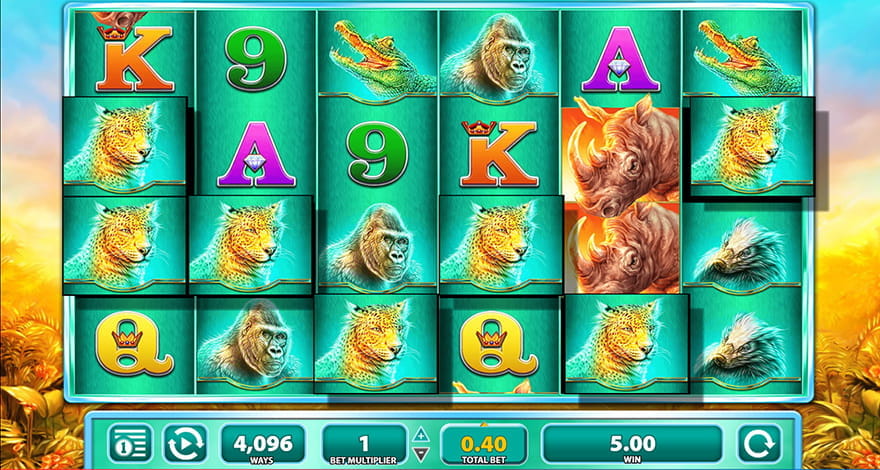 The charm of this title does not come directly from the gameplay. Instead, the bright and colourful visuals will mesmerize you, keeping you glued to your screen. The character of the game makes up for its simplistic gameplay features. If this game sounds interesting to you, considering looking up our Raging Rhino slot review.
6. Jungle Spirit: Call of the Wild
It was only a matter of time for a NetEnt entry to appear on our list, and here we are. Jungle Spirit: Call of the Wild ranks among the top animal slots in the world. Featuring high-end graphics and buttery-smooth animations, this slot represents some of NetEnt's best work. The background music will immerse you into the experience, while the great payouts will keep you coming for more.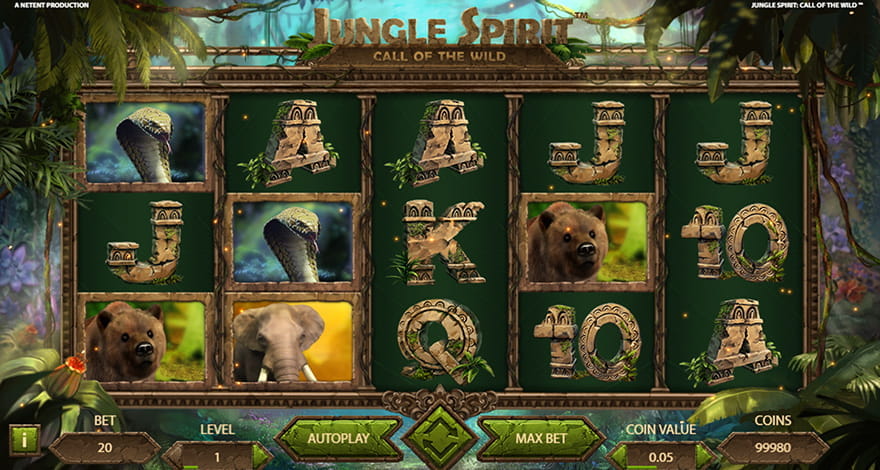 Jungle Spirit: Call of the Wild is one game that you will not want to pass up on. It has a kind of primordial energy about it and it makes for a top-tier gaming experience. More about this slot can be found in our Jungle Spirit: Call of the Wild slot review
7.Buffalo Rising Megaways
Buffalos seem to be a prime contender for top animal featured in slot games. Of course, when you have titles like Buffalo Rising at your disposal, it is easy to see why. This Blueprint slot will bring you back to the Wild West and on the path to score many wins. The Megaways feature, which offers an absurd 117,649 ways to win, plays a small role in that.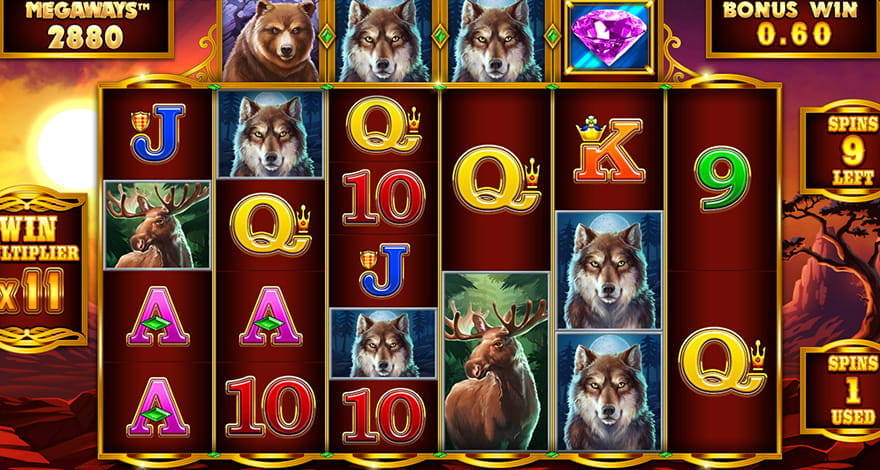 On the gameplay level, you can benefit from free spins, Wild symbols, and more. The Buffalo Bonus will allow you to straight-up purchase free spins with specific modifiers. Buffalo Rising can be played at many popular online casinos and we recommend that you give it a shot.
8.White King
How can you have animal slots without a lion? This is a question Playtech asked themselves and decided to create one of the best-looking games of this type. Despite being released in 2014, White King still contends with modern games in terms of visuals and aesthetic.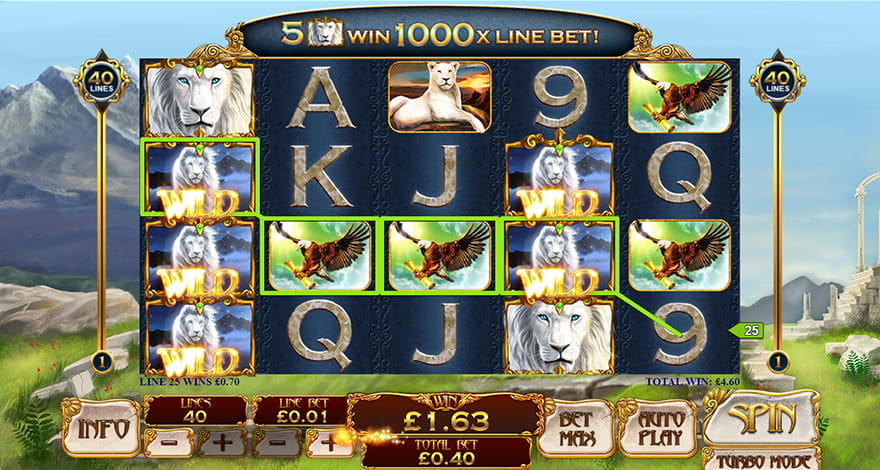 As far as gameplay is concerned, you will not find much complexity. This is a traditional video slot without special over-the-top bonus rounds. But then again, it does not need them. White King is able to deliver a great gaming experience with just its core gameplay loop and that is not insignificant. Be sure to read our White King slot review to find out what makes this game so great.
9.Siberian Storm
Animal slots usually pay attention to life in the savannah or the jungle; few games go to explore the snowy wastes. Siberian Storm, however, has no issues in presenting us with something novel and unique. What's more, you also get to form winning combinations in 720 different ways. There is no limit to what you can accomplish with this game.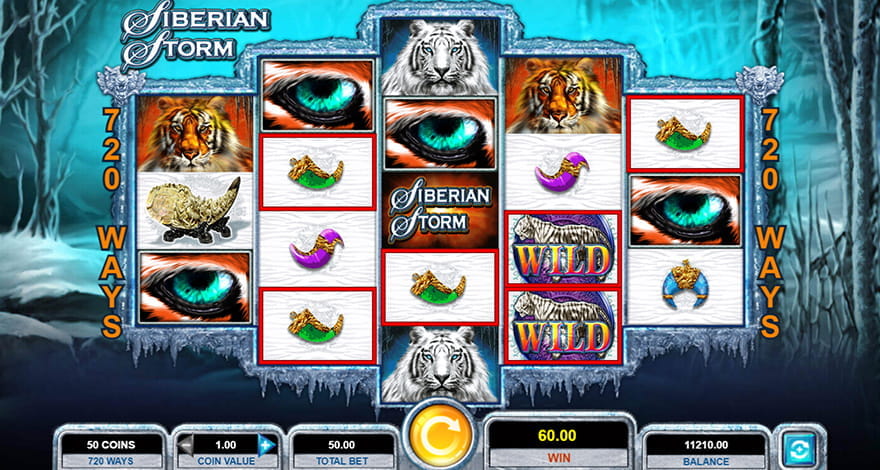 Aside from a killer aesthetic, IGT has also included several great bonus features. The free spins bonus is the major one, allowing you to claim up to 240 additional games. Siberian Storm should definitely be on your radar. For more info, be sure to visit the dedicated Siberian Storm review.
10.Pink Elephants
Pink Elephants is one of the best-looking games to come out in recent years. With a graphics style that is impressive and mesmerising, game developer Thunderkick has delivered a stellar slot. Not only that, but this provider also introduces new gameplay features into the mix.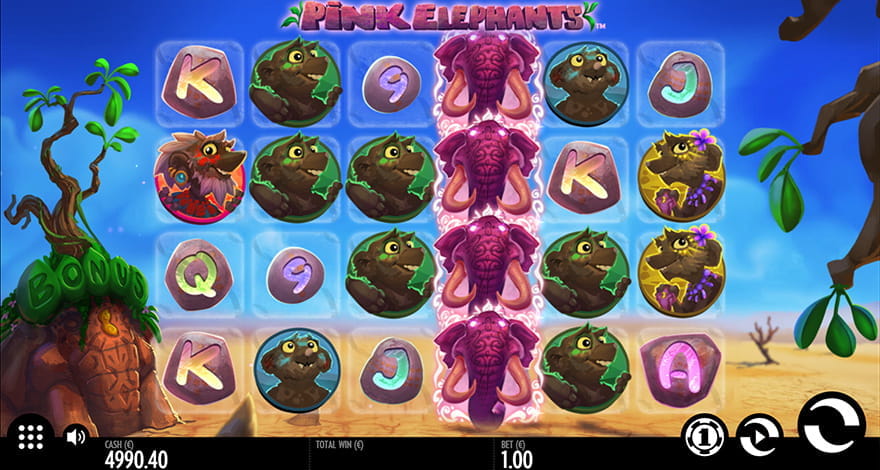 Free spins, transforming symbols and more await you if you choose to launch Pink Elephants. The entertainment value of this game is immense. The maximum payout of x8,200 is definitely worth your time and we recommend you have a look. Our Pink Elephants slot review goes in-depth about all aspects of the game. Feel free to check it out to get a better perspective.
FAQ About Animal Slots
While we have listed the ten best animal slots in the iGaming business, there are many more aspects of this topic that have not covered. Naturally, you may have questions and we are ready to provide answers. Below, we will give you additional insight into the slot scene and how it works.
❓ Where can I play animal slots?
The online casino scene is massive and you will have hundreds of websites at your disposal. We have hand-picked some of the best out there, for your convenience. Be sure to check out our list of the best real money slot sites to find the best one for you.
🎰 What other animal slots are there?
The iGaming scene is full of all manner of different slots. The animals aesthetic is one of the more represented themes out there. You can find hundreds if not thousands of them online and there are too many for us to list here. However, we recommend that you take a look at Neon Staxx and Jungle Giants, for alternative titles.
🔥 What are the best animal slots developers?
Of all the developers in the online casino space, few achieve significance. NetEnt is one of the largest development studios in the world. It is responsible for the creation of some of the best slots on the market. Playtech is another industry leader and their games can stand toe to toe with anyone's.
✔️ Can I play animal slots for free?
Most, if not all, online casinos offer a free play option. This gives you the opportunity to try out any of the games before you wager real money on them. This feature comes in handy when you encounter new animal slots. Additionally, you can also check out our list of new slot sites to see where you can play them.
📱 Can I play animal slots on my smartphone?
Of course, you can play your favourite games on the go. Software providers and online casinos have supported mobile devices for a while. Practically, no respectable gaming website will pass up on mobile players. If you are interested in mobile gaming, be sure to check out our mobile slots casino selection.