The Best Sports Slots Games Online for 2021
Tired of sitting in one spot and wishing for excitement in your slot games? Then let's move those muscles with the top 10 sports slots! Betting has been a part of sports ever since the 19th century, and people still enjoy predicting the results of a match or race. Thus, it is no surprise that many developers create fun and colourful sports slots that bring excitement straight to your computer. Read on to find out more about these fantastic games and the bonuses they offer. Here's a preview of the games:
The Top 10 Best Sports Slot Machine Games Online
Enjoy the excitement of sports from the comfort of your home. All the games on this list are safe and will provide hours of fun to all sorts of players. Before we aim for gold, we must practice by reviewing the list of games we will encounter. Here is the list of the top 10 sports slots that you can participate in for grand prizes:
Break Away – RTP: 96.89%
We begin with a wild and thrilling sports slot. Break Away is a fun hockey-themed slot created by top developer Micgoraming. This 5×3 grid slot with 243 paylines focuses on the wilds, which can appear in large stacks to grant huge prizes. Enjoy the cascade feature, breaking the symbols and giving you new ones for even more rewards.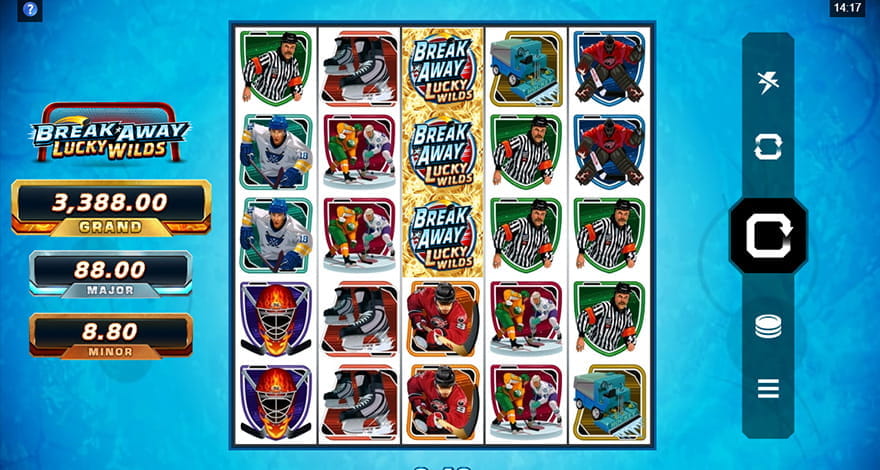 Bonuses can make or break a game, and that's why this slot excels in them. Hit 3 flaming pucks to score a wonderful free spins feature, including an increasing multiplier. Each win increases the following rewards. With an "all-ways-win" system and wild reels, you are certain to earn huge prizes. Randomly, a hockey player can break a reel and make it wild.
While the volatility is medium, the wild reels and cascade feature will guarantee frequent rewards. The game is most suited for mid rollers, who enjoy the risk, but also don't want to break the bank. There's much to enjoy with this game, so if you're interested, check out our complete review of the Break Away slot for more details.
Football: Champion's Cup – RTP: 96.82%
Get ready for the kick-off and win the cup in this wonderful sports slot. NetEnt once again prove their prowess with a slot machine that recreates the exhilarating atmosphere of the World Championship. Choose your favourite country and help them win in this medium to high volatility slot. The slot has three rows and five reels with 20 paylines, so it's a fun standard slot machine.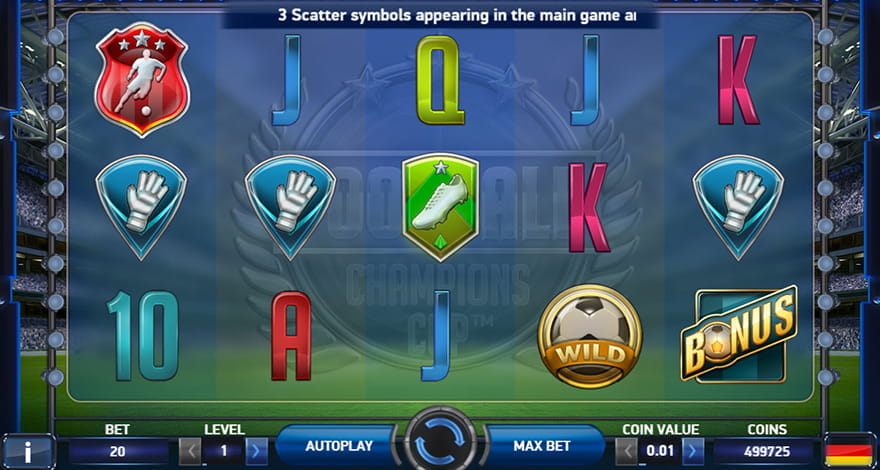 There's plenty of bonuses to find among the various football-themed symbols. Score three bonus symbols and you can play a penalty kick minigame for cash prizes. But the biggest prize is the gold cup activating the unique free spins bonus. In it, land blue wilds to score goals for your team. Win the match and your country advances in the tournament. With enough luck, you can win one of three cups and their cash prize.
Fans will cheer as you play the slot, making you feel like a superstar. The game is suitable for all budgets, so any football fan can enjoy the thrill of the game. With a stylish design, you will be able to enjoy an exciting match and win the gold cup for your country. For more information, please check out our review of the game.
Luchadora – RTP:96.2%
Get in the ring and wrestle with the big boys in Luchadora. Thunderkick's colourful slot is inspired by the popular sport of Mexican professional wrestling. The five burly masked men will help you fight against the odds and win huge prizes in this classic medium volatility slot with five reels, four rows and 30 paylines, suitable for all players.
The game has three wonderful features. Landing the Lucha Smackdown at the fifth reel will grant a random amount of free spins and a multiplier. The Lucha Bonus belt will bring even more free spins depending on how many symbols you have. You can combine this with the Smackdown for a ton of free spins and bigger rewards.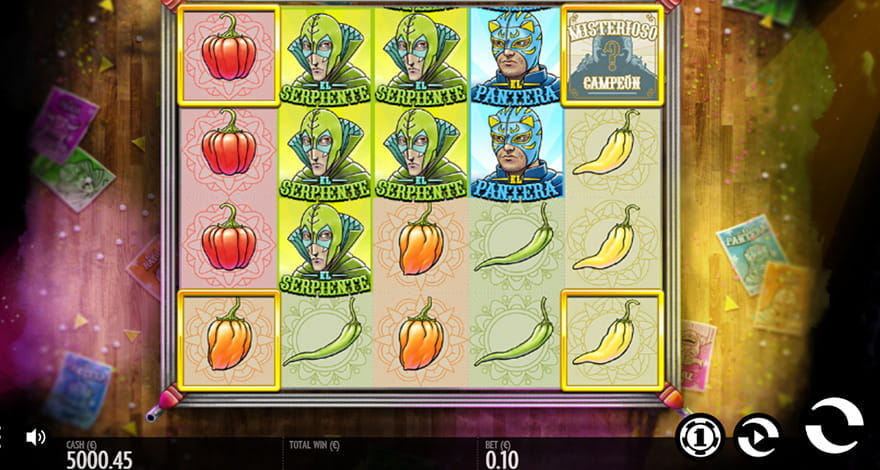 But the true melee starts when each of the four wrestlers lands in the golden corners. They will become wilds, as they usually do, but with all four gathered, the mysterious champion becomes La Luchadora. This is the highest paying symbol and will destroy all competition, with its big rewards. As there is much to explain, we recommend checking out our complete Luchadora review for more details.
So get ready for the fight of your life with this amazing game. It may be difficult to land the free spins and wilds, but the low bet limit of will allow any enthusiastic wrestling fan to try their might. Enjoy a colourful and unique game, unlike any other sports slot machines.
Nyjah Huston: Skate for Gold – RTP: 96.2%
Perform tricks and earn rewards in this radical skating slot. Join the world-famous professional skater Nyjah Huston on a fun and stylish ride at a wild skatepark. It's a medium volatility slot with ten paylines, five reels and three rows so landing tricks may be difficult. But there's plenty of bonus features to help you earn the gold.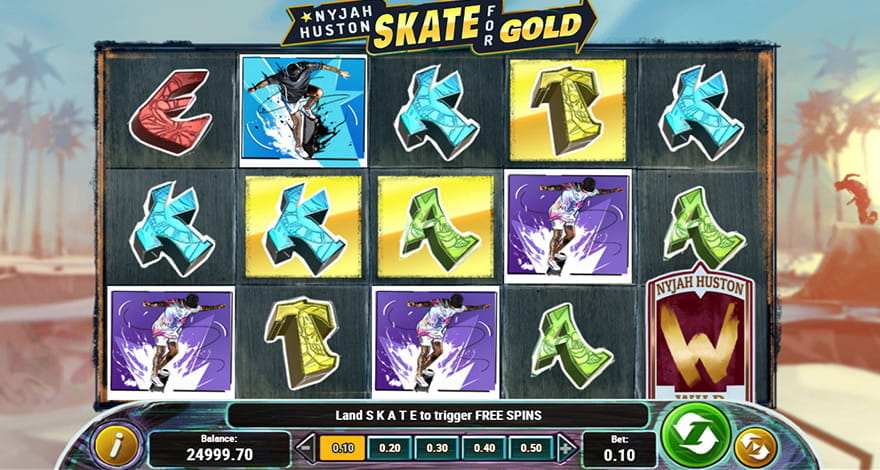 Get the gold S,K,A,T,E letters in order to trigger twelve free spins. Always during the free spins and randomly during the base game, you will get a combo meter. Land the trick symbols shown and you can activate the Wildboard Respin. This will trigger two wild symbols and a big wild covering a reel, for a higher chance at winning big. The big wild can even turn gold and add a multiplier.
Play'n-GO have brought the fun and spirit of skateboarding to sports slot machines. Enjoy the stylish graffiti symbols, exciting soundtrack and aim to be the best skater with Nyjah. The wide range of bet limits will suit all types of players, so anyone can shred a trail with this game.
Nitro Circus – RTP:97%
We continue the extreme atmosphere with Nitro Circus. Earn huge rewards by performing sick jumps and aiming for the highest rewards with a variety of fun vehicles. This five-reel, four-row slot has low to medium volatility and 25 paylines, so you are sure to earn frequent rewards and activate the explosively fun bonuses.
Getting at least two bombs triggers the Nitro Blast feature, where one of five bombs will be a dud and bring a reward. Three bombs trigger the Nitro Free Spins, for up to 30 free spins, where you can collect even more rewards and also trigger the Nitro Blast. But the main event is the Nitro Jump.
Spell the word NITRO on the reels and you can play a fun minigame, where you collect items and coins for huge rewards. You can also trigger this game by collecting five of the four coloured tokens, giving you a new vehicle to play with. Just like the real event, these silly vehicles can score you a ton of points if you perform the tricks right.
Yggrdasil's fantastic extreme sports slot will bring hours of fun to any player, due to its wide bet limit. Enjoy the rocking music and bright lights as various riders jump around in the background, waiting for you to join them in the fun minigame. There is never a dull moment with this exciting slot machine.
Rugby Star – RTP:96.52%
Next on the list, we have a fun "all-ways-win" slot themed after the awesome game of rugby. Enjoy symbols representing players from all over the world, granting you huge rewards. All you need is three adjacent symbols on the 5×3 grid to trigger a win. Once the cool animation plays out, the symbols will disappear, activating the cascade feature for more potential rewards.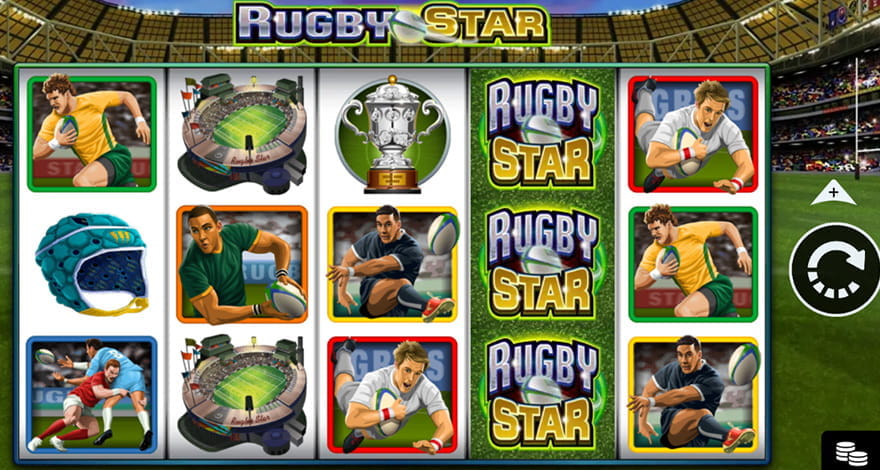 There's not much in terms of features, but what is there will significantly increase your odds of winning. Get three or more scatter rugby balls for up to 25 free spins and a 10x multiplier on all wins. Additionally reels 2,3 and 4 can randomly get filled with wilds. Combined with the 243 paylines and cascade feature, this can lead to enormous, guaranteed rewards. Our detailed review of Rugby Star will help you get a taste of the action.
Rugby is normally a tough sport, with a lot of hard tackles, so this game may not be suitable for low-rollers. Medium and high rollers can enjoy a fantastic high stakes game with many chances to win and big multipliers. Enjoy the crowd cheering for you at every win and the detailed animations of the players running around in this gorgeously developed game by Microgaming.
Sumo Spins – RTP: 95.05%
Step into the ring and push the odds in your favour with Sumo Spins. This sumo wrestling slot features adorable cartoon sumo wrestlers competing against each other to help you win. With medium volatility, a 5×4 grid and 40 paylines, you are bound to win great rewards and even activate one of the four wonderful bonus features.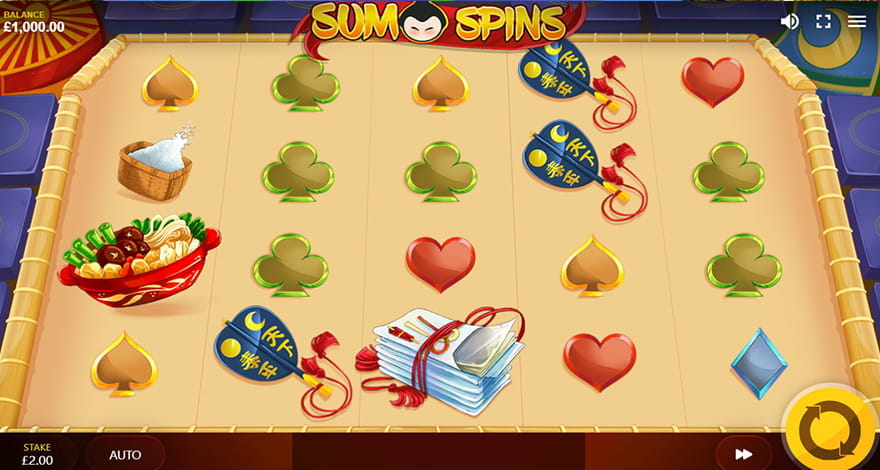 The three wrestlers are here to help you win. The red one will nudge the reels in different directions to hopefully create winning combos, while the blue one will roll across the ring and bring guaranteed rewards. Meanwhile, the green one jumps on the field and triggers a random number of free re-spins. If you get more than one wrestler, you can even trigger a free spins game, where they all become wilds and help you win even more rewards.
Red Tiger Gaming have created a wonderfully colourful sports slot. The symbols include items related to sumo, rolling on a traditional dohyo (sumo ring) and the wrestlers have cool animations when triggering a bonus. All players can enjoy a bout with the wide bet limit. Enjoy frequent rewards and a variety of bonus features as you listen to a fitting Japanese tune.
Universal Cup – RTP: 94.17%
The popularity of football transcends space itself. Experience the familiar thrill of football with a futuristic coat of paint. Various aliens filling different roles will help you earn the big rewards as you aim to score the mega win. The slot has medium volatility, a standard 5×3 grid and 20 paylines, so you can rely on a fair amount of rewards.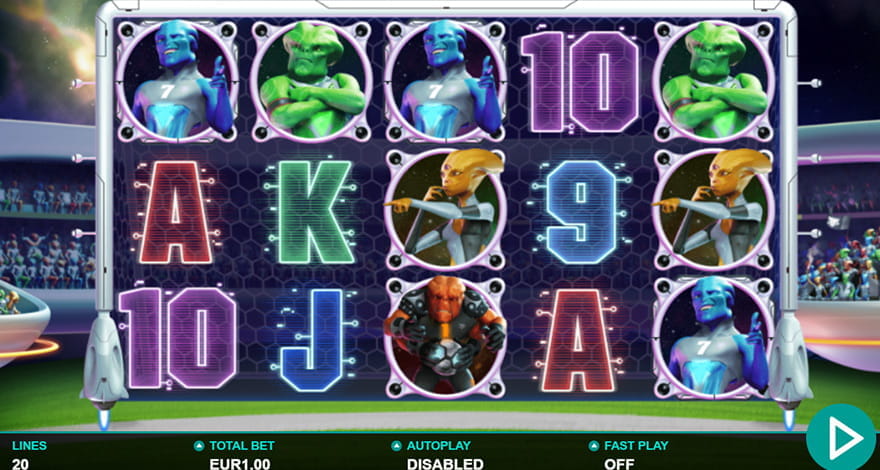 Three bonus features will make this space match even more enjoyable. First are the wilds. Randomly, the blue midfielder will lift the cup and trigger an entire reel or two of wilds for a big reward. Get three symbols of the manager and celebrate your victory by picking several symbols for a huge fixed prize. With three football symbols, you can earn seven free spins, each benefiting from the wild reels.
Leander Games has created an impressive slot game. Featuring stunning 3D graphics, a bombastic soundtrack with fans cheering as you play, and a unique space aesthetic, this is one slot that can stand out with visuals alone. The wide bet limits are suitable for all types of players and, while not numerous, the bonus features offer plenty of big rewards.
Scudamore's Super Stakes – RTP: 96.99%
Combine the thrill of a slot with the excitement of horse racing in Scudamore's Super Stakes. Top developer NetEnt and Peter Scudamore have teamed up to bring you a fantastic game with unique features, unlike any other sports slot machines. It's a high volatility slot, with a 5×3 grid, and 10 paylines, but there's plenty of ways to win, which makes it all the more exciting.
Three bonus features are the most prominent. First are horseshoes that can randomly turn symbols into wilds. The second fun feature is the bet slip. Choose a symbol, how often it will appear in a set amount of spins and a bet amount. If you get enough, you can win a separate reward. The lowest bet amount is £0.80. This unique side bet provides a fresh experience and a way to win, even in losing spins.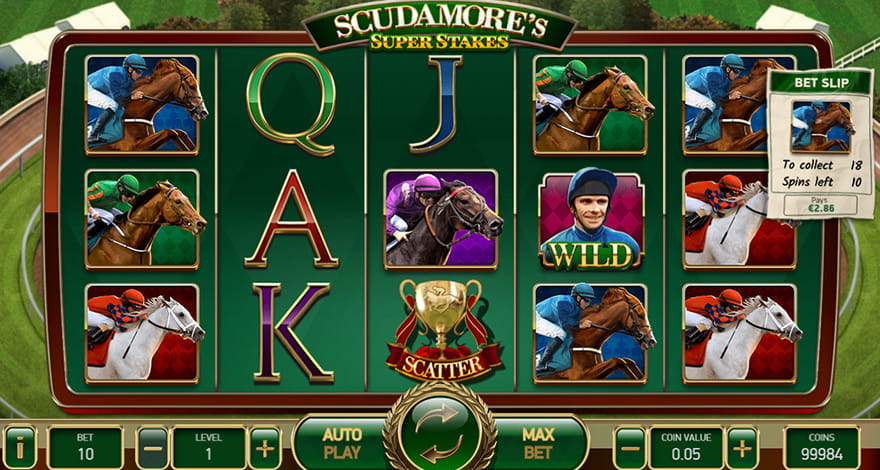 The final feature deserves its own paragraph. Get three bonus symbols, and you can enter the racetrack bonus game. Here, you choose a horse to bet on and hope you land the proper coloured symbols. Each corresponding symbol moves the horse up one space, and you need four to win the prize. Other symbols will also bring rewards, and the ride doesn't stop until one horse wins.
Once again, NetEnt has managed to create a wonderfully immersive experience. The wide bet limit allows players of all budgets to enjoy this unique experience. There is no game as exciting as this, with a stylish look that combines two wonderful gambling games into one. If you're excited to learn more, please check out our review of Scudamore's Super Stakes.
Immortal Glory – RTP:96.19%
We finish off the list with the greatest sports event, the Olympic Games. JustForTheWin's Immortal Glory takes you back to the ancient times with this fun slot game. Enjoy the crowd cheering, a fantastic soundtrack and wonderful effects as you participate in the most prestigious competition.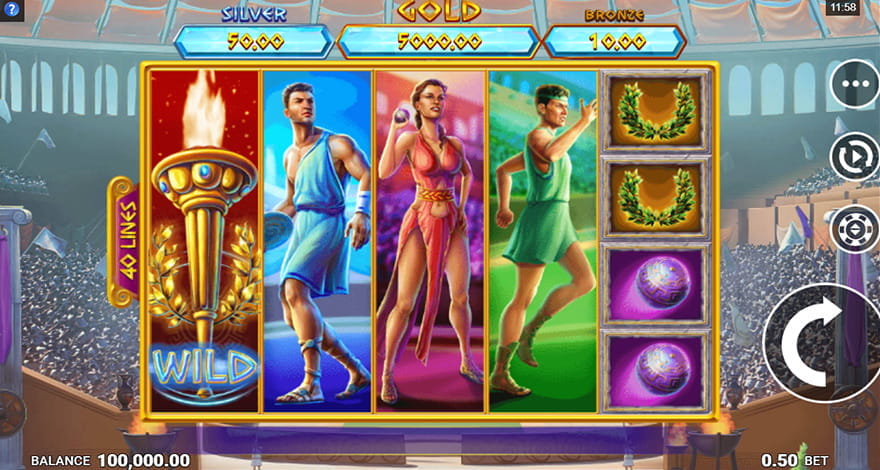 Three bonus features will help you rise above the competition. Getting at least two wilds will trigger five free spins, during which partially visible wilds will slowly move to cover the entire reel. Any wilds left at the end will trigger a Glory Spin with a multiplier for huge rewards. If you get three Jackpot symbols, you can pick one statue and get a random Bronze, Silver or Gold jackpot.
Glory awaits those that are willing to participate. The highest bet limit may be disappointing for high rollers, but low and mid rollers can enjoy a fun competition. With a beautiful design, a 5×4 grid, 40 paylines and high volatility, this is a tense but rewarding slot game, befitting the Olympic Games.
Conclusion – Go for Gold
With that, we've gone through all the events in our competition. Sports slot machines can be a wonderful dose of excitement, even without having played sports yourself. You don't need to be an athlete to enjoy the thrill of a bet.
We hope you enjoyed the list of the top 10 sports slots. Be sure to check out the rest of our pages for more top 10 slots and other interesting articles. Enjoy a well-deserved rest after so much exercise and see you at the next exciting competition!
FAQ Section
Before we start the real match, it's time for some training. Sports slot machines can be tricky to understand with the multiple paylines, various bonuses and how to set up a bet. That is why we will help you by answering some questions in this short section, so that you can play freely.
🤼

Are there any wrestling slots?

Pro wrestling is a more uncommon, but still fairly popular sport. There are indeed many slot machines based around that theme. We recommend Luchadora for your wrestling needs. It's a colourful and fun slot based on Mexican pro wrestling developed by Thunderkick.
📱

Can the games be played on mobile?

All the games on this list can be played on mobile as well. They are available for all operating systems and devices, so use whichever you prefer. Simply log in through the casino of your choice. We recommend Rugby Star for a wonderful mobile gaming experience.
🏍️

Which game has the best bonuses

Nitro Circus offers the most fun and accessible bonuses. The Nitro Jump game is a fun interactive game with multiple ways to trigger it and fun vehicles. Since the volatility is low, you can be sure to experience the bonus games frequently.
💰

Are there games with jackpots?

Many of the games on the list offer a jackpot feature. Universal Cup offers the ability to choose random symbols until you fill up a gauge. If you get lucky, you can snag all three fixed rewards at the same time for maximum payout.
🏇

What is the best sports slot for 2021

The slot that stands above all other sports slot machines is Scudamore's Super Stakes. NetEnt offers an immersive game that combines two of the most popular gambling games for double the fun. There's even a fun side bet feature and an exciting bonus game.