Best Flintstone Slot Machines to Play Online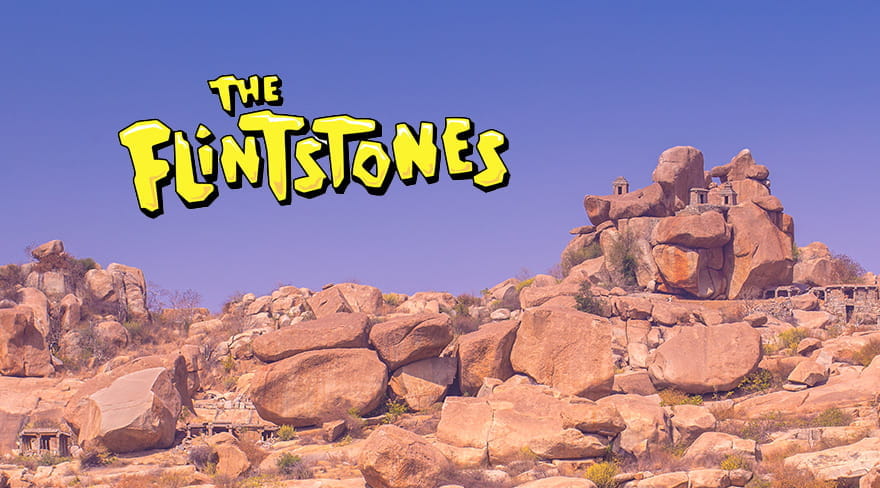 Do you still remember that show called The Flintstones, from back in the day? The exciting and fun adventures of Fred with his fellow friend Barney and their families. Now, the time has come for us to enter deep into the stone-age and experience the wild adventures of the Flintstones and their dinosaur and human friends. Join us and let us jump down a stegosaur's neck, grab huge dino-ribs, and find out all about what the Flintstone slots have prepared for us.
Top Fred Flintstone Slots for Real Money
The Flintstones by Playtech – The Best Flintstones Online Slot
We have literally waited for ages until we got an official online Flintstones slot machine. The Flintstones by Playtech has a classical grid of five reels and three rows, surrounded by a wooden frame and a watchful cute pterodactyl. Before you have even reached the point to recognise the colours on your screen, you will be stunned by the astounding soundtrack from the TV show. But wait until you see the great-looking characters on the tiles.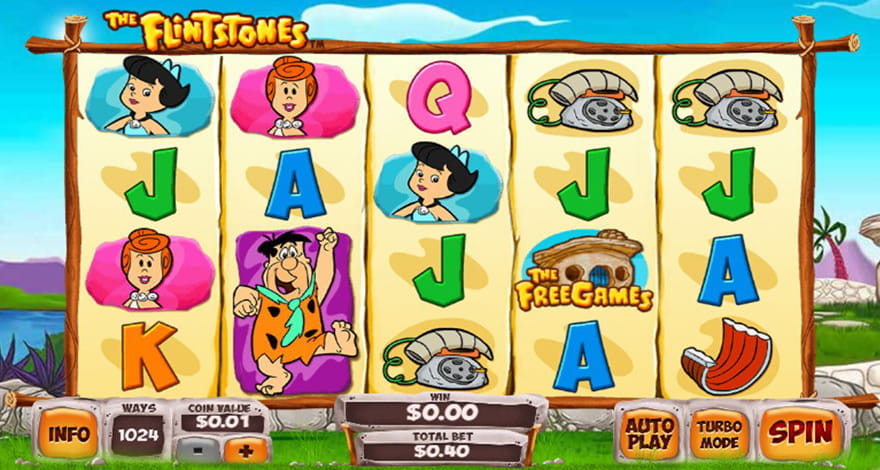 As the main character and head of the household, Fred is the highest reward symbol. Second is his adorable friend, Barney, followed by their wives Wilma and Betty. In addition, there are other symbols such as Fred's favourite ribs, shell phones, and playing card icons. Furthermore, the Flintstones has 5 unique bonus features. The best one is perhaps the Bedrock bowling bonus, where you have a choice over Fred's bowling style. The rest is just him smashing the lanes and bringing you money. If you would like to test one of the best Flintstone slots online, you can access the demo here!
The Flintstones by SG Interactive – Classic Design
Now, onto another classic adaptation. The Flintstones by SG Interactive is an old-school-like 3-reel slot. As you would expect, the game has all the essentials to be called a Flintstones slot. Right from the launch, you will hear the iconic cartoon music that we've grown up with. Furthermore, as different game symbols, you will meet the whole Bedrock gang. There is Fred, Barney, Wilma, Betty, and even Dino! While playing the Flintstones slot, you will feel as if you've watched the television show, just a few days ago, as while seeing all the characters, you will remember different scenes.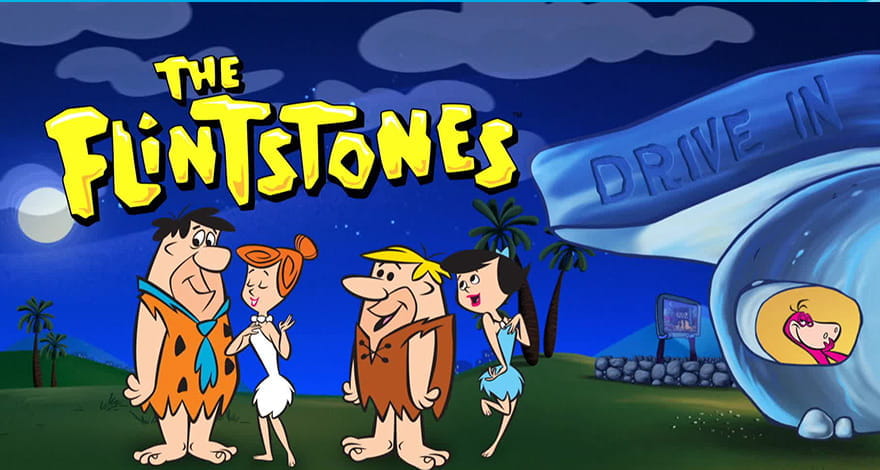 Just as you would expect, Dino does not simply stand there. When he sees you playing, he will not be able but to jump along in euphoria and even award you with some tasty multipliers. Along the way, you will have the chance to encounter seven different bonus rounds, that will increase your chances significantly to grab the Mega Wins. Regardless of being back in the stone-age, Bedrock hides many tempting rewards, such as up to 25 free spins, and a 200x multiplier. Better get ready for some Yabba Dabba Doo!
The Flintstones Dashing Dinо – Attractive Bonus Features
Flintstones Dashing Dino is a great addition to the Flintstones slot machine collection. It comes with a fresh design and is completely mobile compatible. In other words, you can freely play one of the Fred Flintstone slots wherever you are, from your mobile devices. Created according to the cartoon series, while playing Flintstones Dashing Dino, you will meet all the friendly faces that you have seen on the show. Of course, there is Fred, Wilma, Barney, Betty, and the easy to love Dino.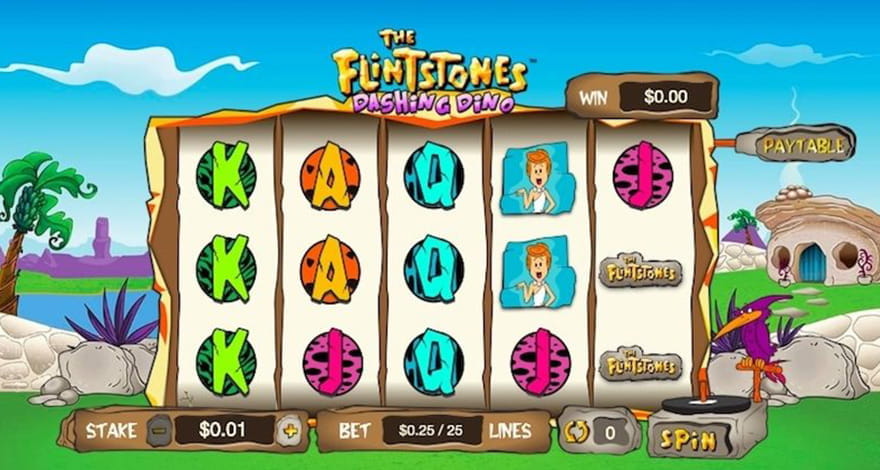 As if it was not good enough already, the Flintstones Dashing Dino holds many bonuses and multipliers, that are amazingly animated with iconic moments from the show. You will see how Dino digs up bones to grant you the hefty multiplier bonuses, or how Wilma cleans the floor using the remarkable stone-age mammoth hoover. Flintstones Dashing Dino has a great 95.93% RTPwhich sets it to be highly competitive with many other online slot games.
Flintstones – Welcome to Bedrock by Casino Slot – Stunning Gameplay
Flintstones Welcome to Bedrock is a bit different from the previous slots. That's simply because the latter cannot be found on the online casinos but in a real classical casino instead. We decided to include this one into the list because it is a truly fascinating Fred Flintstone slot. The game combines everything that you would encounter on the aforementioned titles and adds even more flavour. Once again, you will meet all your favourite characters, but this time, you will have the chance to glimpse what it really was during the stone-age everyday life.
You can trigger many bonus rounds which are astounding. They will take you on a stone-age bowling game where Fred and Barney will throw bowling balls, and depending on what they score, you will receive an attractive bonus. Furthermore, Wilma will bring her mammoth hoover, which will clean the floor and throw back some wild symbols.
However, if you ask us, the most exciting bonus feature out of all Fred Flintstone slots online is when Fred is operating the stegosaur. It will pull up the reels, increasing their number, which respectively means more tiles and more ways to win. The best thing is that this can happen multiple times in a row, leaving you with a dinosaur-size reel.
Frequently Asked Questions about Fred Flintstone slots
Going back to the stone-age might raise some queries, as we do not have solid records from back in those days. Therefore, with the assistance of Betty, we have taken the initiative to find the most frequently asked questions regarding the Flintstone slots online and answer them.
🥇

 What is the best place to play The Flintstones by Playtech?

The Flintstones by Playtech is a fascinating game that we highly recommend for you to try. Anyhow, the game is exclusively available only at BGO Vegas, so if you want to try it out, do not forget to grab their hefty welcome bonus promotions. To find more about the game visit our The Flintstones by Playtech section.
🦕

 Is it worth playing Flintstone – Welcome to Bedrock?

Despite that Flintstone – Welcome to Bedrock can be found only in some local casinos, it is incredibly fun, and the bonuses are just outstanding. Our verdict is that if you do happen to bump into a casino with the slot machine present there, give it a go. You can read more on our Flintstones – Welcome to Bedrock section.
🏆

 Which is the top Flintstone slot software developer?

All four games have features both one another. However, in terms of the top Flintstone slot developer, we must place our favour on Playtech, as they are a giant in the slot creation. With over 300 active slots, you can find Playtech games virtually on any online casino.
🐉

Is there a mobile-friendly Flintstones online slot game?

Do not be mistaken by the funny looking stone-age layout, the Flintstone slots are up to date. Moreover, when it goes to mobile compatibility, we would highly suggest you try The Flintstones – Dashing Dino, as the game is perfectly mobile-friendly.
🐊

 Can I win real money playing Fred Flintstone slots?

Of course, you can! In fact, you can not only score big wins, but you can also have fun with all the incredible features from the Flintstone slots. If you are a fan of the old-school 3 reel slots, you should try the Flintstones by SG Interactive, as it is incredibly entertaining and boasts big wins.