Cartoon Slots – Animated Slot Machines for All Tastes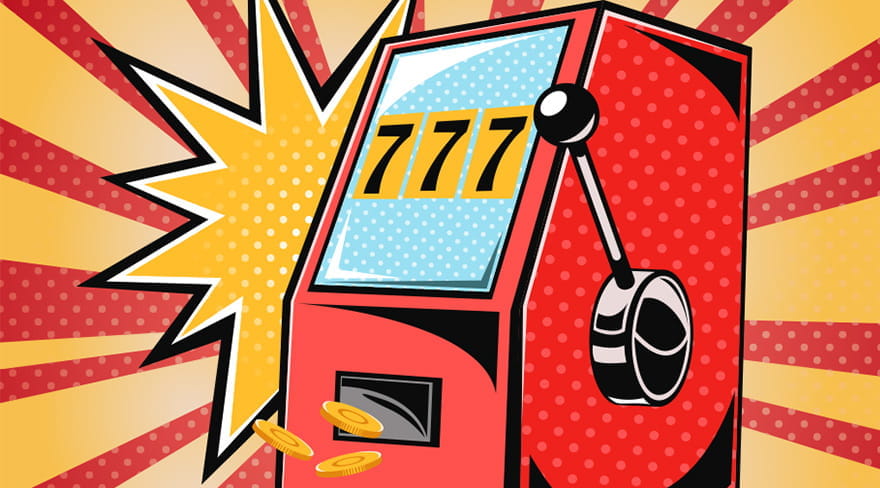 Cartoons are always fun, no matter how old you are. They represent some of the best that the media industry can produce, and this has remained true for decades. Of course, with the rise of iGaming scene, also came the age of cartoon slots.
The cartoon graphics style blended perfectly with the slots genre and software developers quickly picked up. Nowadays, some of the best slots out there come with a cartoon setting. In this article, we will explore the 10 best cartoon slots in the online casino world.
The Top 10 Best Cartoon Slot Machine Games Online
The online casino scene is full of various games. Specifically, there are more than 12,000 individual slots currently out there. This is too much for any single individual to go through. Luckily, we have the time and resources to do that. For your convenience, we have prepared a neat list of the top 10 cartoon slots currently available.
1. Rick and Morty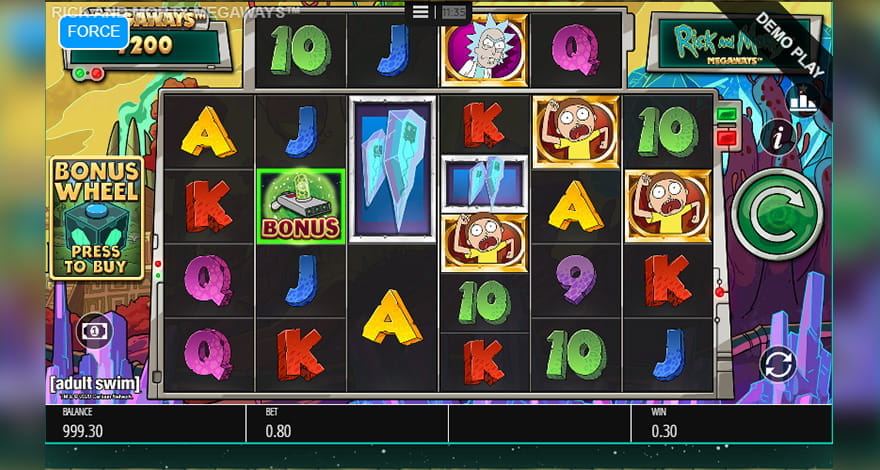 Rick and Morty is one of the most popular TV shows currently on the air, and it only makes sense for it to be adapted into a slot game. Developed by Blueprint, this video slot was only released in February 2020.
Being brand new to the scene does come with some advantages. For one, it comes with a full set of modern features, including cascading reels, multiple free spins rounds, and a bonus wheel mini-game. Of course, we cannot overlook the Megaways feature, which presents you with 117,649 ways to win. All in all, Rick and Morty is a great slot to play and any fan of the show will enjoy it.
2. Tooncops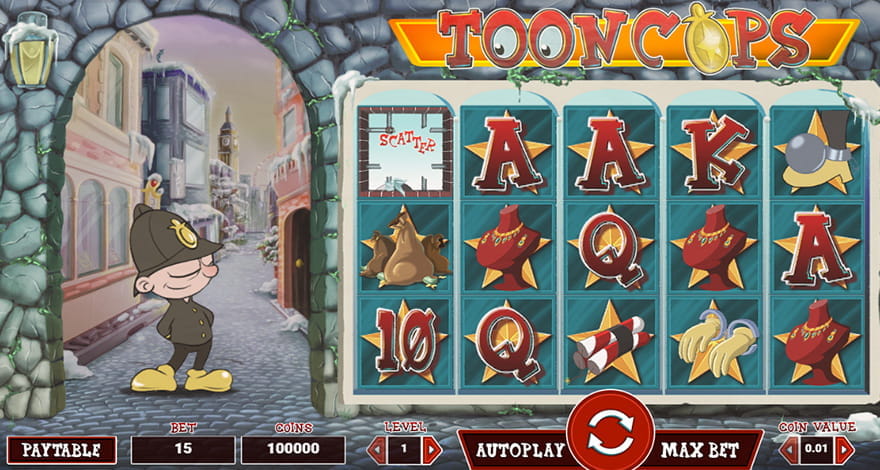 Are you nostalgic for the old-school Disney animation? Well, Gamshy is here to relieve your burden. Tooncops takes after 30s-style animated shows and features a somewhat unique and memorable theme. The visuals are quite pleasing and engaging and will inspire you to look up classic Mickey Mouse reels.
Gameplaywise, Tooncops is quite simplistic, offering standard free spins and no bonus rounds. Normally, this would be an issue for us, but the graphics are so charming even we can overlook this.
3. Family Guy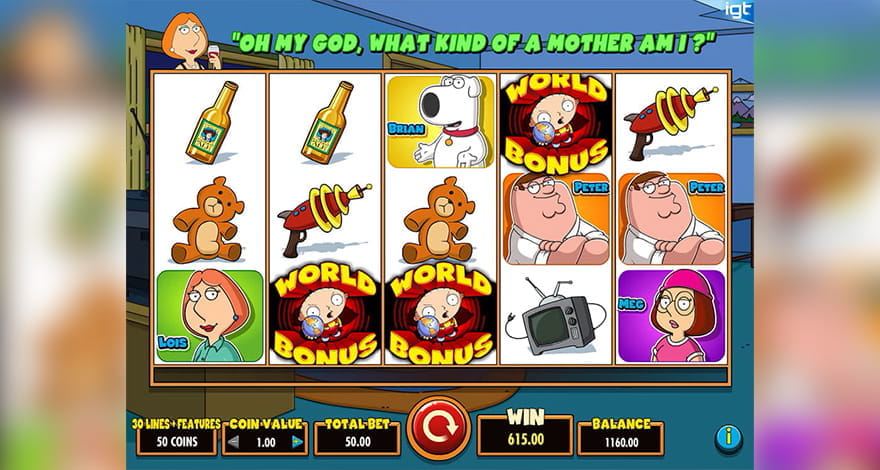 Family Guy is always good if you are in the mood for some mindless shenanigans. Now, thanks to software provider IGT, you can experience that as a slot game. As expected, the visuals of the game perfectly coincide with the graphical style of the show.
You will get to see your favourite characters spinning on the reels and taking part in several exceptional bonus features. Speaking of features, Family Guy comes packed with them. Among them, we count Lois' Hot Free Spins, Stewie's Wilds, Peter's Multipliers, and more. You will certainly get your money's worth with this slot, and we recommend that you give it a shot.
4. Top Cat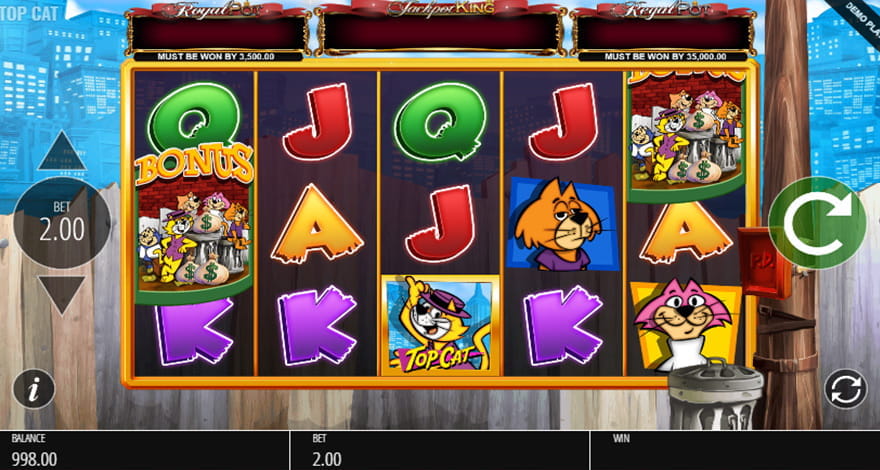 Another cartoon slot machine brought to us by Blueprint, Top Cat will bring back memories from the classic 60s show. You will see your favourite cat characters once again, this time gracing the reels of this modern game. By playing Top Cat, you will get the benefit of free spins, re-spins, bonus rounds, and more.
Let's not forget the Jackpot King feature, which is also available in several other slots. Placing bets on Top Cap will give you a chance to play for a sizeable progressive jackpot, which will trump all other payouts in the base game.
5. Beavis and Butt-Head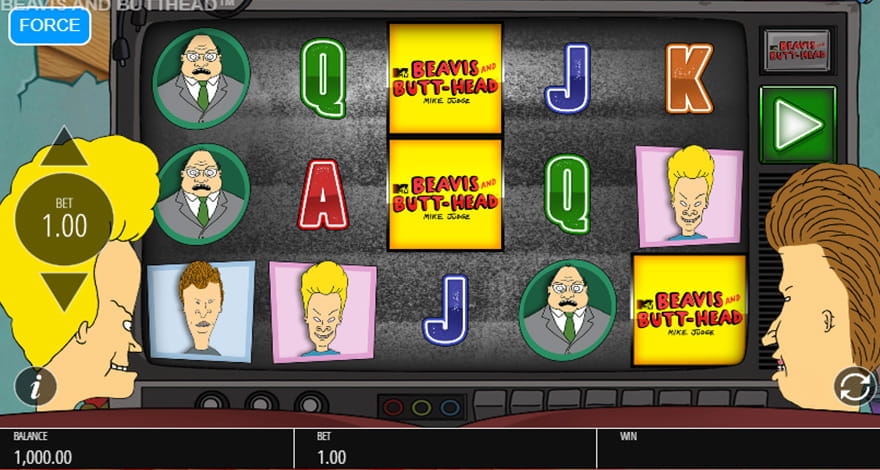 Blueprint seems to be on a roll with these animated slots machines, coming in with another entry in the form of Beavis and Butt-Head. The old MTV hit show makes for a perfect slot premise just to sit back and relax with. With a killer background track and an immersive setting, Beavis and Butt-Head will no doubt bring out fond memories of the 90s. Aside from that, you also get to play this fun and exciting game, packed with bonus features and rewards. As soon as you spin the reels, you will see just what makes it so compelling.
6. Pink Panther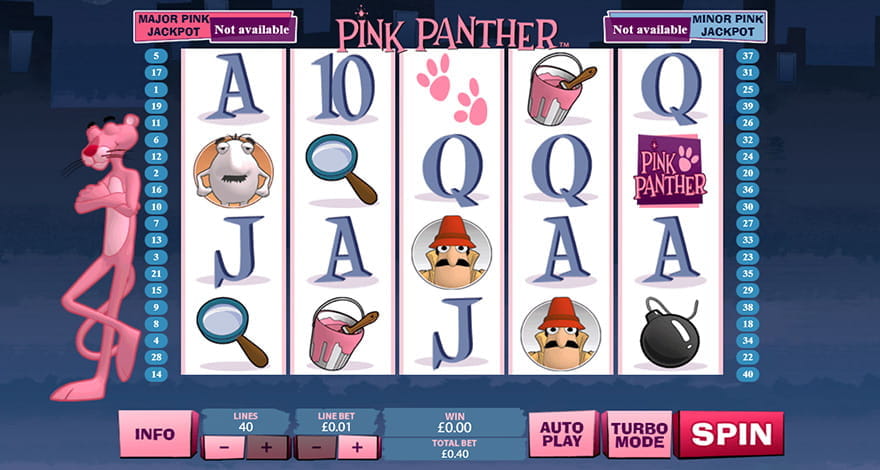 Pink Panther is one of those cartoons that lends itself quite well to the slots genre and this is perfectly exemplified with the eponymous Playtech game. In Pink Panther, you will be reunited with your favourite pink feline friend as you spin the reels and earn worthwhile payouts. The Pink Panther will stand next to the reels and react to what's happening on the screen in his usual relaxed manner. On the gameplay level, Pink Panther is a traditional video slot with 40 paylines, but also several worthwhile bonus features.
If you wish to learn more about the game and even try it out, be sure to check out our Pink Panther slot review.
7. American Dad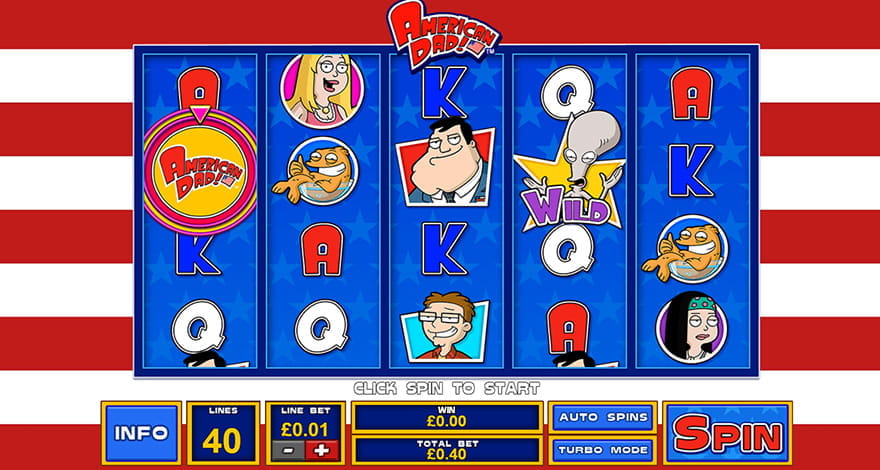 Playtech comes out with one of the major cartoon slots. This one takes after American Dad. This one is a little harder on the eyes than the other entries on our list. It features the red and white stripes of the US flag as the background, with blue reels in the middle. Still, if you are a dedicated viewer of American Dad, you can probably overlook this.
As a slot game, American Dad comes with 40 paylines spread over five reels. All of the major characters are present, while the bonus rounds are themed after them. Whether it be free spins, multipliers, random wilds or something else, you can bet that the American Dad personas are in the middle of it.
You can read more about this slot game in our American Dad slot review. We cover all important aspects of the game and also provide detailed payout tables and a rundown of the bonus rounds.
8. The Flintstones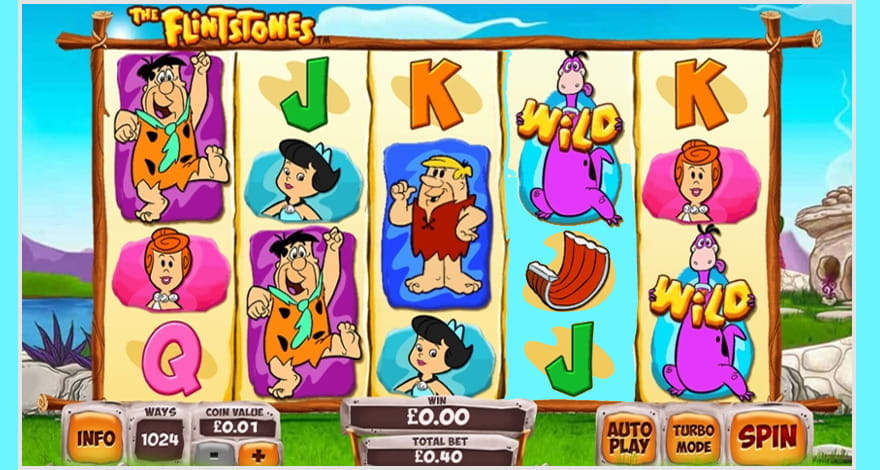 Who doesn't like The Flintstones? Nobody, of course. This hit show has been in the hearts and minds of TV viewers for more than half a century and its fame isn't going away any time soon. Therefore, it is only logical for it to appear like a slot game and to entertain us beyond the small screen.
With 1024 ways to win, you will no doubt score many great payouts while playing this game. Moreover, The Flintstones also offers the Bedrock Bowling Bonus mini-game and the Rocky Ride Feature. For more information, please consult our review of The Flintstones slot.
9. Jack and the Beanstalk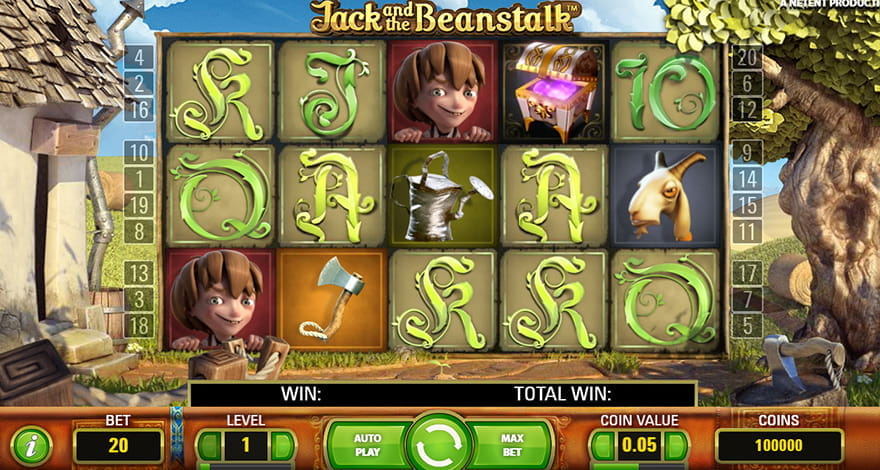 Jack and the Beanstalk is not so much a cartoon slot machine, rather more of a story we all know. Still, we saw it fitting for it to appear on this list, as it is a game that you will no doubt enjoy. Brought to you by industry leader NetEnt, Jack and the Beanstalk puts you into the magical world of fairy tales.
You play on 20 fixed paylines and try to score as many wins as possible. During the regular gameplay, you will also trigger intricate bonus features. Specifically, the game comes with multipliers, free spins, moving wild symbols, symbol collection, and more. Please read our review of Jack and the Beanstalk game, to gain a more comprehensive understanding of this title.
10. Big Bad Wolf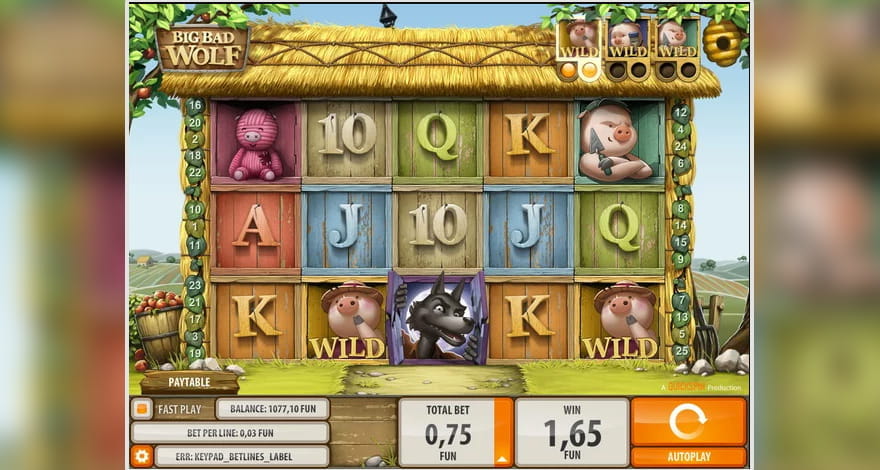 Another story-inspired animated slot machine comes in the form of Big Bad Wolf. This title by developer Quickspin will retell the story of the three piggies and their attempt to build the best house. Of course, a tale is best told during a bonus round and this is the inspiration behind the Blowing Down the House feature.
Additionally, you may also win some free spins, while the Piggie symbols will turn into Wilds during the regular game. There is much fun to be had playing Big Bad Wolf. You can learn more about this game from our Big Bad Wolf slot review.
FAQ about Cartoon Slot Machine Titles
This shortlist is only a fraction of what awaits you in the broad world of slots. There is much for you to explore and with that, questions may arise. We have prepared a small, but informative, FAQ section to help you get into it.
👍

What are the best casinos to play animated slot machines?

The iGaming scene is large and diverse. You will find hundreds of online casinos out there and it could be difficult for anyone to go over all of them. Fortunately, we have a full selection of in-depth casino reviews to help you find the best real money slot sites.
🎰

Do all casinos offer cartoon slot machines?

That would depend on the casino and the games you have in mind. If the titles are developed by a major software provider, the odds are that you will find them at most premium online casinos. For example, NetEnt powers a large number of online casinos and you will have no issue in finding the NetEnt games mentioned above.
📱

Can I play slots on my smartphone?

Of course, you can play slots on the go. Modern software providers have adapted their platforms to support mobile gameplay. You can easily open any game from the last 5 years and place bets as you please. For more information on the topic, consult our mobile slots and casino reviews.
❓

Why are some cartoon slots disappearing from online casinos?

It is sometimes the case that certain animated titles will disappear from the public space. This was the case with several NetEnt slot games, most notably with South Park and South Park: Reel Chaos. We can only speculate about that, but it likely has to do with copyright law and licensing agreements.
🔻

Where can I read up about new slot sites?

The iGaming scene is always expanding and new online casinos are appearing on the market every day. Keeping up with them is not easy and you can miss excellent new sites because of this. To help you stay up to date, you can always follow our list of the newest slot sites out there.