The Best Easter Slots Games Online for 2021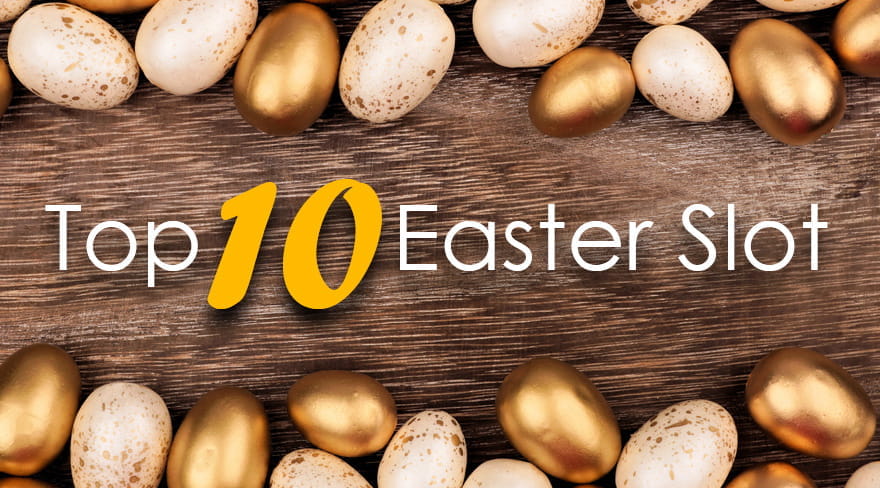 Easter might be once a year, but you can play Easter slots all year round. We have prepared the 10 best Easter slot games for the fans of the Spring holiday-themed games. In our list, you will find games that show the true spirit of Easter with fluffy bunnies, coloured eggs, blooming trees, and green grass. They are a delight for the eye and can help you put some extra coins in your pockets.
We have prepared a few games that show the life of the Easter Bunny when he is not on duty with the basket of coloured eggs. Spoiler alert: his life is full of adventures all the time. Speaking of adventures, you should know that the games dedicated to the Easter eggs are also quite diverse. In our list, you will find slots with colourful, golden, robotic, and even Rambo warrior eggs. Here is our list with top 10 Easter slot games.
The Top 10 Best Easter Slot Machine Games Online
1. Easter Money – Fill Your Pockets with Eggs and Prizes
Easter bunny slots and Easter eggs themed slots are most wanted games during the Spring. Easter Money leads our top 10 list because it combines the Easter theme and the money-making opportunity. The slot has £0.20 – £1000 bet per spin range. The high RTP of 94.16% and the highest possible bet per spin can bring incredible prizes to the real money players.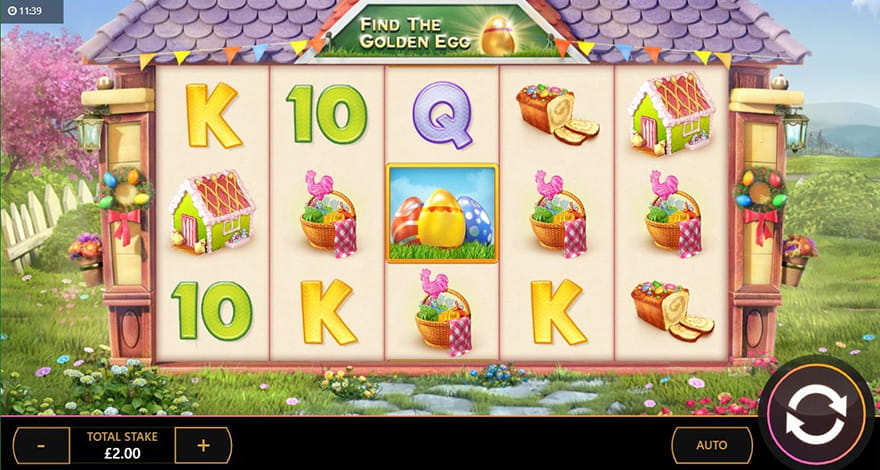 Easter Money gives 25 free spins and a maximum multiplier of x13. There are 11 winning symbols that can bring winnings up to x500 your bet size. The player can choose from three bonus games and get the jackpot that they bring. The autoplay option of this Cayetano slot game allows you to sit back and observe your profits grow. This slot is an incredible example of a slot machine created to make you happy and bring prizes.
2. EggOmatic – Crack the Robo Egg and Get the Prize Inside
EggOmatic gives a futuristic face of the Easter slots and the games with eggs. All symbols in the game are robo-chickens in great colours and two robots. Five different wild eggs symbols can replace all scatters. The game gives up to 50 free spins if the free spin falls on the wild. You can get special features like spreading wilds, free spins, con with eggs, and free eggs.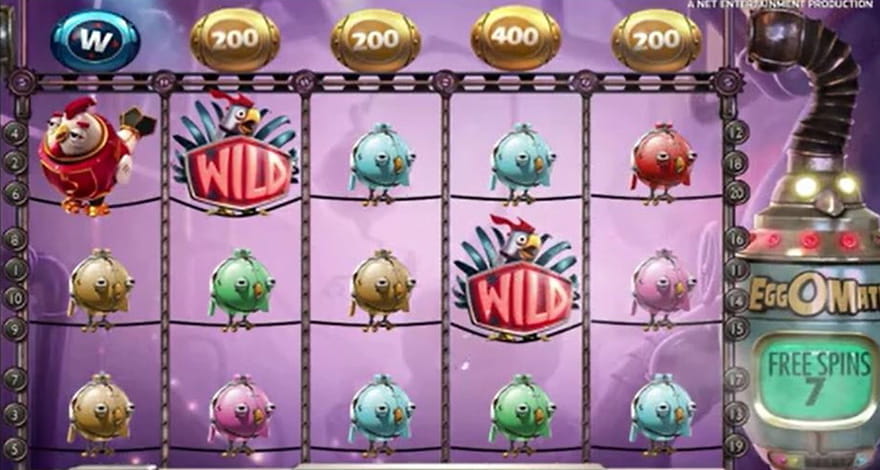 NetEnt created an incredibly fun egg and chick slot. Even though this is not strictly an Easter-themed game, its original spirit can satisfy the fans of sci-fi and the Spring Holidays. The game has an RTP of 96.50% and has a wide range of bets starting from £0.20 and reaching £200. The game measures the bets in coins. The maximum win a player can get from a single spin bet is x94,750 coins.
3. Lucky Easter – Easter Bunny is Ready for Action
Our Easter slots games list has an incredible addition called Lucky Easter. The game has an incredibly joyful and fun theme. The fluffy white Easter Bunny has a belt with carrots and strikingly resembles Rambo ready for battle. Understandably, the bunny is ready for action when we know that the game has a 96.02% RTP rate and low bets of £0.20 to £100. The slot has 20 paylines over the 5 reels. When you win, you will see rivers of coins and diamonds flowing on the screen.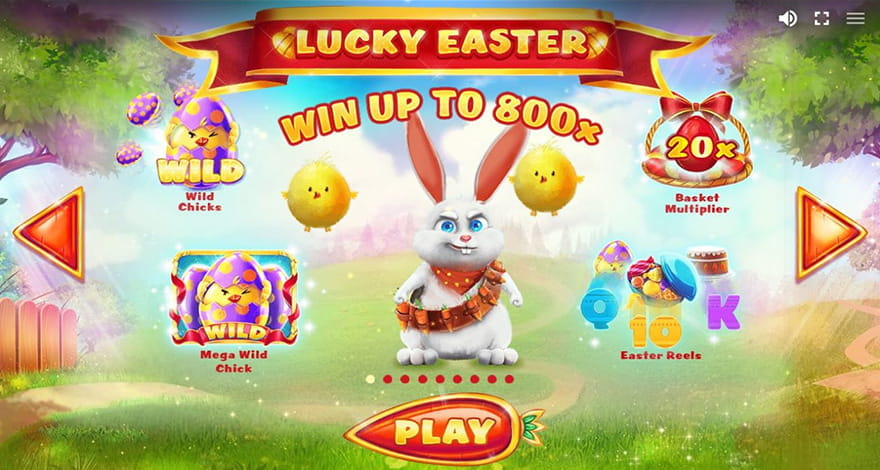 The winning symbols are the Lucky Easter logo, a candy basket, a carrot, a layer cake, a bunny muffin, and playing cards symbols (A, K, Q, J, 10). The wild is a cracking egg with a chick ready to come out of the egg and give you up to x400 win. When you get 3×3 wild chick symbols, they transform into a Mega Wild Chick that brings mega prizes. The player can win x20 multiplier, 16 free spins, and max win in this Easter hunt bonus of up to x800 your bet size. The fun and bright graphics of the game make it a great mood booster all year round.
4. Eggspendables – Enter the Fight for Prizes
Eggspendables is an action and adventure Easter slot machine created by Inspired. It has 20 paylines, an RTP rate of 96.80%, and a x250,000 bet size maximum win. Here, the player can make bets starting from £0.20 to £200. The slot has medium volatility. Eggspendables is the Easter egg variation of the famous Expendable movies.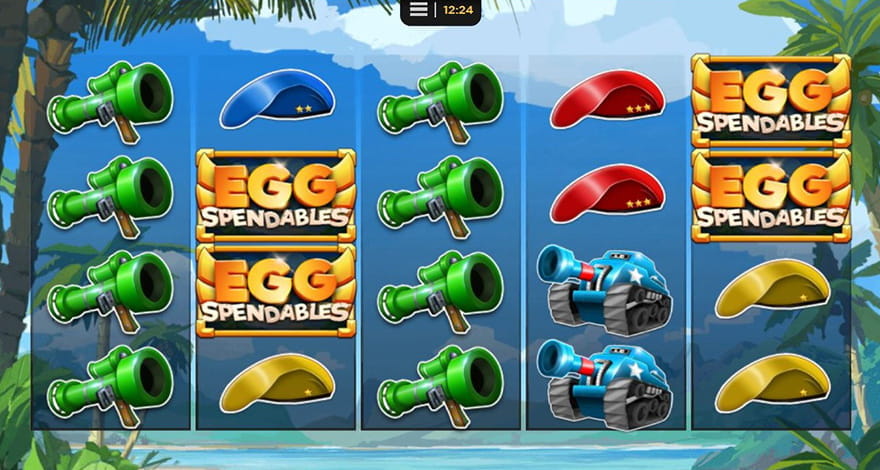 What makes Eggspendable perfect for our list is the combination of an action game and Easter Holiday eggs slot. The other winning symbols are a tank, bazooka, dynamite barrels, hand grenade, chopper, barrettes (green, red, yellow), and the game logo. There is a mystery symbol (a rocket) that brings re-spins. The wild and scatter symbols of Sergeant, Lieutenant, and General eggs can bring up to x10 multiplier and up to 20 free spins in the bonus gams.
5. Easter Surprise – Crack the Egg with x10,000 Your Bet Win
You can find many Easter slots online, but few can have a 97.05% RTP rate. Easter Surprise has a high return to player rate and wide range of bets per spin from £0.20 to £200. There are 20 adjustable paylines over the 5 reels. Playtech created the game to be fun and easy to play even by new slot players. The graphics are simple and full of lively colours.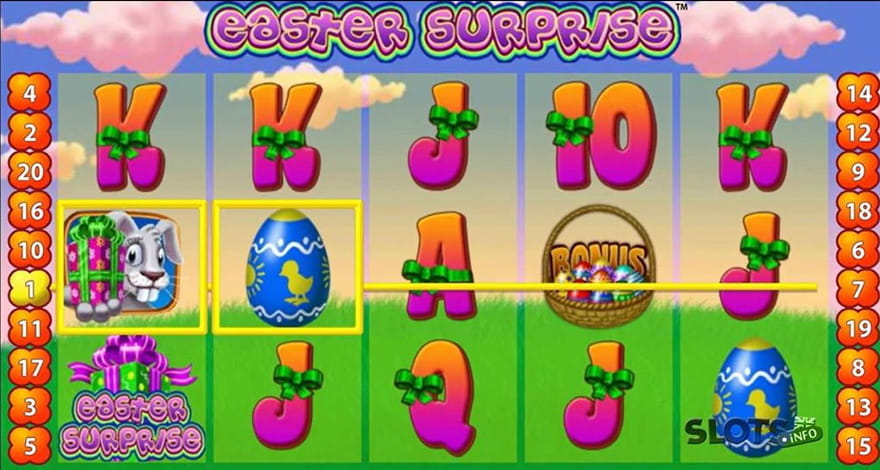 The creators of the game at Playtech chose the Easter Bunny to be the highest profitable symbol that brings x10,000 your bet size. The rest of the symbols in the game are Orange, Blue, and Yellow eggs, a present, and the playing cards symbols (A to 10). You can get the wild and scatter cards, x3 multiplier, and 10 free spins. Easter Surprise has a bonus round game and a Red/Black gambling game that brings even more profit.
6. Wonky Wabbits – Wabbit Hunt Like No Other
Easter bunny slots come in many forms and bring countless awards. Wonky Wabbits is a bunny-themed slot that will always keep you entertained. The bets are in the range of £0.30 – £150 and the game has a 96.50% RTP range. There are 15 fixed paylines, 5 reels, and 3 rows for the wonky wabbit to run around.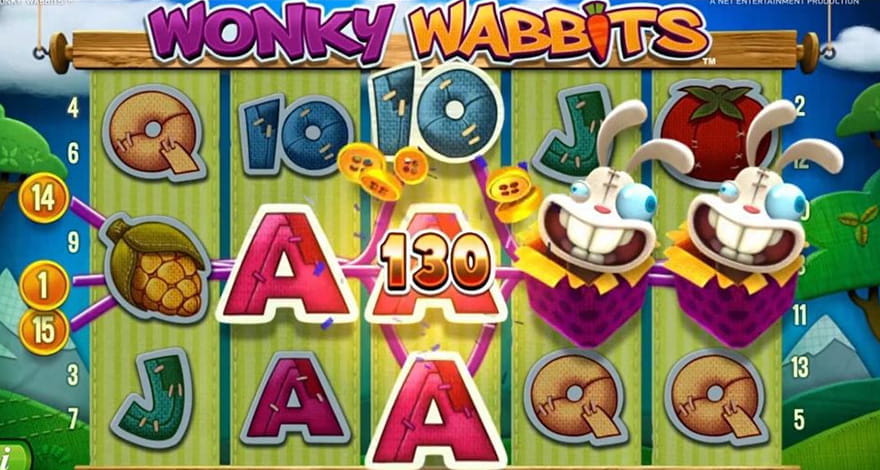 The wild symbols in Wonky Wabbits are, you guessed it right, the rabbits themselves. The rest of the symbols are the playing cards (10 to A), a carrot, tomato, corn, broccoli, and an eggplant. You can win between x5 to x1500 your bet size. The game offers wild duplication and x2 wild multiplier. Are you ready to "Go huntin' fo' a wabbit" like Elmer? We are.
7. Golden Egg of Crazy Chicken – Get the Pharaoh's Golden Eggs
We will offer you the ancient Egyptian style of Easter slot machine games. Golden Egg of Crazy Chicken will take you to the land of the pharaohs and give you a great chance to win their gold with an RTP of 96.05%. The 5 reels look like a stone wall, and the symbols look like hieroglyphs. The game has an option to choose 5 paylines with the bet per spin from £0.05 to £50, or 10 paylines with a single bet in the range of £0.10 to £100.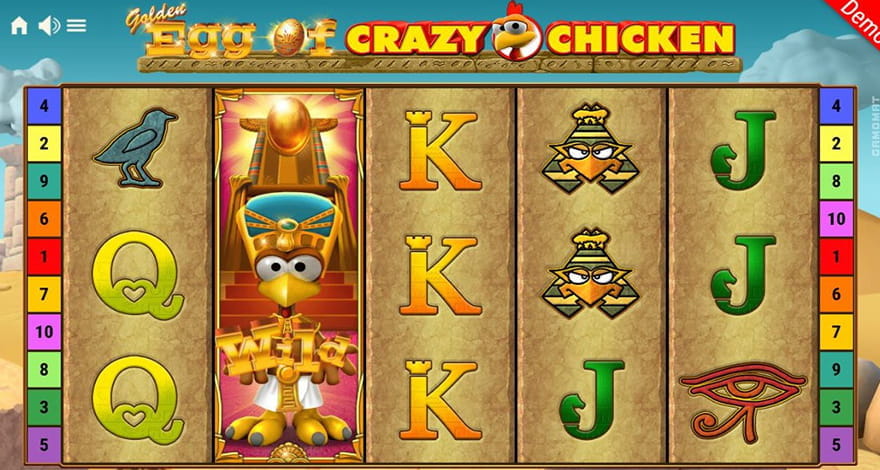 Golden Egg of Crazy Chicken is a fun and entertaining game perfect for the fans of gold, Easter-themed games, and egg-themed slots. The symbols here are the wild Pharaoh, the scatter Golden Egg, playing card symbols (A, K, Q, J,). There are also 6 hieroglyph symbols (Eye of Horus, chicken with a bow and arrow, the pharaoh head, a pharaoh on a throne, a chick, and crook and frail). There are 12 free games and bonus symbols that are triggered by the scatter. Every Easter will be unforgettable with wins from the golden egg adventure.
8. Bonus Bunnies – Win in the Easter Bunny's Day-Off
On the eight place in our Easter slots list, we placed a bunny slot game with 4 by 4 grid. Bonus Bunnies has a max payout of x6950 your bet size and a 96.14 RTP rate. This bunny slot enters the list because it shows the life of the Easter Rabbit when he is not colouring or hiding eggs. The graphics of the game are excellent, and the structure of the grid shows tiles made of wood. The symbols here are vegetables, Ace, King, Queen, Jack, and 10.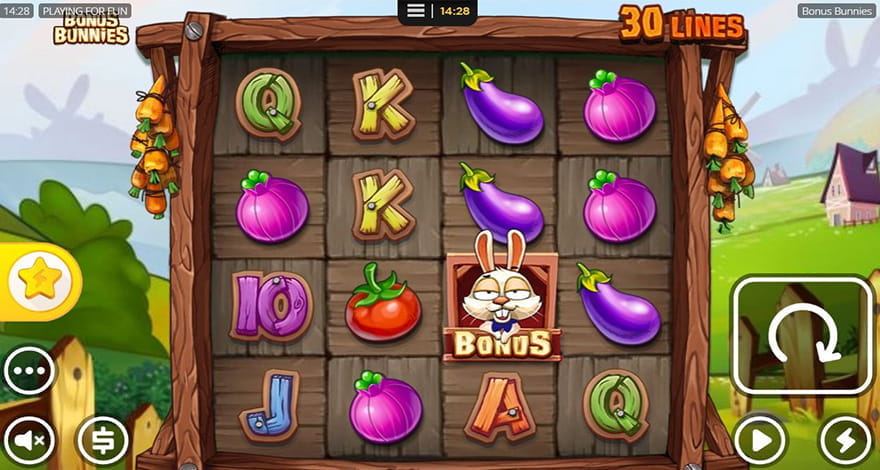 In Bonus Bunnies, you can adjust the bet sizes in the range £0.20 – £100. The wild symbol here is the rabbit. An exploding carrot shows when wilds expand to bring greater rewards to the players. This furry slot brought by NoLimit City gives to the players free spins, re-spins, expanding wilds, up to x5 multipliers, and scatters over the 30 paylines. This bunny game provides fun entertainment for experienced and beginner players of slot machines. Join the Easter Rabbit in his day-off and win great prizes from the 4×4 grid.
9. Big Buck Bunny – Bunny Gives You Thumbs Up for Winning
Big Buck Bunny is perfect to be played during Easter holidays even though it is not a typical representative of the Easter slots online games. Here, the bets per spin are kept in the low range from £0.10, and the maximum is £10. The logo of the game can bring prizes of up to 50 free spins, with all wins x3. The wild can give you up to £10,000 jackpot. The three bunnies and playing cards (10 to A) bring prizes in the range x10 – x2000 your bet size.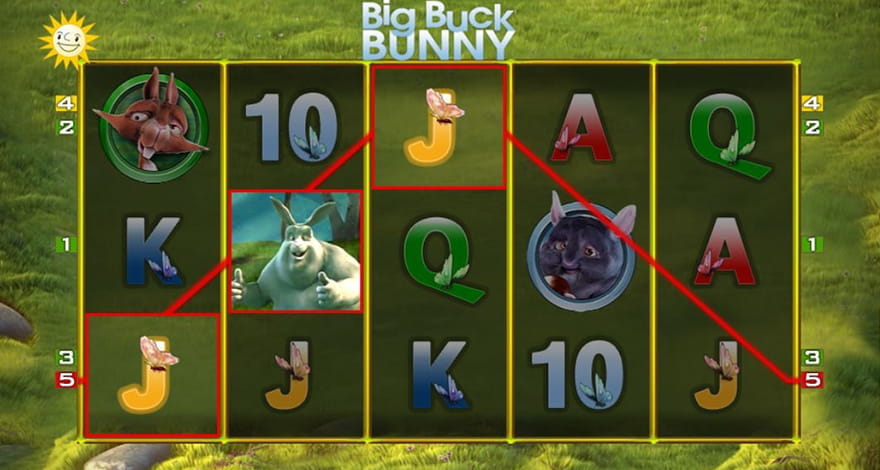 Big Buck Bunny has a bonus gambling card game and a ladder gambling bonus. In both bonuses, the player can keep betting until win (or lose), collect half and keep playing with the second half of the winnings, or cash-out at any time. The bonus games are available for a short time, and if not entered, the slot game resumes as normal. With an RTP of 96%, this slot game can give you prizes and make you smile when the Big Buck Bunny gives you thumbs up for winning.
10. Easter Eggs – Spin the Eggs for x60,000 Max Win
We will end our Easter slots games list with a game that could be described as cute, fun, and profitable. Easter Eggs is an incredible slot where all symbols remind of Easter celebrations. The cute bunny and lamb have red ribbons and bells on their necks. There is a baby chick, a rooster, and a golden egg. Even the A, K, Q, J, and 10 are decorated like colourful Easter eggs. The rest of the symbols are candy bowl, egg basket, wild, and scatter.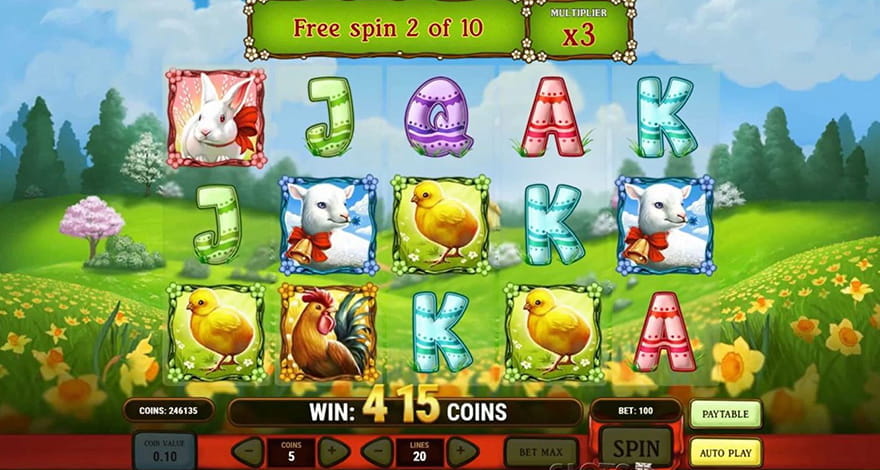 Easter Eggs can bring maximum win of x60,000 your bet size. The Playn' Go slot has a return to player rate of 96.75% and offers a bet per spin size of £0.01 and all the way up to £100. There are 20 selectable paylines bring awards like free spins with 3+ scatters and up to x6 multipliers in free spins. In the bonus round, you must pick from 3 eggs and win up to x500 prize. The special features here are wild doubles.
Best Easter Slots FAQ
At the end of our 10 best Easter slots themed games list we will answer the players' most asked questions regarding the slots, winnings, how to find Easter-themed games online, and more.
🐰

What are Easter slots?

Easter slots are slot machines that are themed and created especially for the Easter Holiday. The main characters in those games usually are eggs, Easter Bunny, baby chicks, lambs, and more. Easter Money and most popular games combine both main symbols of the Spring Holiday.
🌺

Where can I find Easter slots?

Easter slots games can be found in casinos and gambling rooms all over the world. Lately, the most popular place to play Easter Surprise and other slots are the online casino and gambling sites. In our top 10 Easter slot machines list you can find more exciting titles and the casinos where you can try them.
🐑

Can I play Easter slots on my phone?

The casino web sites with responsive design offer Easter slots online. During the last years, the software developing companies create slots like EggOmatic to be played on modern smart devices powered by iOS and Android. Choose a game from the list, check the options for download or online play, and enjoy the Easter slot.
🌳

Do Easter slots give free spins?

Every Easter slot machine gives in-game prizes to the players. For example, Lucky Easter gives x20 multiplier, 16 free spins, high RTP rate, and more winning chances inside the game. Other games offer bonus rounds, expanding wilds, extra gambling games, special in-game awards, and more.
🐣

How much I can win playing Easter slots?

Easter slots offer a range of max win per bet, RTP rate, bets per spin, and jackpots when you play with real money. Choose a game from our list with a great max win like Eggspendables, a jackpot like Big Buck Bunny and spin the reels.