The Only Mecca Bingo Manual that You'd Need in Your Life
Mecca Bingo is an online club (they also have land-based gaming halls but here we talk about the online games) that pays attention on delivering the most entertaining bingo games. Though they offer casino slots and jackpots, the development of a fun bingo portfolio is a priority. Moreover, bingo tickets may cost as little as 0.2p per ticket for a 90-ball game. The highest you can pay per ticket is £1 on the Emoji Bingo.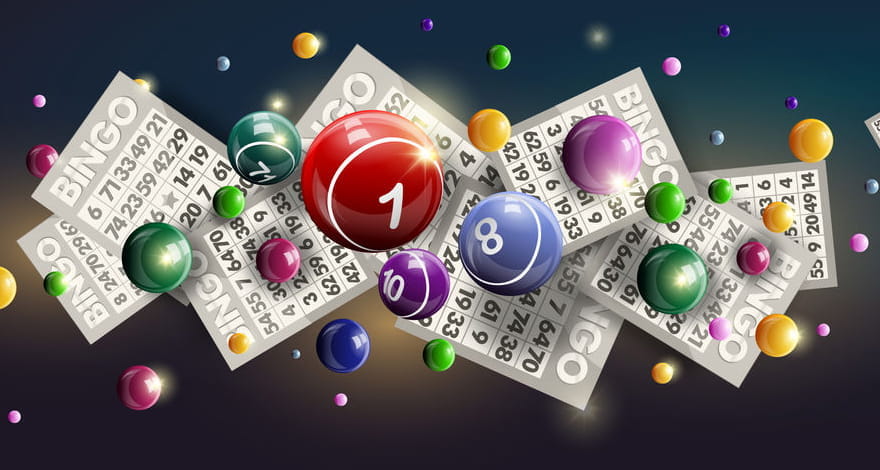 Basic Skills that You Would Need to Play
It is not that hard as other games, but you would need to focus and keep up with the competition. Bingo is an intuitive game. Even though, you may not know the rules you can mark up some numbers and wait for the final results. What's more, playing bingo online is even more entertaining than your local club. I'm talking about the features of online games. Though nothing can replace the human experience during a play of bingo.
1 to 90-Ball Draw
The most common type of bingo is from 1 to 90-ball tickets.
Each 90-ball ticket consists of 3 rows and 9 columns. Each row has 5 numbers on it, totalling 15 numbers for the whole ticket.
According to the numbers you have dotted, you can either win 1 line/1 row/, 2 lines or full house /all 3 rows/. Often, just by marking one row, it may be enough to win the game. Other times, the game requires you to mark at least two rows.
Additionally, every 90-ball game has a minimum jackpot. The prize pot is determined at the beginning of the game. The more tickets are bought, the larger the pot. Nonetheless, if you are just a beginner, we recommend that you limit yourself up to 3 tickets as it may be difficult to follow all numbers and tickets.
Famous 90-ball bingo games include Deal or No Deal Bingo, Gold Rush, Supersonic Bingo, Macarena Bingo and Lucky for Some Bingo.
On the other side, tickets may cost between £0.10 to £3, or even be for free when you play a demo. Online bingo rooms are open from early morning to midnight so you can join a game any time during the day.
The bongo club also offers many promotions relating to the bingo games. Thus, you may end up in any of their promotional rooms without being aware. Here is an example of the latest bonus game offers. The £10k Grand Night In assures you free play on 1-line/2-line, Full House Tickets and Roll-On games. The best part is that every customer registered on the official page of the Mecca Bingo is eligible to opt-in. No minimum deposit required.
Mecca Bingo
£10k Grand Night In
Bonus Code:Not RequiredMin. Deposit:Not RequiredTime Period:Every Friday
Special Add-Ons for the 1 to 90 Ball Game
Other entertaining assets you may find are the BOGOF, Roll On, Deal or No Deal Prize and The BOGOF is a bingo room for the VIP stars of the bingo world. There you can usually get bonuses, birthday gifts, draw prizes and weekly promotions.
Roll on enables extra prizes apart from the ones you could win from striking 1 or 2 lines and full-house. Some games offer the 'roll on' to give prizes whenever you get a winning line, others would only pay out roll on if you get a full house.
Deal or No Deal prize is incorporated in the Deal or No Deal Bingo. The prize is awarded when a full house is scored. The player can agree with the offer of the banker at the end of the game or pick out the Player's Box and its mysterious contents.
More often, though, the bingo game may hold a progressive jackpot pot that you could win by claiming a full house on 33 ball calls or less. Each game has a specific set of rules added to the progressive jackpot.
1 to 80 Bingo Balls
The ticket layout of 1:80 balls differ a bit in contrast to the previous 1:90 play. The ticket is shaped in a square form 4 rows x 4 columns, resulting in 16 numbers/squares in total.
Each column is outlined by a colour. The first red column includes the digits from 1 to 20, the second yellow one from 21 through 40, the third column contains values from 41 to 59 and the last silver column – from 60 to 80.
In a computer game, the algorithms would select the winning numbers that are announced by the programme once. When playing online, you can choose whether you want the computer to mark numbers for you or do it yourself at it creates a feeling of an interactive game. Furthermore, live bingo rooms have an electronic board that keeps the last numbers to have been called out while desktop-based games may keep the last sequence of 4 to 6 numbers.
How to Knock a Win
You can mark numbers in one line in a vertical, diagonal or horizontal order.
Select the four corner squares or make a corner inside the ticket. Play two and three lines in a vertical, diagonal and horizontal manner. Or select all numbers on the ticket for a full house.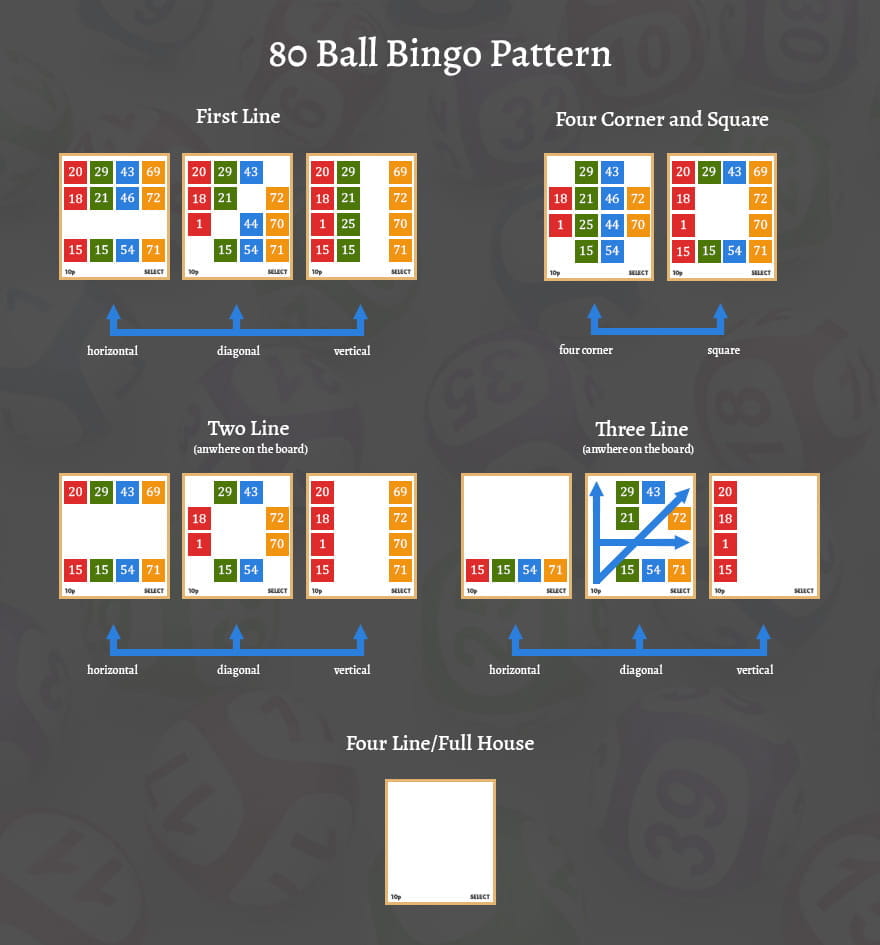 80 Balls and Additional Extras
For instance, the Cashline Bingo has mini-bingo games within the main bingo game. Therefore, you could be topless or bottomless, meaning covering the top/bottom line of your ticket, multi games allow for playing for a line and then switching to playing for a full house.
In Full Monty mode, both the top and bottom line are covered. Luckily, the game could also decide to mark any X shape. Next, you could get a corner kick or a picture kick. The four corners are instantly written off or the inner four centre numbers.
On the other hand, Cashline Mini Game permits to play 2 bingo games simultaneously and double your winning chances. The mini-game offers 2 jackpots as well.
75 Ball Bingo: Another Different Kind of Speed Tickets
This type of bingo cards is preferred, as they involve fewer numbers, therefore, players do not spend as much time on marking and waiting for the results to be broadcasted.
The 75 numbers are distributed in 5 rows and 5 columns. Additionally, the ticket possesses a middle square that has no number and is labelled as a "free space". Each column corresponds to a letter from the B-I-N-G-O term.
B – number 1 through 15
I – 16 through 30
N – 31 through 46
G – 47 through 61
O – 62 through 75
The features of the 75-ball online bingo game allow exchanging tickets with new ones before you have started playing. You can also buy up to 95 tickets ahead. The computer-based games also have an auto selector that picks out tickets for you.
The difference between 90 and 75 tickets, except for the time limit, is the line patterns. In the 90-ball game, there are pre-determined patterns. In contrast, the 75-ball game delivers variable patterns. You also don't need to fill out all the numbers on the 75-game card.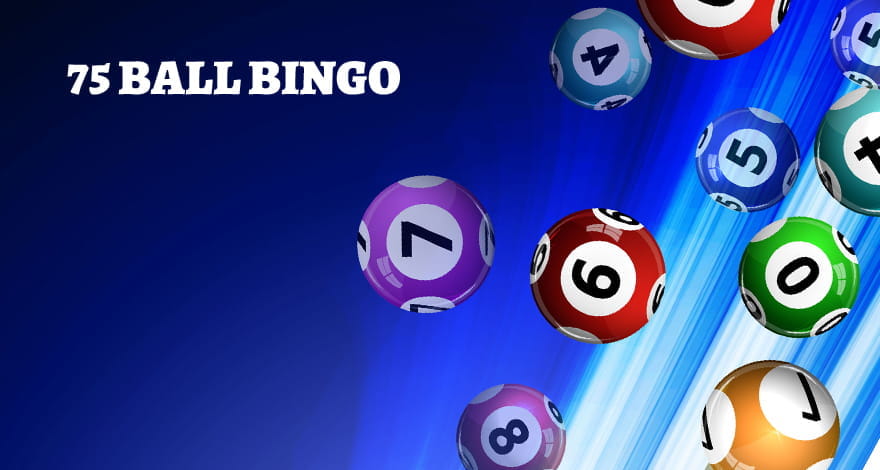 Playing bingo requires speed, and a great deal of attention as well as a good memory. The game would call out each number once, and you should mark the number, or use the auto-dabber if you'd like the computer to mark the numbers for you.
For you to win, you must fulfil the patterns on the card. The best part is that patters could be numbers, letters and hilarious figures.
Prize amounts are determined by the number of players. Some bingo games also have a minimum fixed reward.
Other Popular Versions of the Bingo Game
Burst Bingo is a very quick 50-ball game. More, the designers of the game have substituted the boring numbers with 10 animals holding balloons and numbers within. The game runs for 2.5 minutes, a timeframe in which you would need to mark 10 animals to form a full house. There is no other award for 1- or 2-line patterns, only a full house brings the conquest and the prize is split between the winners.
If you have a bingo talent, then you should prove your natural abilities in Britain's Got Talent bingo room. The game does not allow for bonus funds to be used in purchasing tickets, but they offer prizes for the first, second and third line. Also, delivering an extra bonus prize.
Similarly, the X Factor Bingo provides a few jackpot sums. You only need to score a full house, and then dab a number out of the Judges' Ticket. If you spot a line or two, you may get between £50 and £100. The 3-line win on that ticket would guarantee you the £500 jackpot sum of meccabingo.