The Next James Bond Film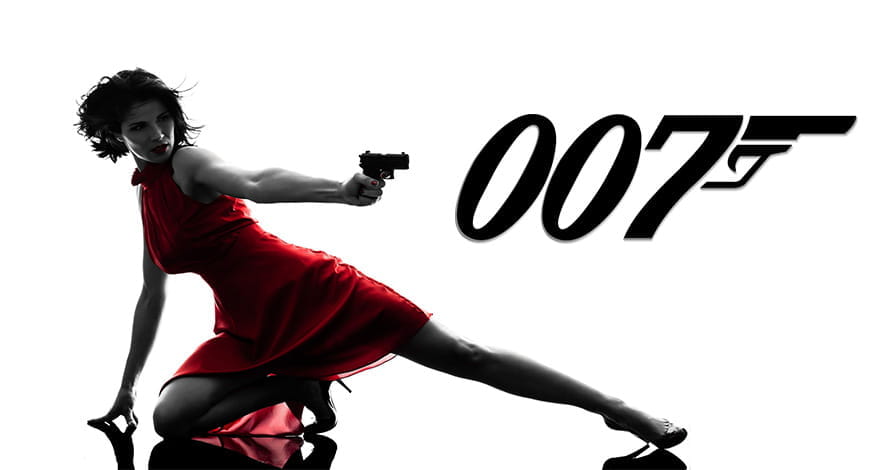 Our favourite spy is set to return to the big screen with the latest James Bond 007 movie set to be released in the UK in February 2020. Daniel Craig, despite some misgivings, is going to return to the role of James Bond, and some old cast members are going to return to the set. For instance, Naomi Harris is expected to return as Moneypenny, Ben Whishaw as Q, and Ralph Fiennes as M, although no official announcements have been made. The new film is titled Bond 25, since it is the 25th film in the franchise. The film will be directed by Cary Joji Fukunanga, who replaces Danny Boyle in this role.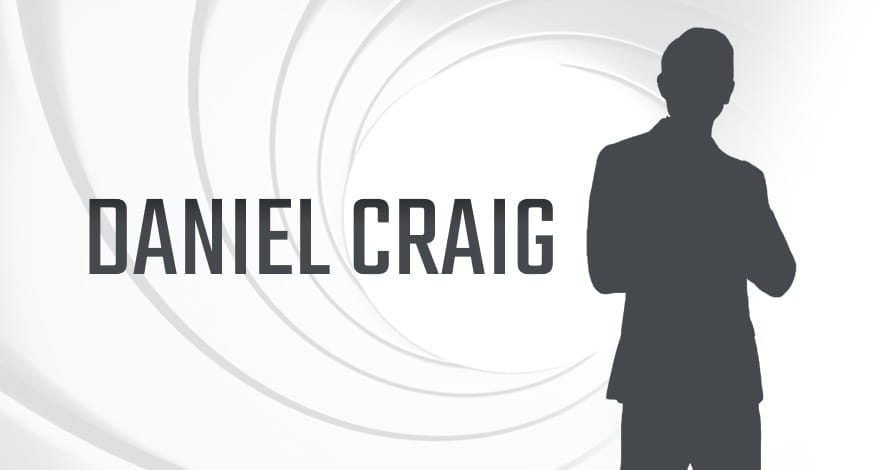 The Next James Bond Girl
While there is information about the plot of the film, there has been a lot of speculation about who will be the next Bond Girl. Betting sites have bet on actresses ranging from Game of Thrones' Emilia Clarke to Daniel Craig's spouse, Rachel Weisz as the leading lady in the next Bond film, while others have speculated differently. According to Roulette17.com, there are a certain set of criteria that were looked at in narrowing down the top 10 actresses for the role. These characteristics include age, hair colour, most common film genre, and nationality. These were followed by height, the length of their career, and the number of titles the actress had appeared in before Bond. We'll take a look at the top 10 contenders for this role in our blog post below by analysing the points they scored and looking at their professional experience.
10. Kaya Scodelario with 84 points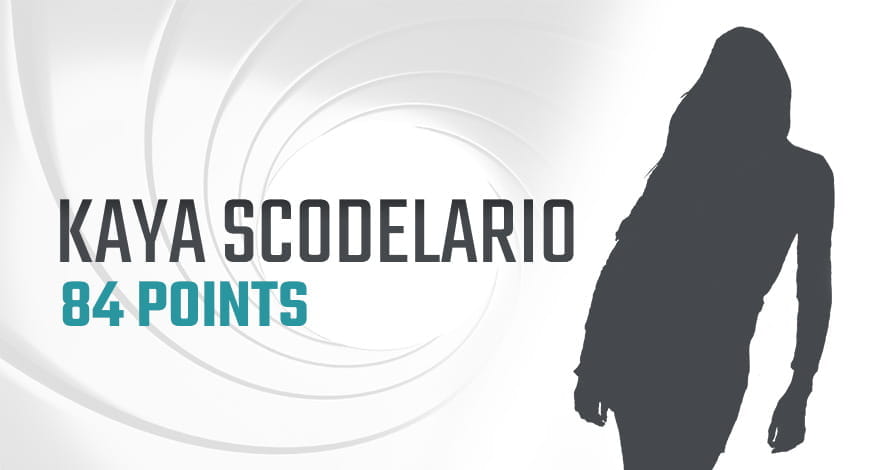 Kaya Rose Scodelario-Davis is a 26-year-old English actress. She is best known for her roles as Effy Stonem in Skins (2007–2010, 2013), Teresa in The Maze Runner film series (2014–2018), and Carina Smyth in Pirates of the Caribbean: Dead Men Tell No Tales (2017). Other film roles are Catherine Earnshaw in Wuthering Heights (2011) and The Truth About Emanuel (2013). She will portray Carol Ann Boone in the upcoming Extremely Wicked, Shockingly Evil and Vile.
9. Daisy Ridley with 102 points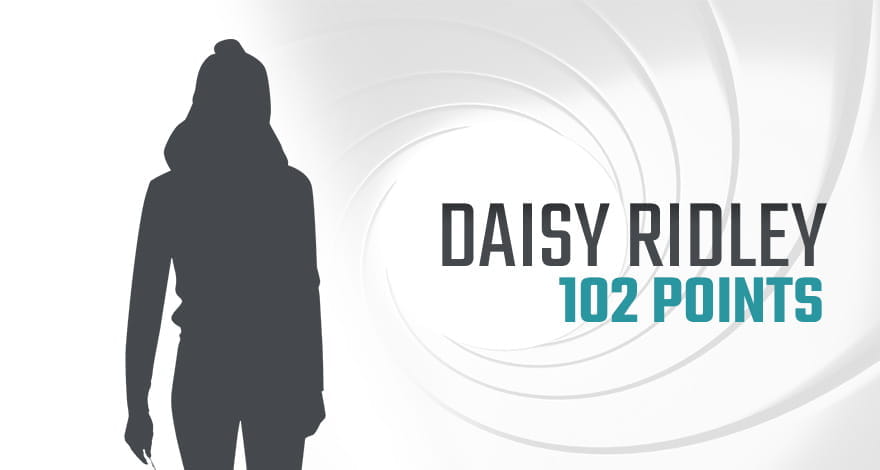 Daisy Jazz Isobel Ridley is another 26-year-old English actress. She began acting in minor guest roles on television and in short films, making her film debut in the film, Scrawl (2015). She played the lead role of Rey in the Star Wars sequel trilogy, starring in Star Wars: The Force Awakens (2015) and Star Wars: The Last Jedi (2017). She is also known for her role as Mary Debenham in Murder on the Orient Express (2017), and as the voice of Cottontail in Peter Rabbit (2018).
8. Emily Ratajkowski with 106 points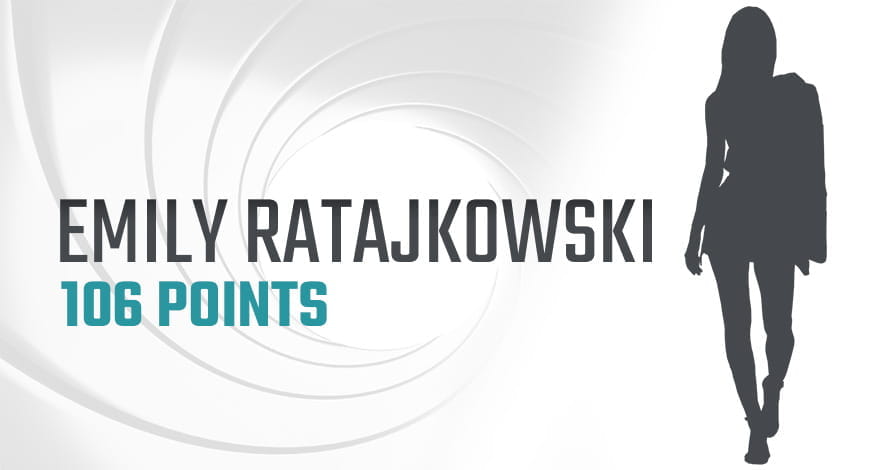 Emily O'Hara Ratajkowski is a 27-year-old American model and actress. She appeared in the music video for Robin Thicke's "Blurred Lines". Ratajkowski was also asked to appear in Maroon 5's "Love Somebody". She appeared in a Buick Super Bowl commercial during Super Bowl 50. She gained a recurring role on the Nickelodeon series iCarly. Her feature film debut was in the 2014 film, Gone Girl. Other roles have included the films Entourage, I Feel Pretty, and We Are Your Friends, as well as the mini-series, The Spoils Before Dying, and the anthology series, Easy.
7. Emilia Clarke with 106 points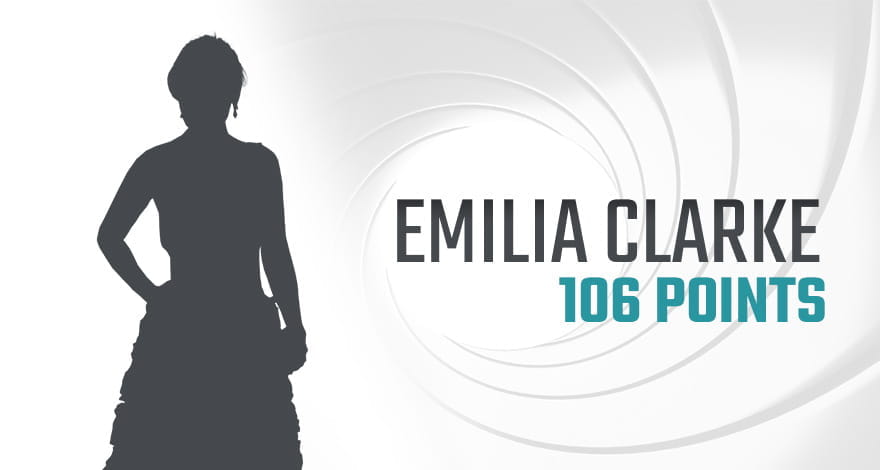 Emilia Isabelle Euphemia Rose Clarke is a 32-year-old English actress. After making her screen debut in a short film, her television debut came with a guest appearance in an episode of the British soap opera, Doctors (2009). She also played in Triassic Attack (2010). In 2011, she played the role of Daenerys Targaryen in Game of Thrones (2011–present). Clarke made her Broadway debut as Holly Golightly in a production of Breakfast at Tiffany's (2013). Her film roles include Sarah Connor in Terminator Genisys (2015), Louisa Clark in the romance film, Me Before You (2016), and Qi'ra in the Star Wars anthology film, Solo: A Star Wars Story (2018).
6. Emma Watson with 117 points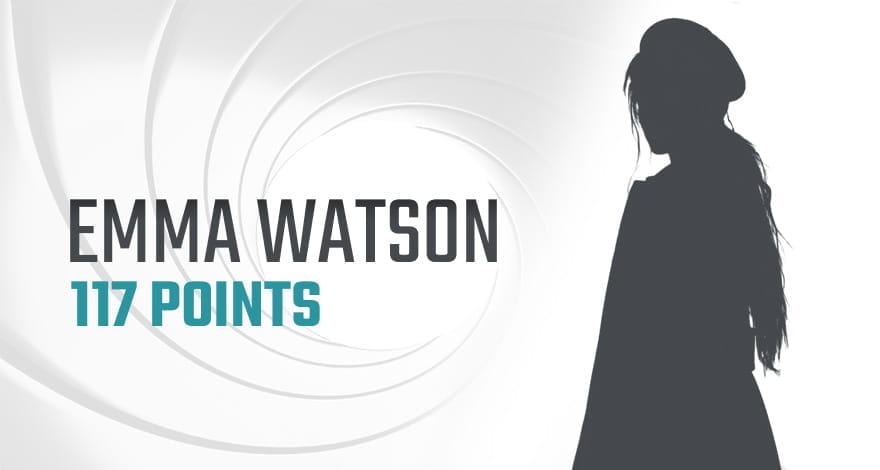 Emma Charlotte Duerre Watson is a 28-year-old English actress, model, and activist. Her first professional acting role was as Hermione Granger in the Harry Potter film series (2001 to 2011). She later appeared in the 2007 television adaptation of the novel, Ballet Shoes, and lent her voice to The Tale of Despereaux (2008). She also took on starring and supporting roles in My Week with Marilyn (2011), The Perks of Being a Wallflower (2012), and The Bling Ring (2013), made an appearance in This Is the End (2013), and portrayed the title character's adopted daughter in Noah (2014). In 2017, she starred as Belle in Beauty and the Beast. Her other roles include Regression (2015), Colonia (2015), and The Circle (2017).
5. Sophie Cookson with 120 points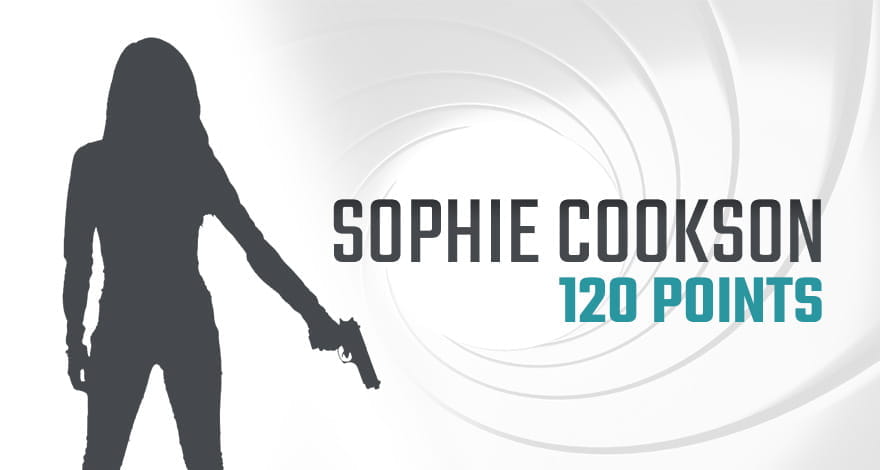 Sophie Louise Cookson is a 28-year-old English actress best known for portraying secret agent Roxanne "Roxy" Morton in the 2014 film, Kingsman: The Secret Service and its 2017 sequel, The Golden Circle. In 2016, she played the role of Pippa in The Huntsman: Winter's War, while in 2017 she took on the role of Nicole Rawlins in The Crucifixion. She played herself in the 2017 production of the Pleader, and also played young Joan in the 2018 film, Red Joan. This year, she played Ona in Ashes in the Snow as well as Johanna of Gherit in the production, Emperor.
4. Lily Collins with 124 points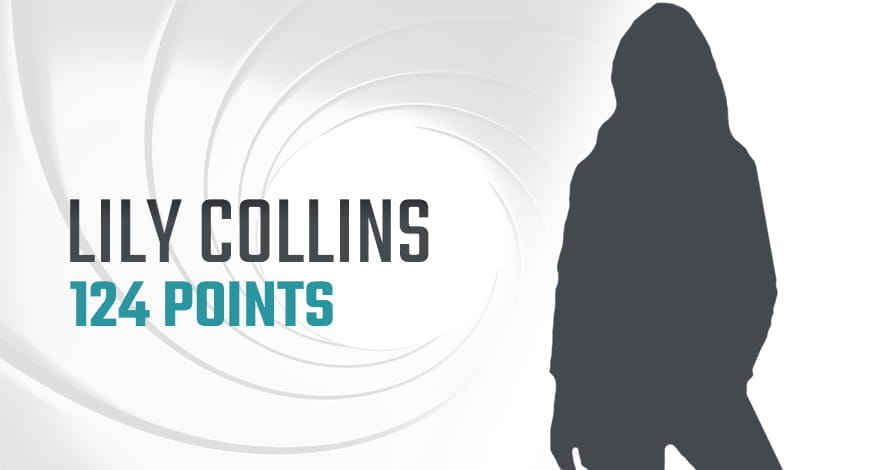 Lily Jane Collins is a 29-year-old British-American actress, model, and writer. Her first screen role was at the age of two in the BBC series Growing Pains. Collins appeared as a guest star on 90210 (2009), followed by The Blind Side. She had leading roles in Priest (2011) and Abduction (2011). She also played Snow White in Mirror Mirror (2012). In 2013, she took on the role of Clary Fray in The Mortal Instruments: City of Bones. Collins is also known for her roles in Stuck in Love (2012), The English Teacher (2013), and Love, Rosie (2014). She also played a role in Rules Don't Apply (2016) and To the Bone (2017). Collins is set to star as Edith Tolkien in Tolkien, and as Elizabeth Kloepfer in Extremely Wicked, Shockingly Evil and Vile.
3. Elarica Gallacher with 124 points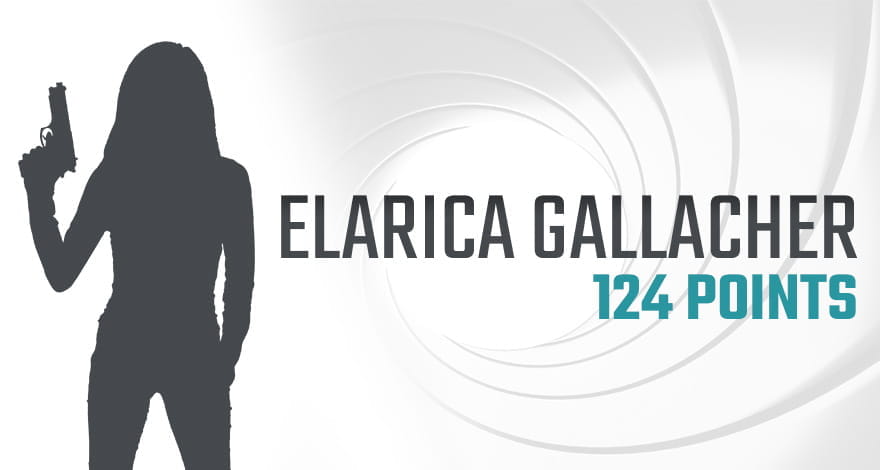 Elarica Johnson (previously Gallacher) is a 29-year-old English actress and model. She played Kylie in EastEnders and the waitress at Surbiton Station in Harry Potter and the Half Blood Prince. She played Lula Landry in the 2017 made for TV series, Strike. She will soon star in A Discovery of Witches as Juliette Durand.
2. Rachel Hurd-Wood with 130 points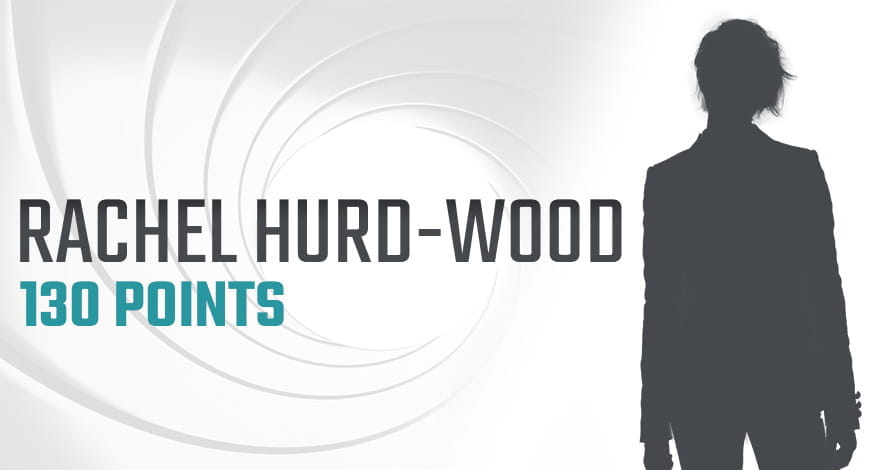 Rachel Clare Hurd-Wood is a 28-year-old English actress and model, who played the role of Wendy Darling in the 2003 film Peter Pan, Corrie McKenzie in 2010's Tomorrow, When the War Began, and Sibyl Vane in 2009's Dorian Gray.
1. Alicia Vikander with 134 points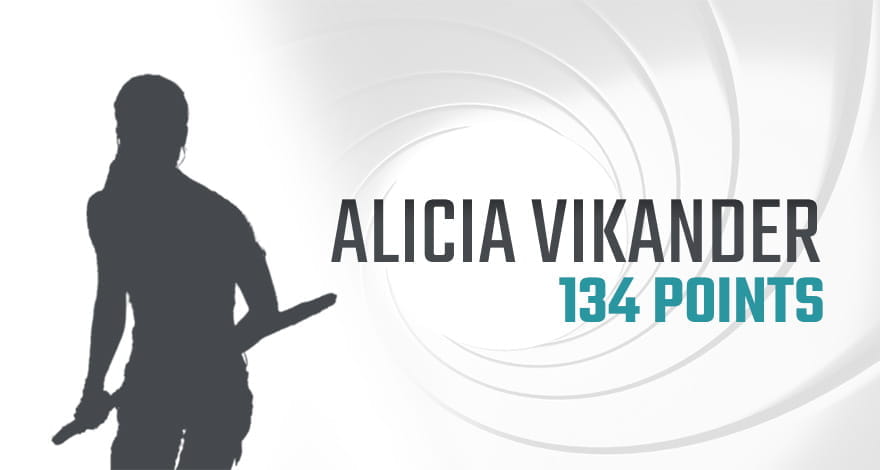 Alicia Amanda Vikander is a 30-year-old Swedish actress. Vikander began acting as a child in minor stage productions. She began her professional acting career by appearing in Swedish short films and television series and first gained recognition for her role as Josefin Björn-Tegebrandt in Andra Avenyn (2008–2010). Vikander made her debut in Pure (2010). In 2012, she played Kitty in Anna Karenina and Queen Caroline Mathilde in A Royal Affair. In 2014 and 2015, Vikander was recognised for her roles as activist, Vera Brittain, in Testament of Youth and in Ex Machina. She also acted as Gerda Wegener in The Danish Girl. In 2018, she starred as Lara Croft in Tomb Raider.
Conclusion
So, now that we've presented the top 10 options to you, which is your favourite actress to take the lead as the next Bond Girl? Bets are currently open and you can certainly bet on the fact that whoever gets picked, will be the most appropriate choice for the upcoming spy film, James Bond 25.