How to Play Roulette – A Beginners Guide to the Rules
Roulette is the epitome of what you expect from a casino game. With simple rules, exciting gameplay and the potential for big payouts, it is no wonder it is so popular with players. If you have never played roulette before and fancy trying it out for yourself, then you should brush up on the rules to make sure you are fully prepared for the best experience. You will find everything you need to know to get stuck into the game on this page.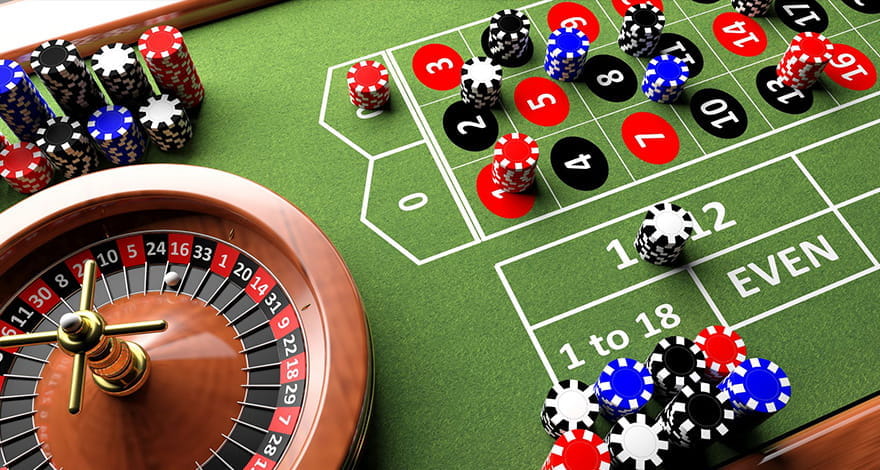 A Simple Overview of How to Play Roulette Online
The game of roulette consists of a wheel with various numbered and coloured sections, along with a table, on which you can place your bets. The wheel features numbers 1 – 36, alternately coloured red and black. There is also a zero slot, which is coloured green. In American Roulette, you will find two green zero pockets on the wheel. In order to play, you select your chip value, and click on the board to place your bets. When playing an RNG variant, you will then click spin, and see the ball spin round the wheel until it comes to land on the winning number. If you play live roulette, the croupier will launch the ball and announce that no more bets are allowed. Once the winning number is determined, any winnings are paid out and the next game round will begin.
Differences Between American, French and European Roulette
At online casinos, you will get a choice of French, European or American roulette. French and European roulette are very similar in terms of the wheel layout and the types of bets you can place. The key difference between the two versions is that the types of bets have different names. As for American roulette, the key difference is that the wheel includes a zero and a double zero pocket. This increases the house edge, making it less favourable to players. American roulette has an RTP of around 94.7%, compared to 97.3% French and European roulette. For this reason, it is advisable to avoid American Roulette and stick to the more favourable variants.
Types of Bets and Their Payouts
There are numerous betting options available when you play roulette online. You can bet on single numbers or on various groups of numbers. The types of bets you can place have different odds and different payouts. The bets you can make can generally be categorised as inside, outside and announced bets.
Inside Bets
Any bets placed on the numbers on the roulette table are known as inside bets. These generally have lower odds and as such, higher payouts than outside bets. A bet on a single number is known as a straight up bet, and it awards the highest payout of 35:1. Other inside bets include a split, street, six line and corner. You can see how to place these on the roulette table below.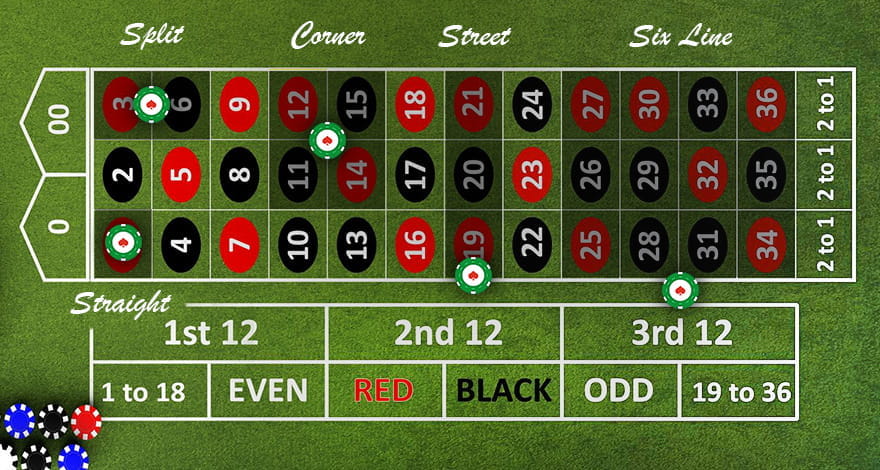 | | | | |
| --- | --- | --- | --- |
| 1 | Straight | A bet on a single number. To make the bet, place a chip on the required number. | 35 to 1 |
| 2 | Split | A bet which is placed on 2 numbers that are adjacent on the table. Place the chip on the line that separates the numbers. | 17 to 1 |
| 3 | Street | A bet on 3 consecutive numbers. Place the chip on the outer corner of the row. | 11 to 1 |
| 4 | Corner | A bet that covers 4 neighbouring numbers. Place the chip in the central corner of the 4 numbers. | 8 to 1 |
| 5 | Six Line | A bet on 2 neighbouring street bets. Place the chip on the common outer corner of the 2 rows. | 5 to 1 |
As you can see, it is simple and logical how to place these bets. Furthermore, when you play roulette online, you will generally find the betting limits and the payouts for any particular type of bet by hovering the mouse over the relevant position on the roulette table.
Outside Bets
Whilst inside bets are placed on the numbers on the roulette table, outside bets are placed on the areas outside of the numbers. As these bets cover multiple numbers, you have a better chance of winning. Yet the better odds also mean that the payouts are lower than what you get from inside bets. Bets referred to as simple chances have a payout of 1 to 1 and include the following:
Red or black – bet on the colour of the winning number
Odd or even – bet on whether the winning number will be odd or even
High or low – bet on whether the winning number will be between 1 – 18 or 19 -36
Other types of outside bets include columns and dozens. There are 3 dozens sectors on the table, which cover numbers 1 -12, 13 – 24 and 25 – 36. Likewise, there are 3 columns, each covering 12 numbers in a line. Wins on a column or dozen bet are paid at 2 to 1.
Announced Bets
Announced bets, also known as called bets are special types of bets that are found in both French and European roulette. By opening the racetrack, you get quick and easy access to these types of bets when playing online. One type of announced bet is the Voisins du Zéro (neighbours of zero). This is a 9-chip bet, that includes split and corner bets covering the zero and the 7 numbers on either side of it, from 22 to 25 on the wheel.
Tiers du Cylindre (third of the wheel) is a 6-chip bet, consisting of 6 splits which covers roughly a third of the wheel, from 27 – 33. Orphelins (orphans) is another popular called bet, which consists of 5 chips, covering a single number and 4 splits. Also available is the Jeu Zéro (zero game). This 4-chip bet covers a straight bet on 26 and 3 splits, covering the numbers next to the zero.
Hints and Tips
You should now have a better understanding of how to play roulette online. Yet to get you off to the best possible start, I'd like to share a few more tips with you to help you hit the ground running.
Play Roulette Online for Free
An advantage of playing at an online casino is that you can often try out games for free before playing with real money. This is particularly useful for new players as it gives you a chance to get a feel for the game and to get a better understanding of the rules and types of bets you can make with no risk involved. Playing for free will enable you to play confidently with real money.
La Partage and En Prison Rules Improve Your Chances of Success
These rules are not found in all roulette variants, but when they are included, they work in your favour. The rules apply to even money bets such as red/black and odd/even, and they come into play when the winning number is zero. When En Prison is in play, any money bet on simple chances stays locked in for another spin if the ball lands on zero. If you lose, your stake is lost, yet if you win, your stake is unlocked and stays on the table for the next round. Alternatively, with La Partage, if the ball lands on zero, half of your stake will be instantly returned to you. These rules reduce the house edge, so if you plan to bet on simple chances, look out for games that feature this.
Check Out the Table Limits
When you play roulette for real money on the internet for the first time, you should be aware of the betting limits. Whilst you can usually see the minimum and maximum table limits at a glance, there may be further limits attached to specific types of bets. Often, the lowest bets are reserved for straight up and split bets, whilst the maximum limits are available for simple chances only. As such, you should make sure you look into the details before you start to wager any of your own money to be certain it matches your budget and your intended style of play.