The Best Paying Playtech Slot Machines on the Internet
I really respect Playtech, seriously. Not just because they're among the top slot developers currently active in the UK alongside giants like NetEnt and Microgaming, but also because of how friggin' smart they were while getting there. It's important for a company to know its strengths and weaknesses when going into business, and let's be honest here, the Playtech folks had neither the budget nor the talent of some of their competitors. However, they possess two qualities which, when used right, can be a lot more important than anything else – ingenuity and creativity. And use them they did! Fairly early on Playtech realized what many of their competitors failed to, that it takes a good license, fun bonus games and a high payout to make a successful slot. As a result, they made a few deals for licenses that people actually cared about (seriously, did ANYONE ask for a Bridesmaids slot?), most famous of which being their Marvel deal which gave birth to 15 slots and the famous Marvel Jackpot. But which among all of Playtech's slots guarantee you the best payments? Let's have a look! Keep in mind that I'm not only going to be examining the RTPs (you can do that yourself), but also things like jackpots, bonus games and frequency of wins. With that said, let's get right into it!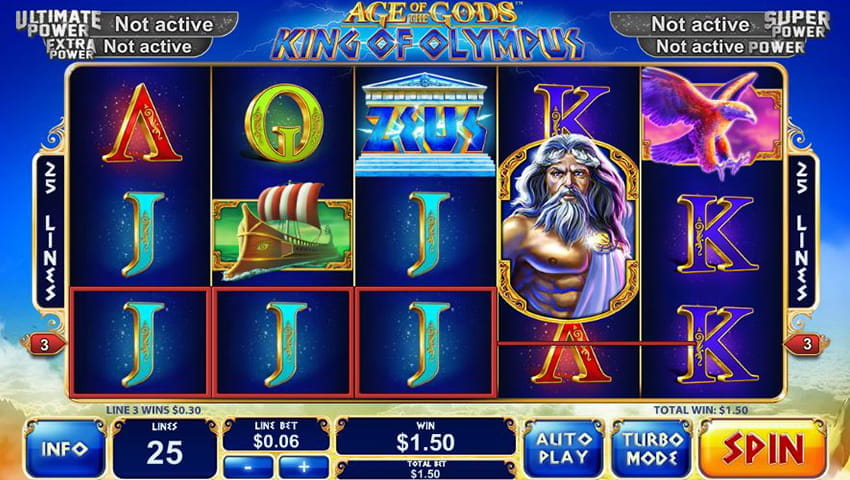 Age of the Gods: King of Olympus is a progressive jackpot slot which was developed by Playtech – a developer known for producing high quality slots on a consistent basis. With the bar set very high indeed, Age of the Gods: King of Olympus had a lot to live up to. It doesn't disappoint. The same love and care, and attention to detail has gone into this online slot offering that you would come to expect from Playtech. The huge progressive jackpots attract a great deal of attention from hopeful punters, looking to win a life-changing sum of money. We're not quite sure if it would be enough to buy Mount Olympus, and proclaim yourself king or queen, but you'd likely need at least a clip around the ear to wipe the smile off your lucky face. The game mechanics feature 5 reels with 25 paylines. There is a free games feature which grants you 10 free spins, where the multiplier increases. The multiplier beings at 2x and ascends by 1 for every 2 free spins, up to a maximum of 6x. There are 4 progressive jackpots to be had, and each spin can be spun with a wager of 25p to £2,500. The graphics are superb, featuring some of the well-known figures from ancient Greek mythology, including – you guessed it – the almighty Zeus himself.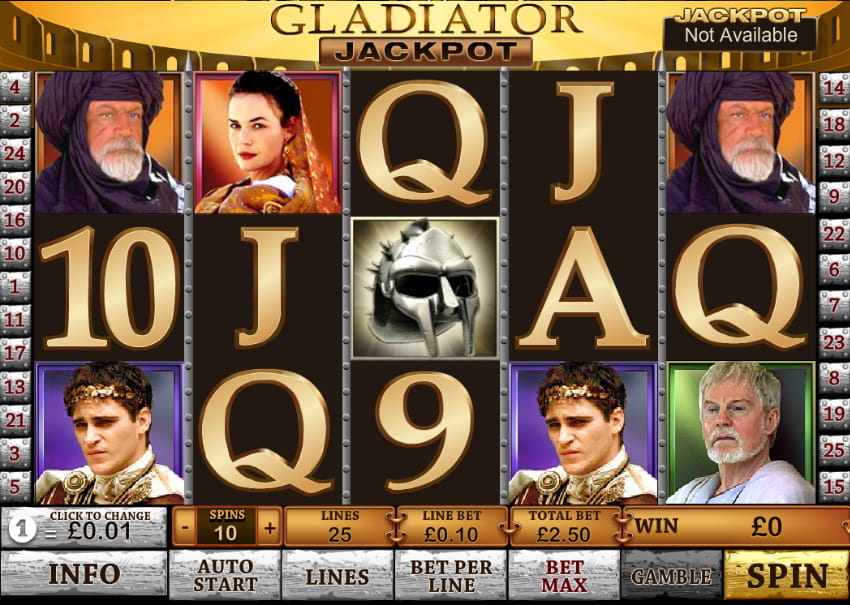 "Gladiator", the movie, is what officially put Russell Crowe on the map, and what I officially blame for having to be subjected to his atrocious singing in "Les Miserables". Still, I have to give credit where credit is due – the movie was pretty great, and it remains part of the reason why today's blockbusters aren't just testosterone-fuelled action set pieces like they used to be back in the 80s and 90s. But we're not here to talk about that – we're here to talk about the slot adaptation, which is surprisingly faithful to the movie, which is rare among slots, even those made by Playtech. The characters' likenesses have been captured with stills from the movie, and clips from it play during important times (like when you activate some kind of bonus or chain a few good symbols). It's pretty obvious that no expenses were spared, which explains why, on top of a pretty decent RTP (94%) we've also got a substantial progressive jackpot and numerous bonus games and features, such as a "gamble" system which allows you to bet your winnings on the flip of a coin and see if you'll be able to double them. It's actually pretty rare to find so many things that benefit the player all packed within a single slot, let alone combined with a very nice presentation and a well-utilized license, which is why I definitely felt like "Gladiator" deserved a mention on this list. While the progressive jackpot rarely approaches the millions that other games are offering, the myriad of other features more than make up for it.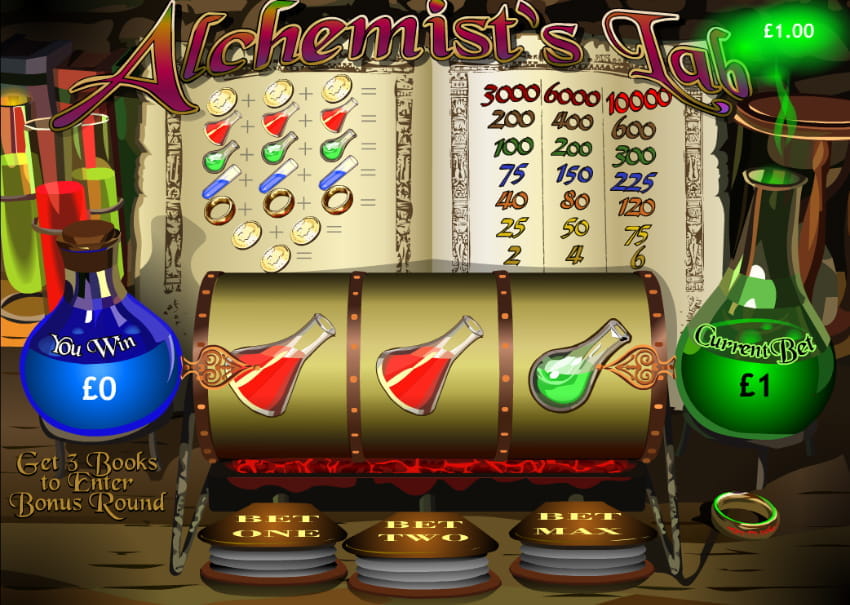 What's this? A slot which isn't based on some kind of license? Blasphemy! Yes, it should truly tell you something about the slot's quality that not only is it not actually based on anything, but it's also a simplistic pub-style machine with only three reels! How did a slot so basic ever get compared with a classic like "The Avengers", you may ask? One word, my friend, or rather, one number – 97.32%! That makes "Alchemist's Lab" one of the highest-paying Playtech slots ever made, second only to "Jungle Boogie", which I don't think is quite as good. But if you thought that a nice RTP was all this slot had going for it, think again! If you get three books you're allowed to enter the bonus round, which gives you free spins, and best of all, the jackpot (which you can win by matching three golden coin symbols) is 10,000 coins, which is a lot more than these fruit machine-style slots typically have! While the theme of alchemy may seem a little outdated and the simplistic three-real slots may not be to everyone's taste, if those things don't bother you I would highly recommend that you check out "Alchemist's Lab"! Not only is it nice and colorful, but its absurdly high RTP percentage and generous bonuses practically guarantee that you're going to be walking away with more money than you came with. But hey, don't just take my word for it! The slots await! Good luck, and may the odds be ever in your favour! Wow, that sounded a lot less clichéd in my head.