The Best TV Shows Slots Games Online for 2021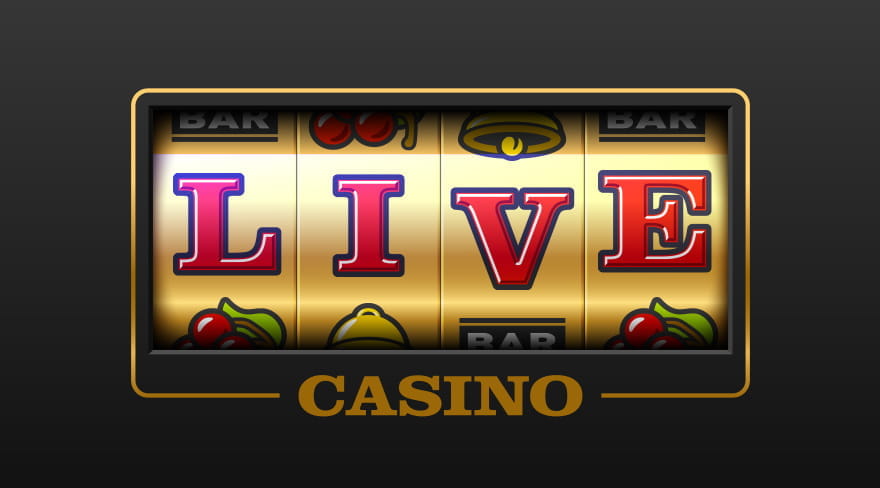 TV shows are an amazing source of fun for people of all ages. Their popularity has led to the creation of many slots themed after cartoons, game shows, reality TV and even live-action shows. Enjoy playing with your favourite characters or feel like a star in a game show with our amazing list of top 10 TV slots. Here's a table for an overview of the games:
The Top 10 Best TV Slot Machine Games Online
TV slots can sometimes be very interesting and innovative. While there are plenty of standard slots, innovative gameplay and interesting bonuses are no strangers. Below you will find a list of the various slots in this article. You can use it to preview the games or even click on them to go directly to your chosen game. Here's the list of the top 10 TV slot machines:
1. Who Wants to Be a Millionaire – Biggest Slot Prize
Experience the thrill of the most popular game show in the world with Who Wants to Be a Millionaire Megaways. This exceptional six-reel slot with a unique cascade feature will make you feel like a true contestant aiming for the millions. Big Time Gaming managed to capture the style and atmosphere of the game, with beautifully rendered graphics.
The slot consists of six reels, with one horizontal reel at the bottom. Match at least 3 symbols and you win. The cascade feature means symbols explode and more fall down, allowing you to create more combinations and earn even bigger rewards. As this is an "all ways" wins game, all you need is adjacent symbols to get a match. But the real fun is the bonus game.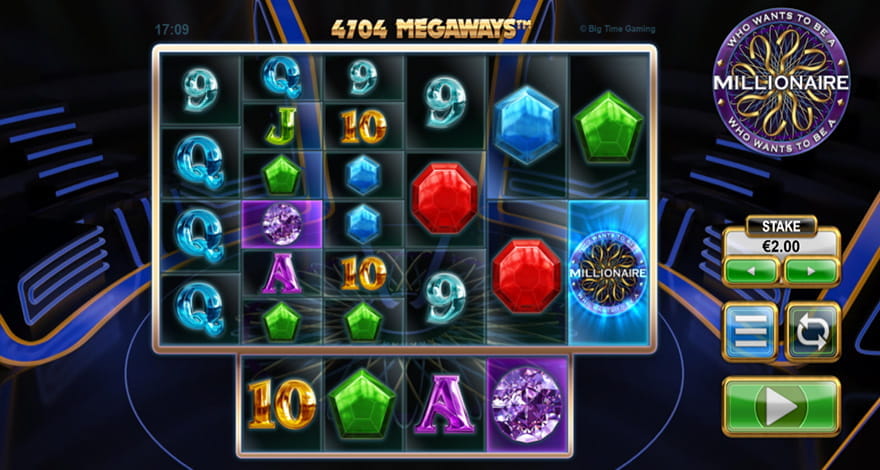 The bonus game triggers free spins after you get three logo symbols anywhere on the reels. The amount of spins is determined through a fun game that makes you feel like a part of the show. Gamble for a chance of more spins, with three lifelines and the risk of losing it all. Or walk away with what you have.
It's a high volatility slot, so don't expect frequent wins. However if you play with the max bet, you have the chance of earning a million pounds. Enjoy the thrill of high risk and high reward with this fantastic TV slots game.
2. Wheel of Fortune: On Tour – Progressive Road Trip Bonuses
Hitch a ride on the Wheelmobile, on the road to amazing prizes, more lucrative than any other TV show slots. Developed by IGT, Wheel of Fortune on Tour offers an amazing experience for players who enjoy long games. Enjoy a wonderful five-reel slot with fantastic bonuses and symbols evoking an American road trip. With medium variance and a wide bet limit, any player can enjoy this game.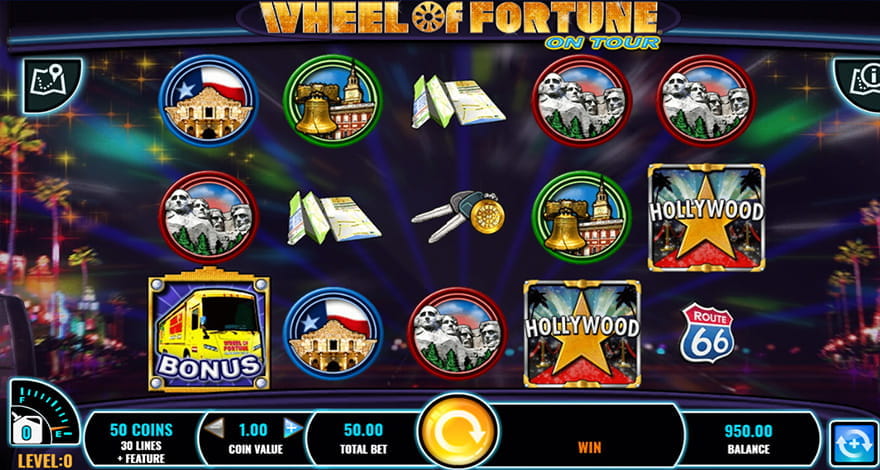 While the gameplay itself is standard fun, the level up system is where the game shines. As you play, you will get a bonus symbol that looks like a bus. Get one or two, and you can fill your gas tank. Win three, and you get a full gas tank as well as activate the bonus. You then move across a map and activate different bonus features.
The bonus features range from free spins, a bonus game where you pick rewards and multipliers. You also get to spin the wheel for a major prize. There's so much here to enjoy that it is best to experience it for yourself. Take a long trip and enjoy fantastic prizes in this dazzling game.
3. Star Trek: The Next Generation – Set Course for Free Spins
Set course for an epic space adventure with this fantastic slot machine. Enjoy futuristic graphics, and a calming orchestral theme as the Enterprise flies through space, seeking new rewards. This wonderful five-reel slot has standard gameplay, but the presentation is truly astounding and will hook you in with symbols of your favourite characters coming to life.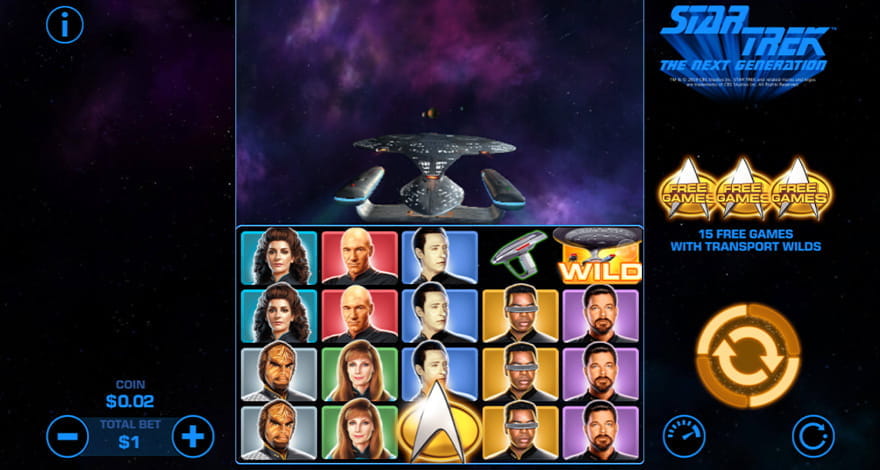 Watch out for enemies, as randomly, the Enterprise Respin feature will trigger. This will give you five free spins with an increasing multiplier on each spin, up to 5x. Get three Federation emblems to trigger another free spins bonus. This time, the crew will land on a planet and trigger 15 free spins. Both games give you additional wilds so that you can win more easily.
The game has high volatility, but the abundance of wilds will help you earn rewards regularly. Traversing space can be a dangerous ordeal, but the spirit of adventure is greatly rewarded. The free spins bonuses even trigger wild reels for easy wins. Experience a space adventure unlike any other TV show slot machine.
4. Beavis and Butthead – We're Gonna Score Some Bonuses
The classic 90s crass humour cartoon is back in slot form. Blueprint Gaming has created a fun five-reel slot that encapsulates the fun of the show. Join the boys in playing an actual TV slot, with tons of bonuses and crazy features. The medium variance will ensure you don't go too long without a reward and change the channel.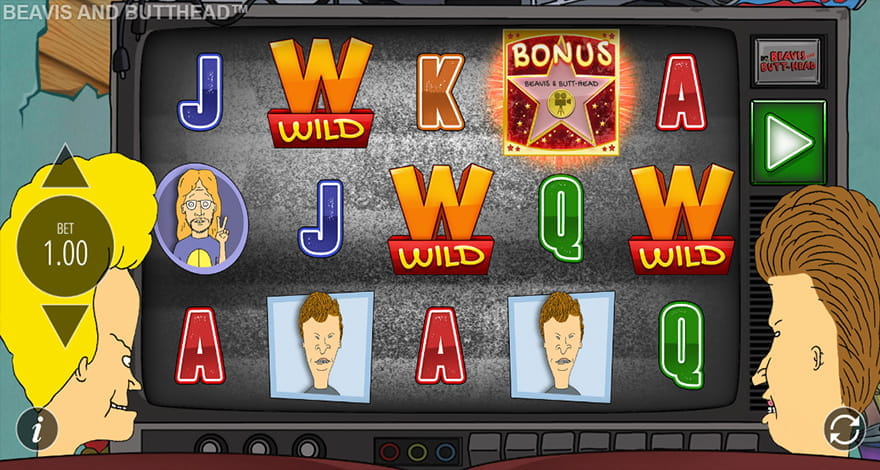 Enhance your TV experience with a variety of bonus features and games. There are simply too many to list for this section, but all of them will earn you wonderful prizes. The bonuses include wilds, mystery symbols, an alternate way to trigger bonus games, free spins, and more. Who knew that lazing around could be so rewarding?
What makes the game even more fun are the numerous animations. Aside from activating bonuses, Beavis and Butthead will sometimes just goof around by hitting each other with a remote or laughing. It's entertaining to simply watch them laugh while you spin. Enjoy an immersive and fun experience that not many TV slots provide.
5. Friends – Central Perk Jackpot
We continue the 90s trip with Friends. The popular TV show also gets its own five-reel slot. Relive classic moments with screenshots of the show as symbols. With a mid to high variance, rewards can either appear often or be absent for long times. But like good friends, they'll come around to bring you tons of fun.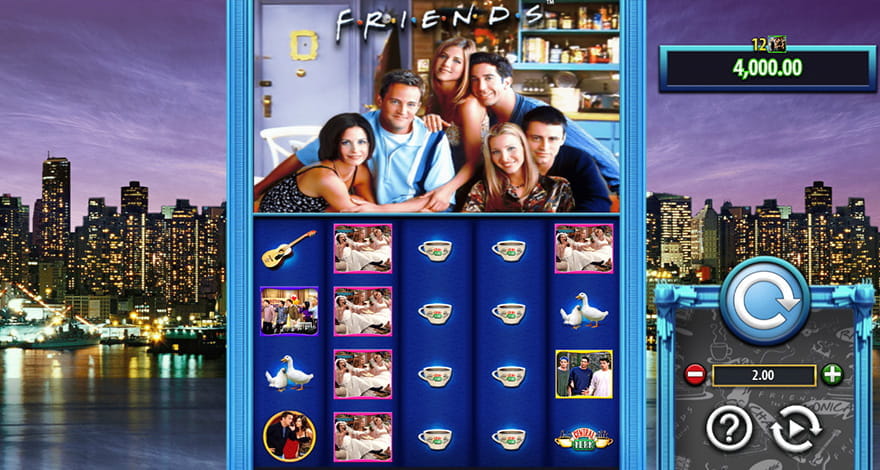 You can turn on a bonus bet feature that will allow you to access some wonderful bonuses. You get the bonuses by landing the Wheel Bonus symbol. This symbol can trigger three types of free spins with different wilds or a chance at a jackpot. Match 3 symbols, and you can earn one jackpot, with the highest being 50,000 coins.
There's also a chance to win a 100.000 coins jackpot by landing three jackpot symbols. The game can be risky and sometimes requires patience. But the payoff is worth every single penny. Enjoy this Scientific Games fantastic TV show slots game and win big. Enjoy screenshots with the iconic characters and a soundtrack reminiscent of the theme song.
6. Vikings – Wild Shield Wall
Join the Vikings on a raid for loot and treasure in this wonderfully grim slot. It's an "all ways" wins slot, so all you need are a few adjacent symbols for a win. The medium to high volatility can make that difficult, but the loot is just that much sweeter after a hard battle.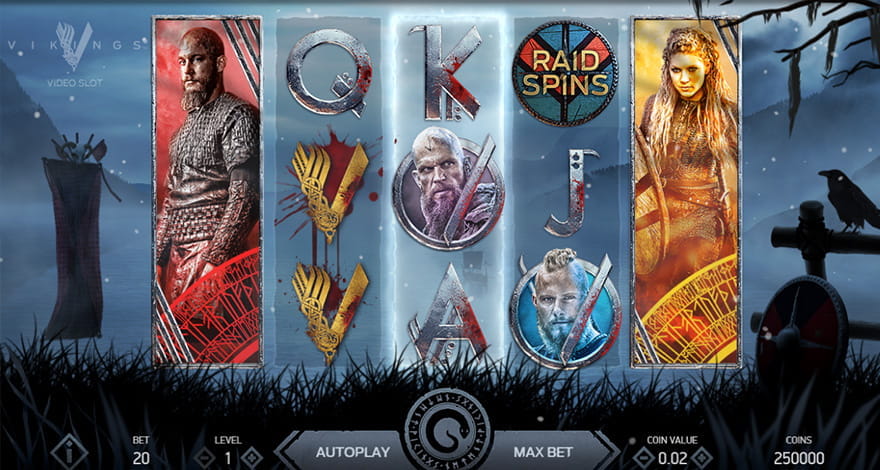 There are three bonus features. First is the shield wall that activates randomly and will change certain symbols into a character or the gold V, creating a win. The Hot Spot feature triggers when you get a stack of one of the four characters in the middle reel. This will then create symbols of the character on the other reels and pay out a random amount.
Finally, you have the Raid Spins, which are seven free spins that you cannot re-trigger. The Hot Spot and Shield Wall features can also trigger and increase your rewards. In true NetEnt fashion, the game is designed beautifully, with muted colors and a dark foggy background, anticipating a fight. Enjoy this immersive and dark game, unlike any other TV show slot machines.
7. Narcos – Capture Criminals for Huge Rewards
Return to the wild world of 70s Columbia with Narcos. Enjoy a thrilling game, with stylishly designed graphics as you help the DEA agents catch the notorious criminal Pablo Escobar. NetEnt have filled this slot with wonderful bonuses and a wide bet limit so all types of players can enjoy the game. With 243 ways to win, all you need are three adjacent symbols for a reward.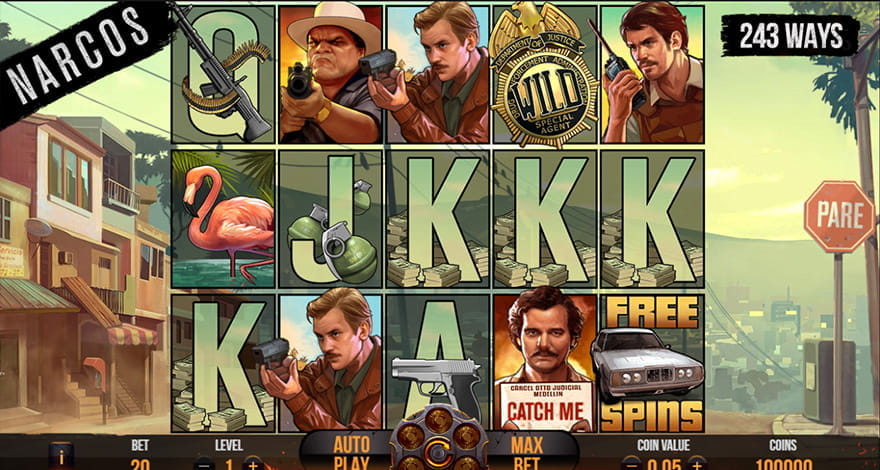 The game has a variety of wonderful bonus features. A gang member can randomly shoot at the reel to turn symbols into wilds. Capture Pablo three times on the same row, and you can earn three re-spins. Land three scatter symbols for ten free spins with walking wilds. The bonus features also include sticky wilds, a gold wild that can award random prizes like upgrading symbols or more wilds, and many more.
This is a medium volatility slot, so expect a balanced chance for rewards. Spin the revolver drum and hope luck is on your side. Immerse yourself into the action-packed world with a wonderful Columbian soundtrack and symbols coming to life in flames. NetEnt once again show their prowess with a fantastic slot game that both fans of the Netflix show and regular players can enjoy.
8. Top Cat – Wacky Bonus Minigames
Enter the iconic alley and have fun gambling with the most colourful cat mafia. Top Cat is a classic five-reel slot with three symbols on each reel. Enjoy a bit of nostalgic fun, with 20 paylines and plenty of bonuses. The game is also suitable for low rollers with the lowest bet being £0.20.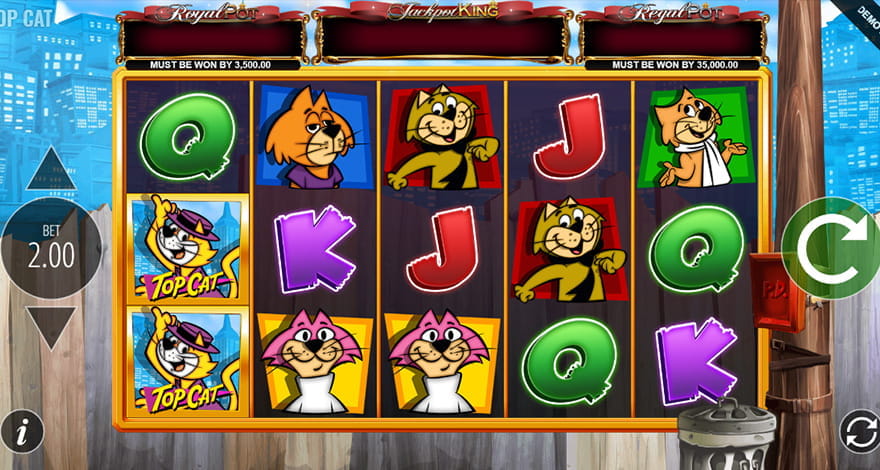 It may be a classic slot, but the variety of bonuses make it stand out. Each bonus offers a unique gameplay experience. Get a stack of one character, a hotdog wild or three bonus symbols to trigger their respective prize. This includes wilds, free spins, various minigames and more.
There's never a dull moment with Top Cat. Blueprint Gaming once again captures the spirit of the show with wonderful animations and detailed backgrounds. The RTP may be low, but the variety of bonuses and fun gameplay more than make up for it. Enjoy a nostalgic trip with this wonderful slot based on the popular 60s cartoon.
9. The X-Files – The Bonus is Out There
All seems normal at first in the X-Files slot developed by Playtech. It's a standard five-reel slot with 20 paylines and symbols themed around the show. Mulder and Scully are here to investigate a spooky forest. As such, the base gameplay can be rather uneventful. But just like the show, the truth is hidden from the public.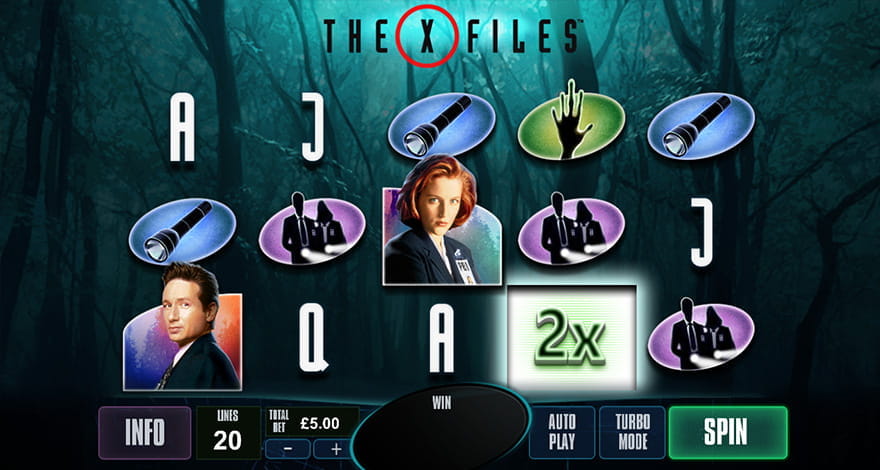 Two bonus features adorn this slot, to reward the most persistent detectives. The wilds appear as rifts in the normal slot, and they offer different multipliers. With enough luck, even the lowest paying symbol can bring big rewards. These wilds are a slot beneath a slot, randomly bringing multipliers. Three or more UFO symbols bring up to 20 extraterrestrial free spins. Any wild in those games will remain for the rest of the games, guaranteeing a huge reward.
Overall, Playtech have created a fun, classic slot game. It may not be as fancy as other TV slots or offer dozens of bonuses, but the simple nature allows anyone to jump in and play. There's a wide bet limit so players of all budgets can enjoy the game. All you need to do is believe in the paranormal.
10. Hotline – High Risk and High Rewards
We finish off strong, with a high-octane slot by the top slots developer NetEnt. This slot is inspired by the hit TV show of the 80s – Miami Vice. You will be greeted with a fancy intro like an actual TV show, before beginning the game. This medium volatility five-reel slot will offer tons of fun to all thrill-seekers.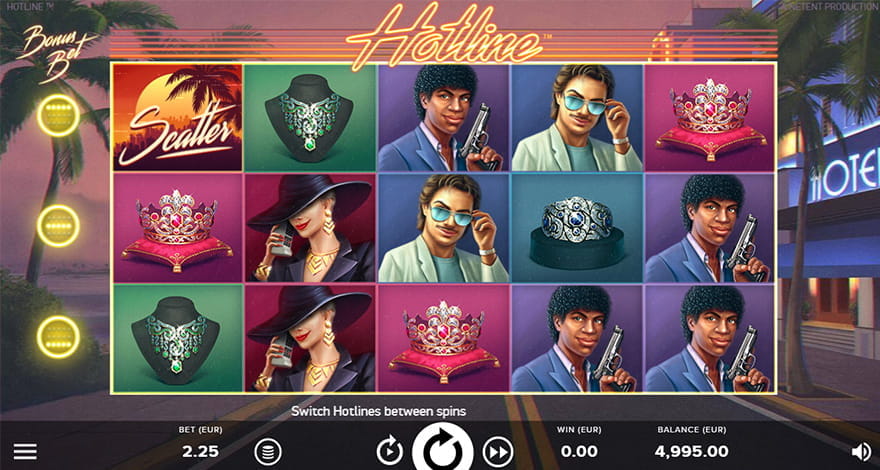 The game offers a bonus bet feature that increases the volatility and RTP of the game. You can choose up to three hotlines by pressing the buttons. Once a wild lands on the line, it will expand and trigger a re-spin. If you get three scatter symbols, you can also activate seven free spins for more wilds and bigger rewards.
Although high rollers are greatly rewarded, low rollers can enjoy this game as well. One hotline can have a low bet of £0.15 and low volatility for frequent rewards. Enjoy a ride down the Miami Coast, trying to catch criminals and relaxing to 80s music, with this fantastic slot that will make you feel like a true detective.
Conclusion – Slot Channel Live
That concludes our list of the top 10 TV slots. If you found it entertaining, please check out some of our other top 10 slots lists. Additionally, you can find other interesting articles or information on the various providers. See you next time, and enjoy surfing through the slot channels!
FAQ Section
Before you change the channel, you probably have some pressing questions about the TV slots. It can be confusing to navigate the program on your first time, or maybe you just wish to get additional information. We will help by answering some of those questions, so you can start playing freely.
📱

Can the games be played on mobile?

Yes, all the games on this list are available on mobile as well. Simply log in through a casino of your choice and start playing. All devices and operating systems are supported, so you don't need to choose. We recommend Star Trek: The Next Generation for a wonderful mobile experience.
🔒

Are the games safe to play?

The TV show slots are developed by reputable providers. Additionally, they are hosted on casinos with high security. Therefore, you will have no issues, when playing the games as they have been made to be as fair as possible. For a great start to your entertainment, try out Hotline by NetEnt.
🤑

What is the best TV slot for high rollers?

Many of the games offer fun for players who wish to risk big and earn huge rewards. However, the best one would be Friends. It offers a wonderful selection of bonuses and even the chance to win a fixed jackpot.
🥇

Which is the best TV show slot for 2021

The best slot for 2021 would have to be Who Wants to Be a Millionaire by Big Time Gaming. It offers the rare chance to win a million pounds and play a minigame emulating the show. The cascade feature will also bring immeasurable rewards.
💰

What bonuses can I find with TV show slots?

The bonuses that TV show slot machines offer vary between games. Some have a variety of different ones, while others will offer a few free spins and some multipliers. You'll have to play through them and find which ones you like. We recommend Top Cat for a taste of all types of slot bonuses.