The Best Anime Slots Machines Online for 2021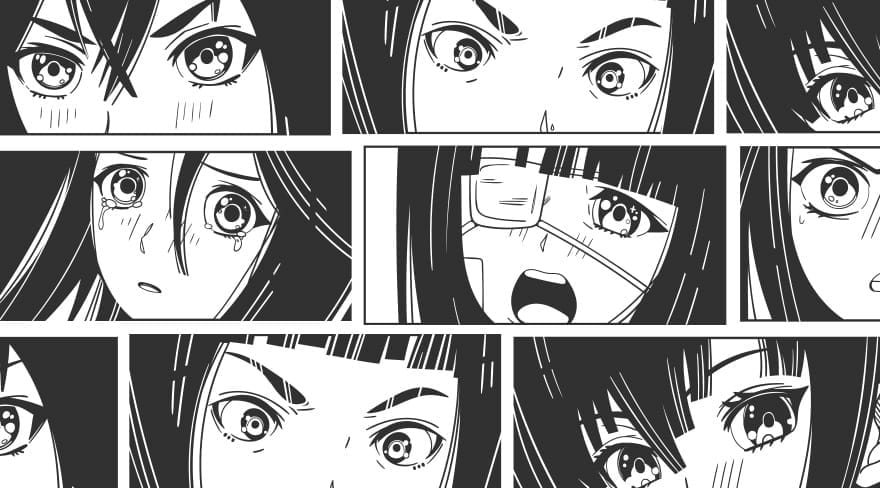 Anime is a popular pastime for many people in recent years. The colourful characters and dramatic stories can hook in almost any viewer. It's no surprise then that developers have created slots based on anime. Enjoy wonderful games and bonuses with a unique look in our top 10 anime slots list. Check out our table for an overview of the games and what they offer.
The Top 10 Best Anime Slot Machine Games Online
Anime slots are not just pretty to look at. They're also solid games with wonderful bonuses and interesting gameplay. All of the slots on this list are also completely safe to use. They're hosted in reputable casinos and created by popular developers. Let's dive in with the list of top 10 anime slots:
Quick Guide to the Anime Slots Theme
Before we begin, it would most likely be best if we explain what anime is. Although the term has become popular in recent years, due to the wide abundance of shows, it may be unfamiliar to some. That is why we will quickly explain the term, so you know what to expect from this list. Anime simply means animation in Japanese. In the west, it is used to denote animated shows produced in Japan. Recently, it has been used to refer to a specific style of art and animation. Large eyes, expressive features and fluid movements are just some of the distinctive aspects. The reason anime has become popular in recent years is due to its quality. Fun and dramatic storylines ,as well as the beautiful art, have captured the hearts of many people. Anime slot machines use this aesthetic to combine wonderful gameplay with fantastic graphics. This helps them stand out among the other colourful slot games and impress them with excitement.
1. Moon Princess – Bonus Features Unite for Big Rewards
Win big by the moonlight with Moon Princess. Play'n GO's slot game inspired by Sailor Moon will bring you hours of fun. Enjoy the colourful symbols, including bells, stars and pictures of the characters. Match at least three symbols to clear them from the grid and earn coins. This is a unique way of playing slots and can bring big rewards.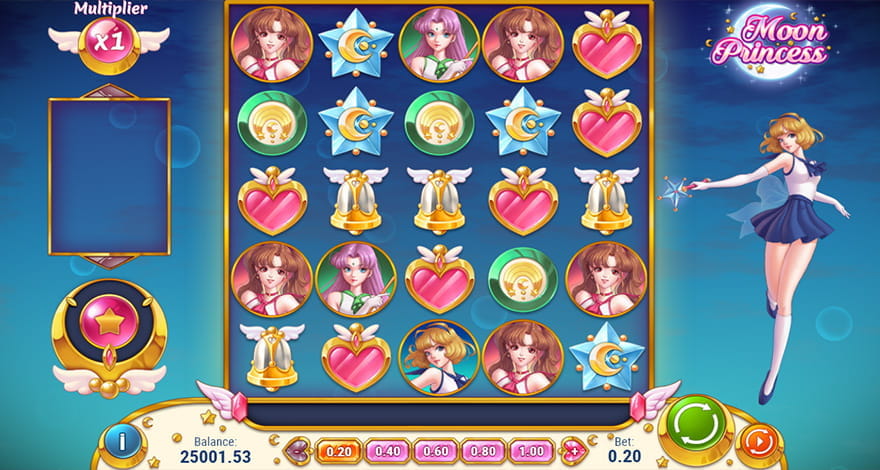 There are two bonus features in the game. First, if you manage to clear the entire grid of symbols, you can access a free spins bonus. Choose the number of spins and the multiplier for a chance at a huge payout. The princesses themselves will help you during the bonus and the normal game with their abilities. This feature activates randomly in normal games and can help you win, even with a bad roll.
However, don't rush blindly into danger. While the RTP is 96%, the volatility is very high. This means you can go a long time without a reward. But with a little help from the princesses' abilities, you can earn huge rewards and even a high paying bonus round. Getting wins also fills up a meter that can combine all three abilities for a massive payoff. The battles may be hard with this anime slot machine, but the reward is worth it.
2. Ninja Ways – Gather Bonuses with Powerful Ninja Skills
A secret mission awaits you in Ninja Ways. Spin a beautifully designed slot, with a relaxing soundtrack and a bright village at night. As this is an "all-ways" win slot, all you need is to get three adjacent symbols to win. The symbols are stylish, and make you feel like a true ninja on a mission.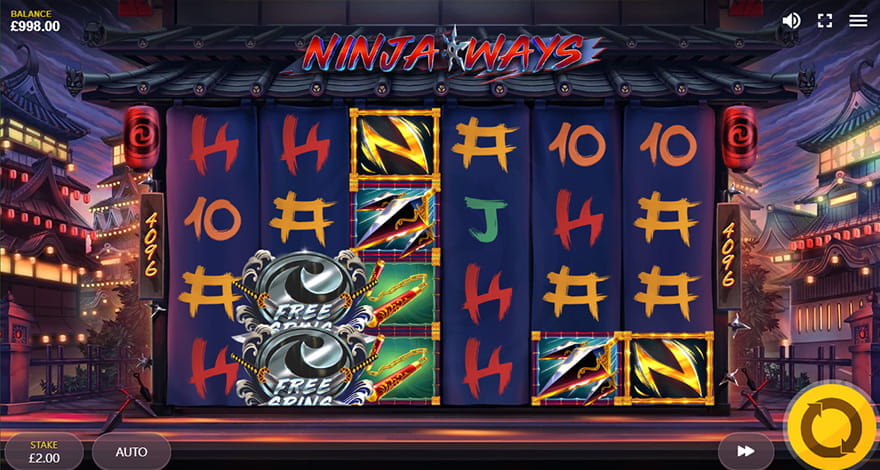 You are not alone on your mission, as the titular ninja accompanies you with various bonus features. He can create wilds, make a winning combination or open a door with a giant symbol for a guaranteed win. Get five adjacent bonus symbols and you can earn a random number of free spins. The bonus features are more frequent and can bring huge rewards in a single spin.
The RTP is standard and the volatility is medium. This means you will enjoy a fair amount of rewards. Low rollers will find this game very enjoyable as you can bet a minimum of £0.20 and earn a maximum win of 10,000x your original bet if you're lucky. Anime slot machines can't get much better than this.
3. Magic Maid Café – Stylish Café Design and Fun Gameplay
Enjoy a nice meal at a classic Japanese maid café. NetEnt have once again shown their skills with this wonderful design. Even the play button looks like a cup of coffee, as everything is styled like a café. A beautiful waitress will accompany you, while you spin and the sounds of a busy café immerse you into the world.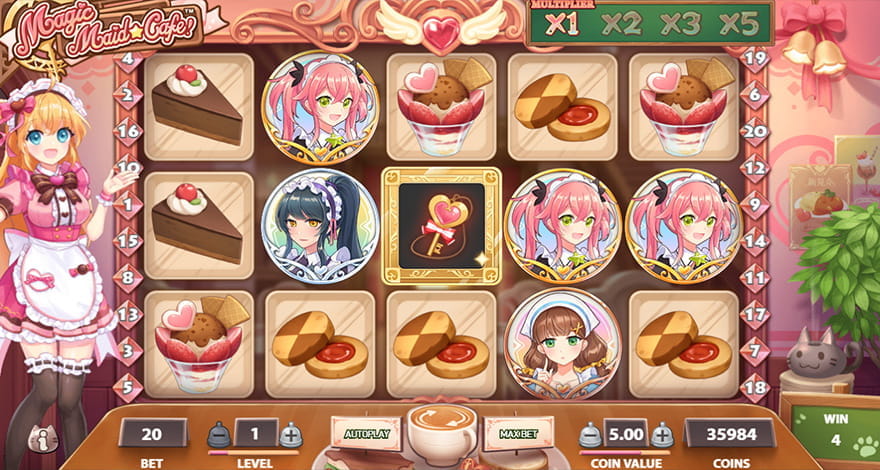 The delicious food symbols explode when you match at least three in this five-reel anime slot machine. This creates a cascade effect, where more symbols fall and can create more combos while increasing the multiplier. Two bonus features spice up the menu – a wild symbol that can substitute everything and a key symbol that triggers ten free spins.
With a medium variance and a standard RTP, you are bound to enjoy your time here. Both low and high rollers can enjoy the game with an adjustable bet limit and 20 fixed paylines. Stop by this magical café for an enjoyable time with stylish graphics, big rewards and fun gameplay.
4. Magical Stacks – Stacked Mystery Symbols Keep It Fresh
There's nothing more exciting than a mystery box. Magical Stacks is a bit simpler than the other anime slots, but the amount of excitement is just as high. Most of the symbols are standard, including some fruits. There's a pink-haired girl that acts as a wild symbol and she changes colour in the free spins.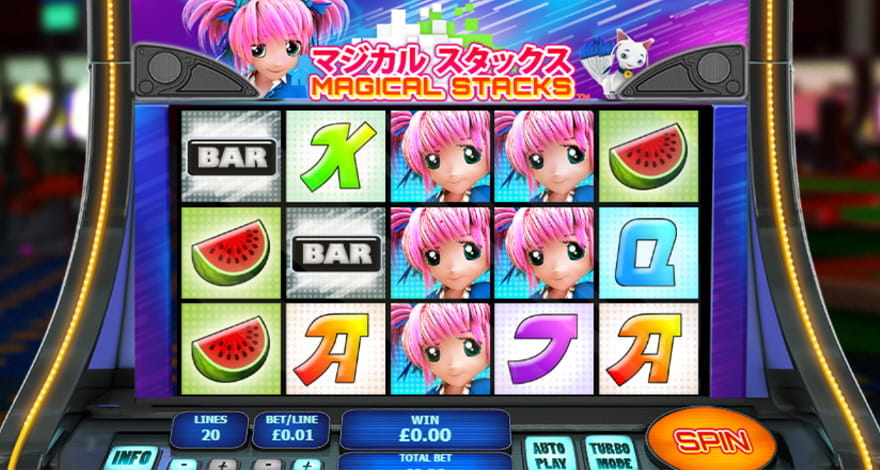 Getting a mystery box or a stack of them is exciting. This box can turn into any other symbol, except wilds or scatters. It allows you to create winning combinations. Gather three symbols of a weird cat, and you can activate the free spins bonus. You get 10 to start, and if you get a gold disc on the final reel, you can increase your prize multiplier. The best part is this bonus can be re-triggered infinitely.
While the game may be simpler and not as full of bonus features, it still offers a ton of fun. The infinite free spins can lead to amazing payouts, and the mystery boxes can help guarantee wins. Even this classic anime slots machine can bring a fresh dose of fun. Playtech's experience truly shines in this game.
5. Super Graphics Upside Down – Crazy Game Show Welcomes All Budgets
You can't get crazier than a Japanese game show. Super Graphics Upside Down seems like a regular anime slot machine at first. You have fruit symbols and the standard J, K, Q and A symbols with colourful characters, including a wild symbol. Spin the wheel and hope you get one of the 20 paylines.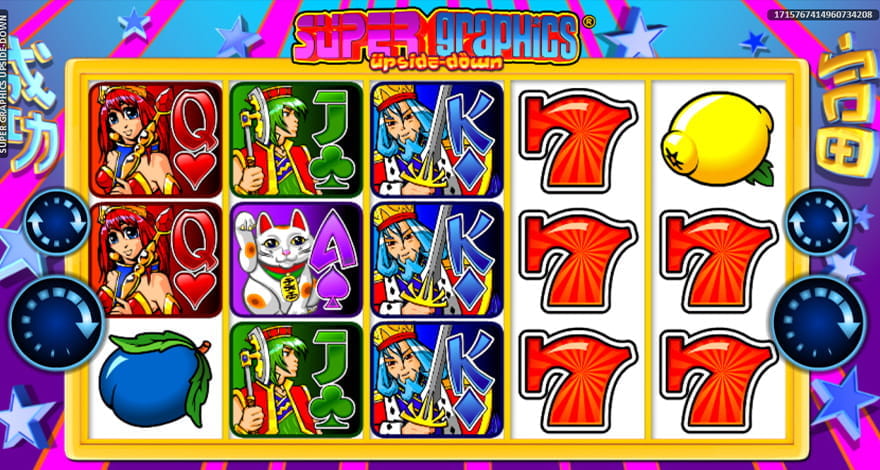 However, the fun begins when you get at least 3 scatter symbols. This causes a pretty hostess called Satsuki to jump down and lead you through the free spins bonus. She speaks in Japanese, but you get some funny subtitles in broken English. Rewards come more often and you can re-trigger the bonus by getting three more scatters.
High and low rollers can enjoy the adjustable bet limits, going as high as £200 or £0.20. The game's volatility is also low, so you are bound to earn frequent rewards. If you're lucky, you can earn a reward of 5000x your bet. Enjoy the vibrant graphics and crazy gameplay with Realistic Games' wild game show.
6. Koi Princess – Catch a Fish for the Chance of a Guaranteed Reward
Travel with the Koi Princess to a mystical land, filled with bonuses and big rewards. NetEnt's fantastic game, stands out among other anime slots with its fantastic bonus features and a stylish five-reel slot. The game has many high-paying symbols, including wilds and totems, but for double the cost of a spin, you can activate the bonus bet.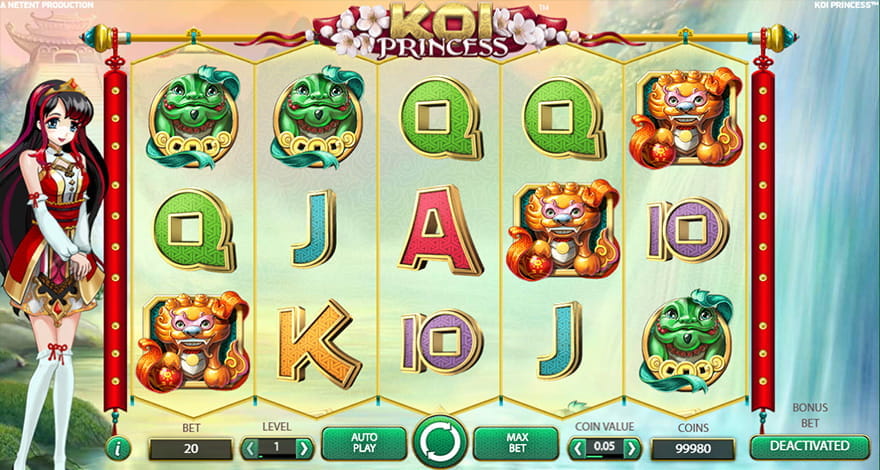 The bonus bet increases the cost, but also increases the likelihood of getting a bonus and winning combinations are more likely to occur. Occasionally, you will be able to pick between three koi fish, which will give you a random bonus. This can include random wilds, a guaranteed win or the activation of a bonus game.
The bonus games themselves include a bonus wheel, free spins with wild reels or a guaranteed win and simply winning a random amount of coins. The medium volatility and standard RTP means you have a good chance at a reward. With an abundance of generous bonuses and guaranteed rewards, this slot is worth trying out.
7. Fortune Girl – Increasing Multiplier in Free Spins Game
Open the mystery doors for a huge reward with Fortune Girl. This colourful anime slots machine developed by Microgaming is sure to provide hours of fun. The symbols have a cute and appealing design, allowing you to enjoy the various bonuses. The gameplay is your standard slot with 15 paylines.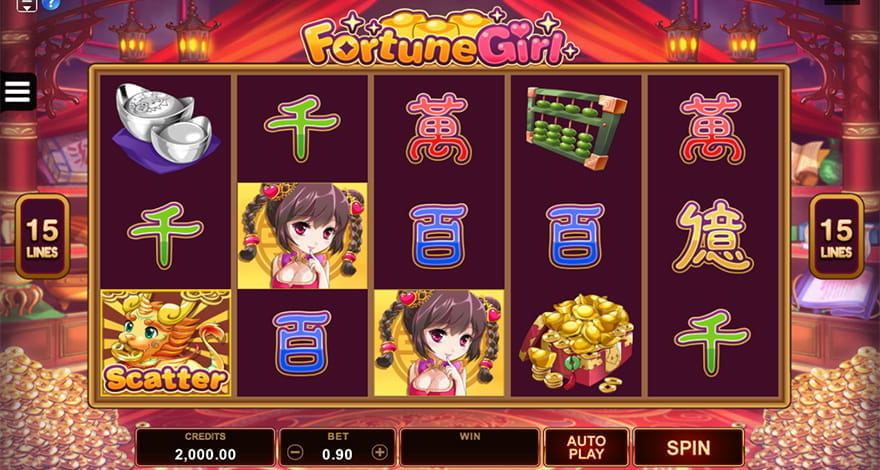 There are two features you can use to increase your rewards. First are the mystery gold doors. They can change into any other symbol, except the logo, to create a winning combination. You can even get stacks of the symbol for a higher chance. In the free spins game, this symbol can transform into the logo as well.
Getting at least three dragon symbols will activate the 14 free spins bonus. Aside from a multiplier that can be increased with more dragon symbols, you can also get a stack of 20 mystery symbols. The game is suitable for low rollers due to the low bet limits, the maximum being £15.00. Enjoy a wonderful anime slot with plenty of prizes.
8. Thundercats: Reels of Thundera – Losing Rolls Trigger Bonuses Too
Join the Thundercats in their quest to stop Mumm-Ra. This wonderful slot is filled with a variety of bonuses and symbols representing characters and items from the show. And yes, the show's animation was made in Japan. The base game is very fun, with an adjustable bet limit, so even high rollers can enjoy it.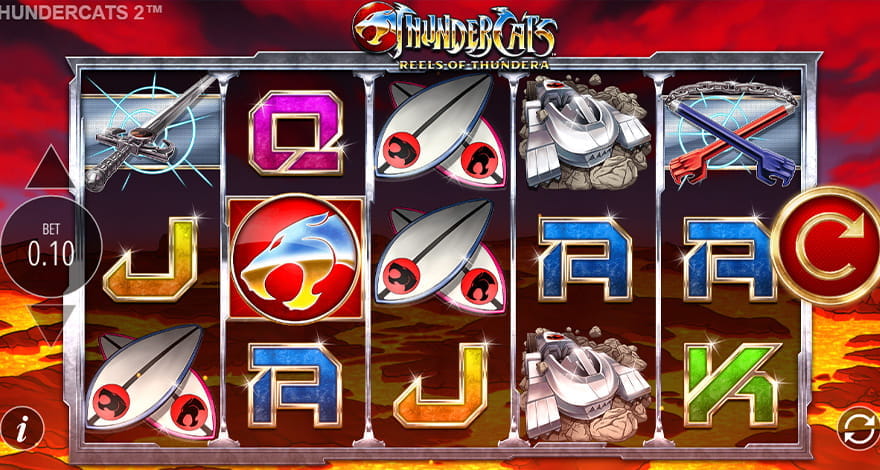 What makes this game truly amazing is the huge number of bonuses. There are too many to list for this section, but they include a variety of bonus games, a cascade feature, mystery wilds, multipliers, and so much more. You can even benefit from features that trigger on losing spins. The best way to experience these features is to try the game for yourself.
Employ the power of the Thundercats to defeat evil and face off against Mumm-Ra for huge rewards. With a medium to high variance, it can sometimes be a difficult fight, but triggering even one of the bonuses will bring great rewards. Blueprint Gaming's fantastic anime slots machine, with wonderful graphics and an exciting soundtrack, will make you roar with excitement.
9. Lucky Little Gods – Scatter Symbols Bring Their Own Prizes
The gods of luck have come down to bless this wonderful slot game.Microgaming has created a wonderful slot game that will bring tons of excitement and rewards. Enjoy the various adorable symbols, including gold trees, pots of gold and even the gods themselves. With 243 paylines, all you need to do is get three adjacent symbols for a win.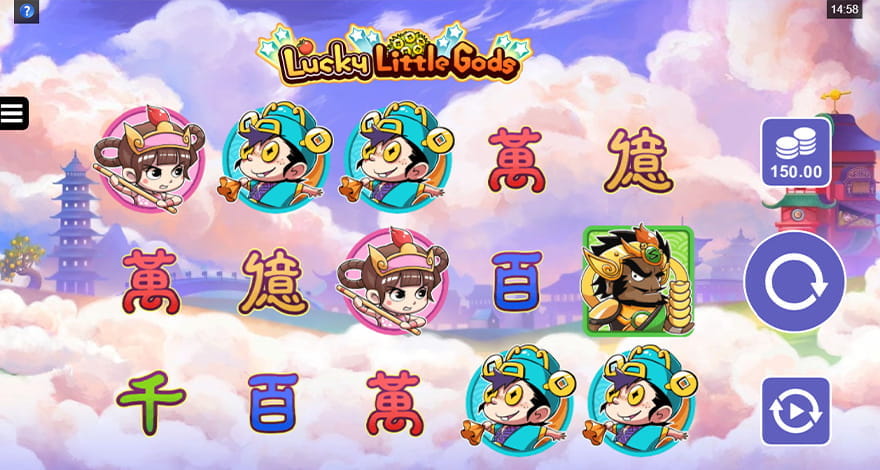 You get eight free spins by getting three bonus scatter symbols. It multiplies your rewards by the total bet, so it's a good bonus for high rollers. Reels one and five will also become wild, so you can easily earn rewards. The base game also offers three more scatter symbols. You can earn a random prize up to 40x your stake with the gods. There's also the tree that multiplies the value of symbols below it.
The final scatter is on reel three and offers a random prize up to 100x your bet. With so many paylines and a decent RTP, the gods of luck will smile upon you. Enjoy this basic, but fun anime slot, most suitable for high rollers, due to the various multipliers. However, even low rollers can enjoy the game with its standard volatility.
10. High School Manga – Adjustable Volatility Accomodates All Players
Relive the glory days of high-school romance with this simple, but fun slot. You have three reels and five paylines, so it can be harder to get a win. The symbols are all pictures of anime characters, representing different aspects of high-school life. A relaxing, hopeful, and nostalgic song plays while you spin, immersing you into the world created by Wazden.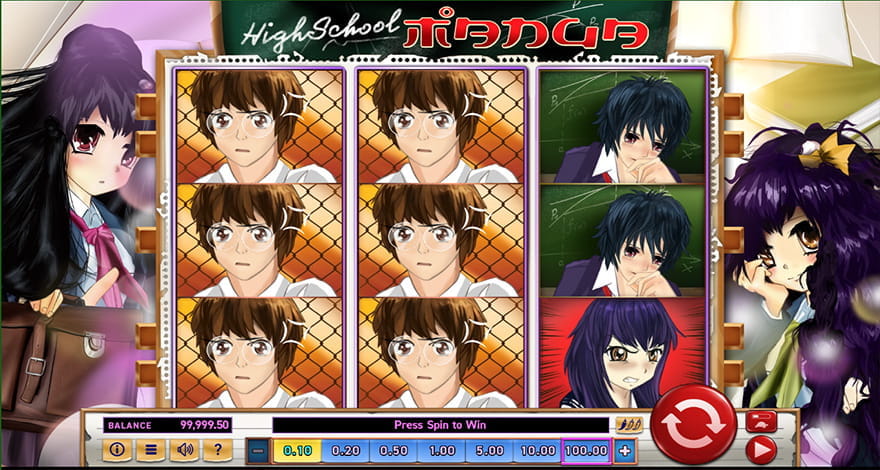 There are only a few bonus features, making it a simple but rewarding game. The first is the gamble minigame. After every win, you can access this game and multiply your rewards in several rounds. Going further brings better rewards, but one loss and your entire prize is gone. You can cash out at any time to keep your win.
The other exciting feature is the volatility chooser. This unique feature allows you to choose how difficult the game is, so you can either coast by your youth or work hard for that romance. Overall, this is a wonderful game which all types of players can enjoy and a perfect conclusion to this list.
Conclusion – A Vibrant Farewell
We hope you enjoyed this small tour of the best anime slots. Their vibrant colours and thrilling gameplay appeal to all sorts of players and offer unique experiences. Check out the rest of our site for more top 10 slots and other unique articles. We hope to see you again, in the next exciting episode!
FAQ Section
The games may look pretty, but there's a complex technical aspect to them as well. This section will serve to answer some of the more pressing questions, regarding anime slots. Before jumping into your favourite game, you should make sure that you understand everything. We will help you by answering some initial questions.
🔒

Are anime slots safe to play?

All the games are made by reputable developers and are hosted by licensed casinos as mentioned in our anime slot machine list. You can play all the games, knowing your data and money will not be misused. Always make sure that you are playing in a licensed casino.
🐟

What is the best NetEnt anime slot?

A tough question as both games on this list are wonderfully made. However, we would choose Koi Princess for the best anime slots machine by NetEnt. It has a variety of bonuses, great gameplay and even a chance at a guaranteed win.
🏁

Which is the best anime slot for new players

The best anime slot machine for new players would be High School Manga. Being able to set your volatility allows players to experiment, while still having enough difficulty to keep things fun. Activating the bonus game is also easy and can bring even more rewards and excitement, giving players a good taste of what slot games are.
📱

Can the anime slots be played on mobile?

All of the games on this list can be enjoyed on any mobile device as well. Simply log in through your preferred casino and begin playing. No downloads or special extensions are required. We recommend Thundercats: Reels of Thundera for a wonderful mobile experience.
🏆

What is the best anime slot for 2021?

The title of best slot would have to go to Magic Maid Café. It is a lovingly developed slot, with a unique cascade feature for sizeable rewards. The simple gameplay means anyone can jump in and enjoy this amazing game.