The Best Football Slots Games Online for 2021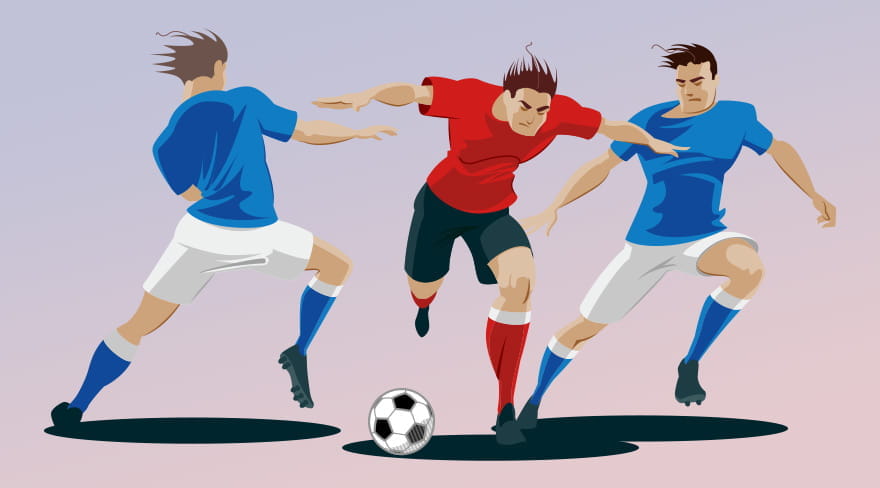 Welcome, ladies and gentlemen, to a truly historic match. We'll be watching a fantastic game, played by the top 10 football slots. Terrific bonuses, innovative gameplay and a good dose of classic slot fun await you in this list. Read on to learn more about the slot machine football rules. Here is a brief overview of today's all-star team and their statistics:
The Top 10 Best Football Slot Machine Games Online
The starting lineup is set and the players are getting ready for the match. Everyone is familiar with the slot machine football rules, so you can be certain that the games are safe and secure to play. None of them will misuse your data, so you can enjoy the games freely. Before we start the game, let's look at the list of top 10 football slots:
Super Striker – 96.04% RTP
We kick off with NetEnt's best player – the Super Striker slot. This game is much simpler than the usual NetEnt creations, but it still has plenty of fun features. It might be difficult to score a goal with only three reels, five paylines and medium to high volatility, but the multipliers will make the rewards sweeter. Simply landing a gold football can bring a reward.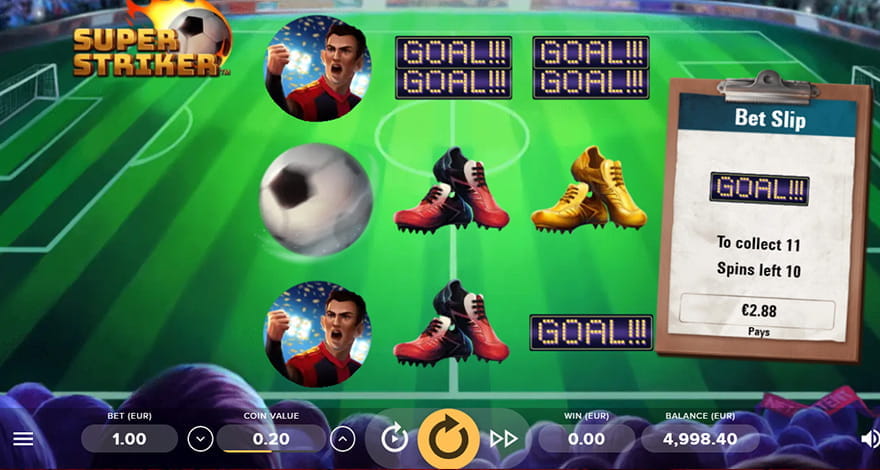 Super Striker shows off its skills with an excellent free spins bonus. Getting three footballs or one gold and two regular footballs triggers three spins. The game has five levels, which you get by filling the screen with gold scatters. Combining the level multiplier and the scatter multiplier will award huge wins. All the gold footballs will also stick until the screen fills with them.
For even more excitement, there's the bet slip feature, where you can bet on how many times a specific symbol will appear within a few spins for a separate reward. This bet is not suitable for low rollers, with the lowest being £1.60. However, all players can enjoy the base game and its bonuses. It's a simple game compared to other football slots, but it's extremely effective and will bring you hours of fun.
Hot Shots – 97.12% RTP
The ball gets passed to ISoftBet's Hot Shots. This colourful slot brings animals and football together for a fun "all ways" win slot with medium to high variance. Enjoy the colourful symbols with fun animal players representing different countries, such as the English Bulldog. The background noise of the crowd cheering as you roll immerses you into the world.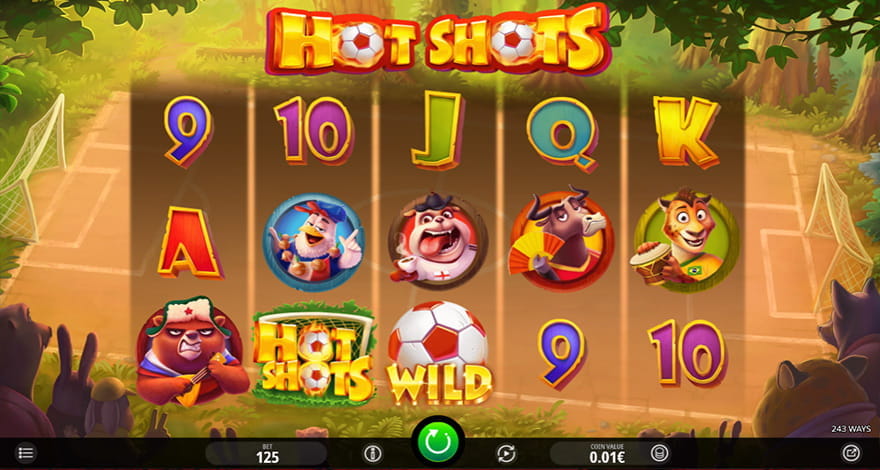 The bonus features are basic, but combined with the 243 paylines, offer a high chance of victory. Wilds appear on reels 3, 4 and 5 to replace symbols and create winning combinations. They also expand vertically and horizontally for more rewards. Get three or more logo symbols and you can earn up to 20 free spins and a 10x multiplier.
As all you need are three adjacent symbols, you will be certain to score goals with this game. The fun visuals and immersive cheering will make you feel excited like you're at a real match. Players of all budgets can enjoy this game with the lowest bet of £0.25. A remarkable play by Hot Shots, as one of the best football slot machines.
Bicicleta – 96.3% RTP
Playing Yggdrasil's Bicicleta slot feels like scoring a wonderful goal with a bicycle kick. This stylish football-themed slot offers wonderful 3D visuals, as well as a good soundtrack and fun sound effects. The music stops when you roll, immersing you in anticipation for the results of the medium volatility slot. With five reels and 25 paylines, you will find an incredible amount of fun.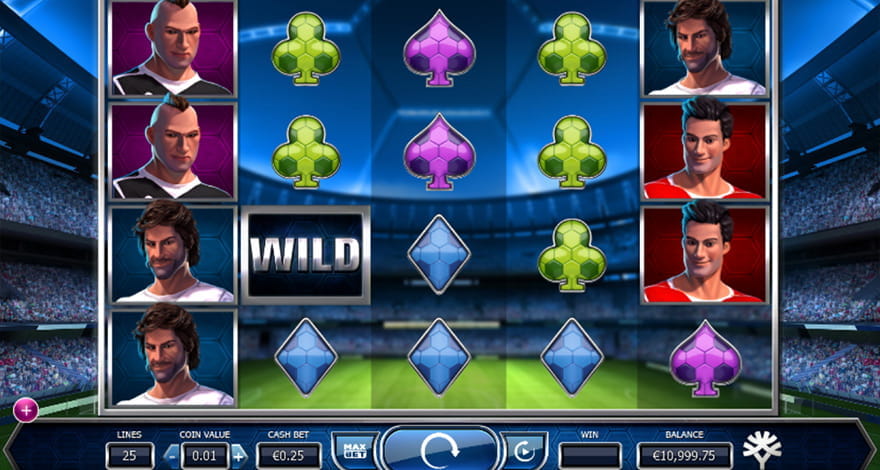 The game's free spins are spiced with some amazing features. While you can trigger up to 24 free spins with three or more footballs, getting the trophy on reel five is even more lucrative. It can bring a reward of up to 1000 coins and 12 free spins. During the free spins it can trigger an entire reel of wilds for guaranteed wins. For more information, check out our Bicicleta review.
If a player symbol appears during free spins, it can turn into a sticky wild after performing a bicycle kick to score a goal. The lowest bet limit is pretty low, so once again, the match is open to all players. Despite having only one real trick, Bicicleta has enough variety to make it worth playing. The sticky wilds and multiple ways to trigger the bonus also make the game even more exciting.
Top Strike Championship – 94.99% RTP
The next generation of football slot machines combines the fun of reels with football betting. This slot may be a standard 20 payline game with five reels, but it offers a fantastic bonus game. The crowd cheers every time you spin and the exhilarating soundtrack sounds like a post-match show. It might not be the flashiest game, but the gameplay is amazing.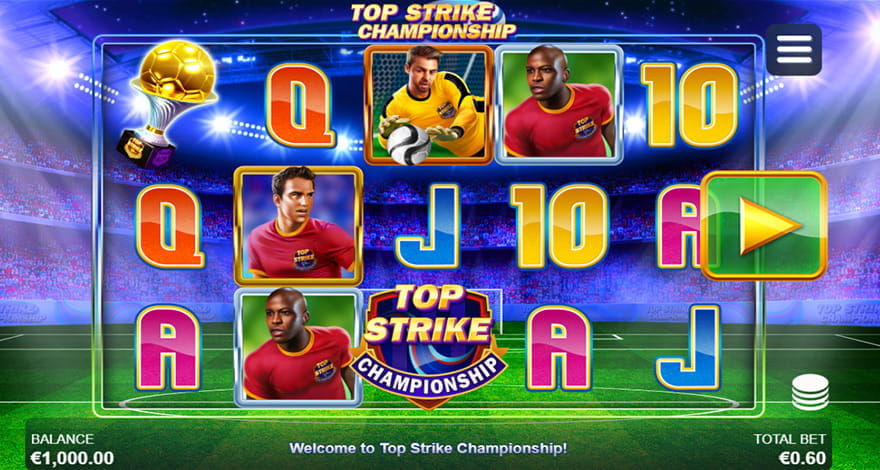 Two wonderful bonus games will make you feel like a true winner. Getting three or more trophy symbols will activate up to 20 free spins. The spins lead into the real bonus game. Get golden tickets on the fifth reel and you can access a fun betting game. Attempt to predict the winner of three matches and go to the knockout stage if you guess right.
During the knockout stage, you must choose a team to advance through the four rounds. Guess the champion and you can win an amazing prize. If you guess wrong at any time, you return to play your remaining free spins. The game is suitable for all budgets with its wide bet limit. NextGen Gaming has created a truly terrific experience, that perfectly blends football and slots. A perfect game for all football fans.
Shaolin Soccer – 96.93% RTP
Football is a worldwide phenomenon and has even reached the distant lands of China. PG Soft's Shaolin Soccer combines martial arts and football into one amazing game. The team of Shaolin monks is ready to win the cup, with a slot game that's perfectly optimised for mobile. Enjoy a serene background of a football field and an epic soundtrack as you roll.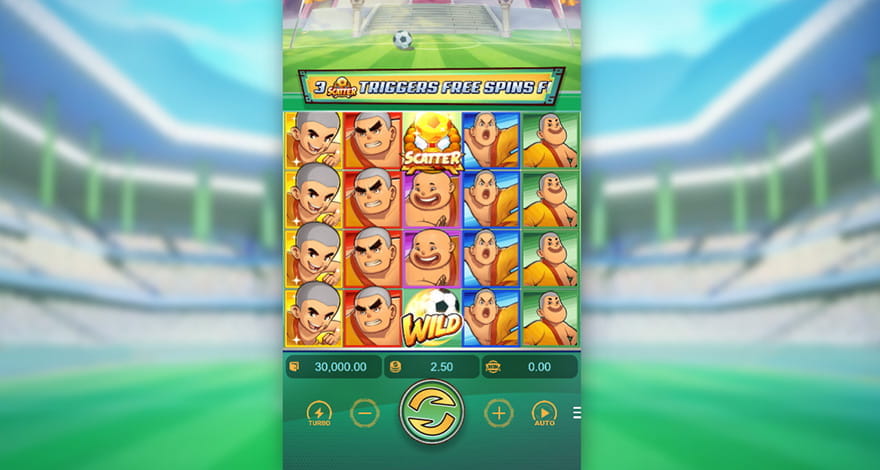 The monks are still young, but their bonus skills will lead to big rewards. Get four symbols of one player on reel three and all other player symbols on the field will transform into them for a bigger win. Getting three scatter symbols on reels two, three and four will trigger the free spins feature. Choose one of the players, each having their own amount of spins and multipliers, and you'll have only that player appear during the bonus rounds.
As it is a medium volatility slot, there's a fair balance between rewards and challenges. The colourful graphics will keep you rolling as the symbols come to life. Low rollers and high rollers can both enjoy this game as it has a wide bet limit and can be customised freely. Overall, it's a wonderful new addition to the standard football slots.
Football Star Deluxe – 95.61% RTP
The ball gets stolen by Stormcraft Studio's Football Star Deluxe. It offers an immersive experience with a nice soundtrack, crowd cheering and a commentator talking about the events. The high volatility may make it hard to win rewards, but that's why this game offers wonderful bonus features to help it stand out among other football slot machines.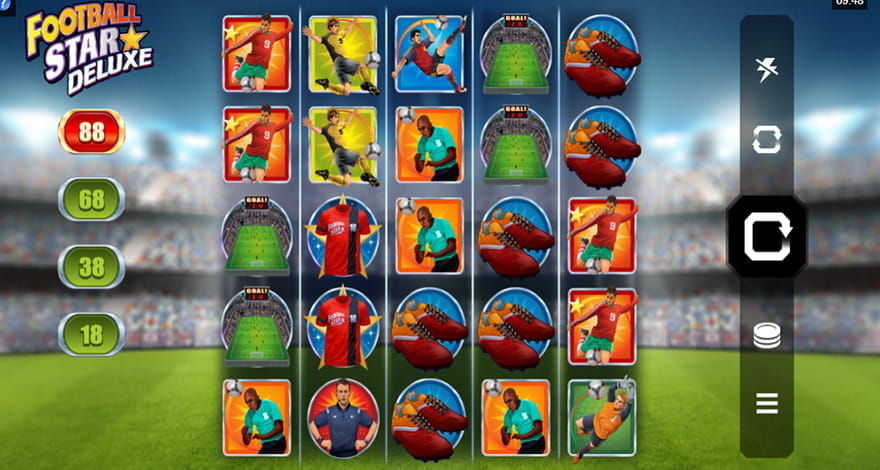 Several bonus features allow it to maneuver effectively on the field. Super Stacked wilds can appear on reels three, four and five. They can also be randomly triggered by football players and can guarantee winning combinations. Combined with the Rolling Reels feature, where new symbols replace winning ones and you can trigger an avalanche of rewards.
Finally, you can find a wonderful free spins bonus if you land three scatter symbols. You get twelve free spins and each roll increases the multiplier. The stack of wilds can also grow to cover reels two and five. You can adjust your bet by changing the number of paylines up to 88 or changing the bet value. There are a lot of customisation options so any player can enjoy the game as they wish.
Foxin Wins' Football Fever – 95.61% RTP
It seems a sly fox has appeared on the field. On a closer look, it's none other than Foxin Wins' Football Fever by NextGen Gaming. Although low rollers can try the game out, the true fun is reserved for high rollers due to the enormous max bet.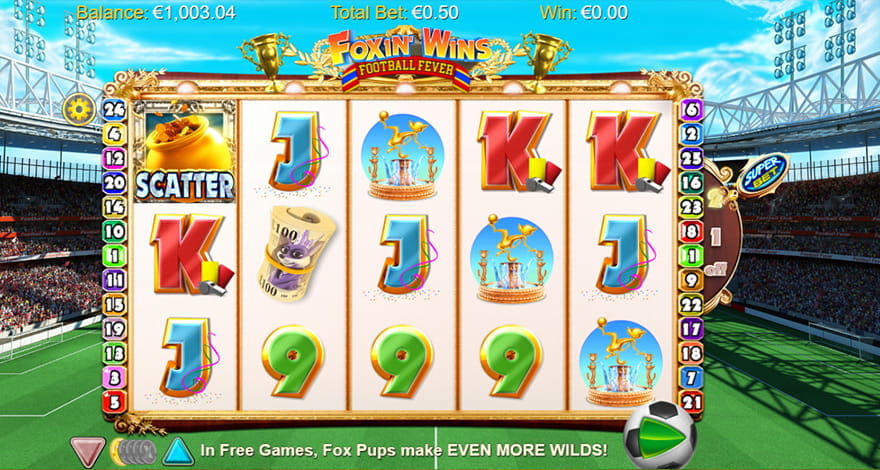 The cunning fox offers three whole bonus features. First, you can get Mr.Fox's pups to help you out for an increase in your bet. They will fall into the reels and randomly turn symbols into wilds. If Mr. Fox catches the leprechaun, you will earn a prize of up to 50x your bet. Or he can simply shower you with coins for the same effect.
The final feature is ten free spins that can be re-triggered by landing the gold scatters. Overall, it's a fun and exciting experience for high rollers who wish to make the most of their bets. The cool football theme and colourful characters will immerse you in this wonderful slot. He may be a fox, but Mr. Fox knows how to play by the slot machine football rules.
Football Glory – 96.1% RTP
The ball now goes to Yggdrasil's Football Glory. It's not the fanciest looking game among football slot machines, but it more than makes up for it with wonderful gameplay and a variety of features. Low rollers will find it enjoyable with its low bet and 25 paylines. Enjoy the immersive cheering of the crowd as you roll your way to victory.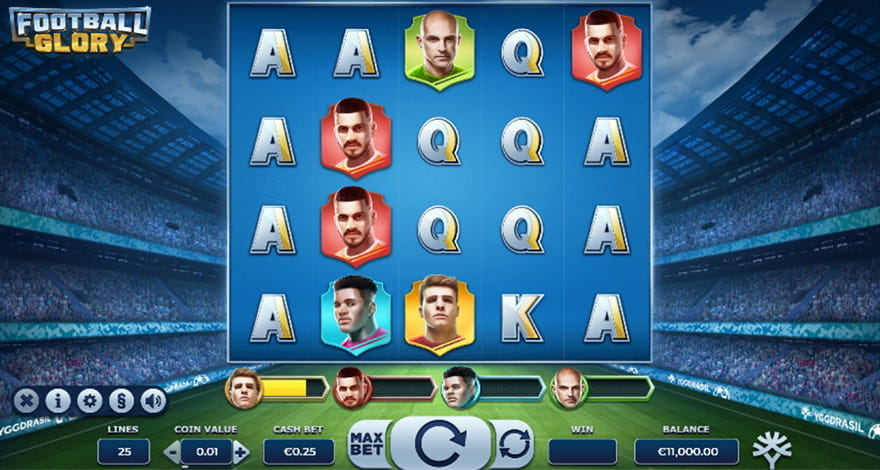 The game offers an incredible amount of fantastic bonuses to keep things interesting. By landing player symbols, you can fill their superstar meter. Get enough and you trigger 7 free spins with that player becoming a sticky wild when he lands. Landing three or more scatter symbols triggers up to 21 free spins with a randomly picked bonus to boost your performance. The bonuses range from wilds to more free spins.
Land a silver or gold cup on reels four and five to trigger a Pick bonus. Choose one of five balls for a random prize. The prizes change between the base game and free spins round. However, note that despite the medium volatility, it can be difficult to trigger the bonus games. The road to glory is a hard one, but those who persevere will be greatly rewarded.
Football Favourites – 95% RTP
Inspired Gaming's Football Favourites is playing defence with its wonderful features. Choose one of eight teams to play with in this wonderful medium to high volatility slot. Both low and high rollers can enjoy this game with a low minimum bet and a splendid bonus feature. Select your favourite team and help them win the cup.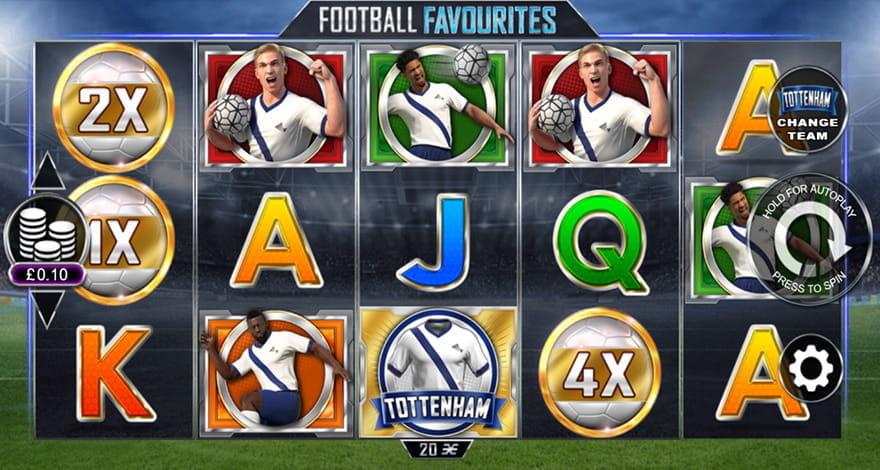 There's only one bonus feature, aside from the wild cup symbol, but its' uniqueness makes all the effort worth it. You need to get six or more ball scatters to trigger it, which may be difficult. The bonus itself is an instant win, but the presentation is what makes it amazing. You can watch a short match of your favourite team. Each goal your team scores earns you a bigger multiplier for your final reward.
The wonderful music accompanied by fans cheering and singing along is simply immersive. Meanwhile, the graphics are astounding with the player symbols changing shirts depending on the team. The matches appear in good CGI along with commentary and are simply a joy to watch. Simply getting the bonus is a reward of its own. Enjoy a truly unique experience unlike any other football slot machines.
Football Mania Deluxe – 96.59% RTP
We're now facing the goalkeeper on the final stretch to victory. It's Wazdan's Football Mania Deluxe. Don't be fooled by the simplistic nature of the slot, as it packs fun gameplay and bonuses with no paylines. Simply getting three or more adjacent symbols will score you a win. If you get three lottery tickets in the middle row, you can trigger a bonus game. A remarkable game that knows how to follow the slot machine football rules.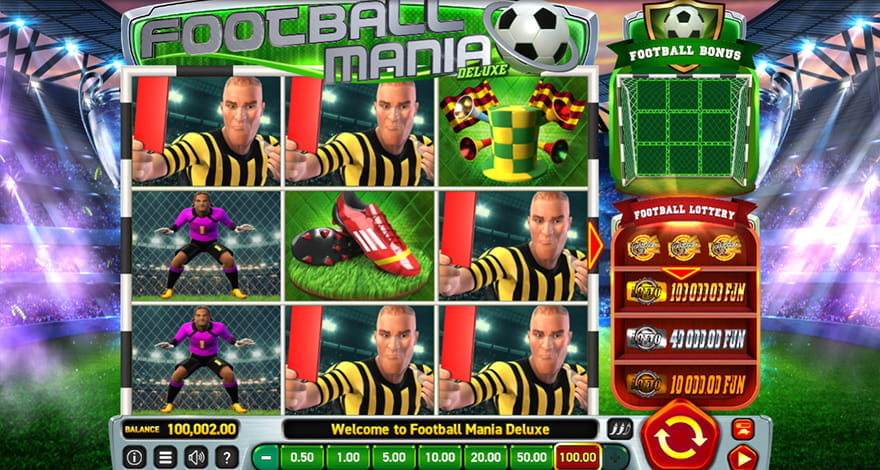 The bonus game lets you pick one of three tickets for a random prize. If you fill in the bonus area by landing footballs in the specific squares, you can trigger the bonus free spins next time you get three or more footballs. Finally, every time you win, you can play a fun gamble minigame to increase your prize.
What makes this game so much fun is the accessibility. Aside from the wide bet limit that can accommodate all budgets, you can also set the volatility. Choose between low, medium or high depending on whether you prefer smaller frequent rewards or larger riskier ones. Truly a fantastic game to end this match on, allowing every single type of player to find something fun in it.
Conclusion – The Final Whistle
And that's the whistle signalling the end of this match. Time flies when you're having fun, and there's nothing more exciting than football slots. Combining the world's most popular sport with slots is sure to bring hours of fun, with wonderful graphics and great gameplay. We shall await the next major football tournament for even more football slot machines.
We hope you enjoyed this match and our coverage of the top 10 football slots. Make sure to check out the rest of our website for more fun top 10 lists and even some other interesting articles in our blog section. For now, we shall be heading to the locker rooms after a long day and get ready for the next match. See you next time!
FAQ Section
Before we can properly compete in the next match, we need to do some planning. This section will serve to answer any pressing questions or terms that need to be understood. We hope that it will be helpful to you so that you can start playing these fun slots properly.
📱

Can I play football slots on mobile?

All the football slots are perfectly optimised for mobile devices as well. Simply log in through your favourite casino and start playing. You can also play on any operating system, so choose whichever you prefer. For a wonderful slot that is optimised specifically for mobile, try out Shaolin Soccer by PG Soft.
⚽

Which football slots have the best bonuses?

The best bonus is offered by Football Favourites. It offers a fun and unique bonus that is fun just to get. Being able to watch a short match, cheering for your favourite team with a guaranteed reward at the end is a real treat.
🔒

Are the football slot machines safe to play?

All the slots follow the slot machine football rules. They will not steal or misuse your data, so you can play them safely. Try out NetEnt's Super Striker for a fun game by a reputable top developer. Enjoy the fun gameplay, knowing your data is completely secure.
🆕

Which football slot is best for beginners?

The best slot for newcomers to casino games is Football Mania Deluxe. You can choose your level of volatility and the bet amount. Additionally, any three adjacent symbols win, so you don't have to worry about paylines. Finally, there's a variety of bonus games you can play for even bigger rewards.
🏆

What is the best football slot of 2021

The best football slot would be Top Strike Championship. The wide bet limit allows all types of players to try it out. Meanwhile, the wonderful bonus game blends the best parts of sports betting and slots. Enjoy a fun slot, while aiming for the grand trophy and its incredible prize.