The Best Irish Slots Online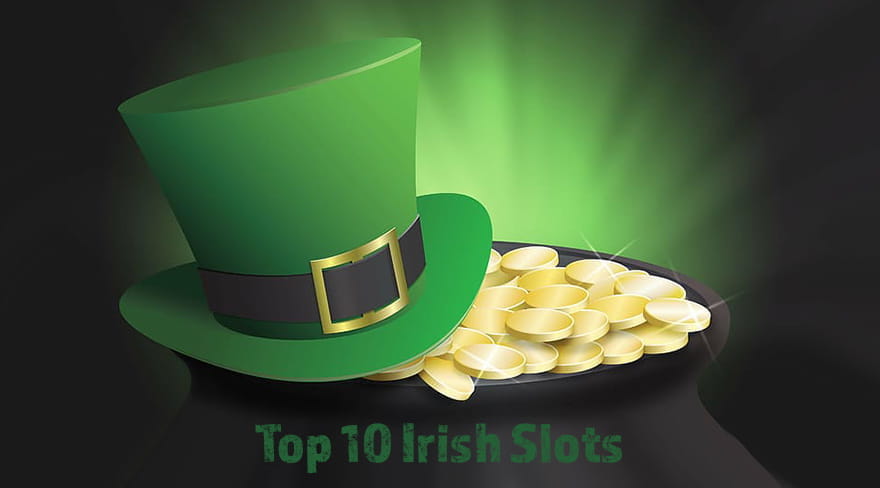 Everybody dreams of finding a pot of gold at the end of a rainbow. While our search continues, we found an alternative that will bring you just as much joy. Irish-themed slots have always been a popular type. Who wouldn't want to borrow the luck of the Irish and win a huge amount of money? We will help you start your quest for gold with these 10 fantastic Irish slots.
The Top 10 Best Irish Slots for October 2021
Before we set off, know that all of these games are reputable and completely safe to play. The casinos where you can play them hold all the necessary licenses, so your data and money are never in any danger. The only difference is that some casinos may have different betting limits for the various games. With that said, here's a list of all games that will be covered in this review:
1. Finn and the Swirly Spin – 96.62% RTP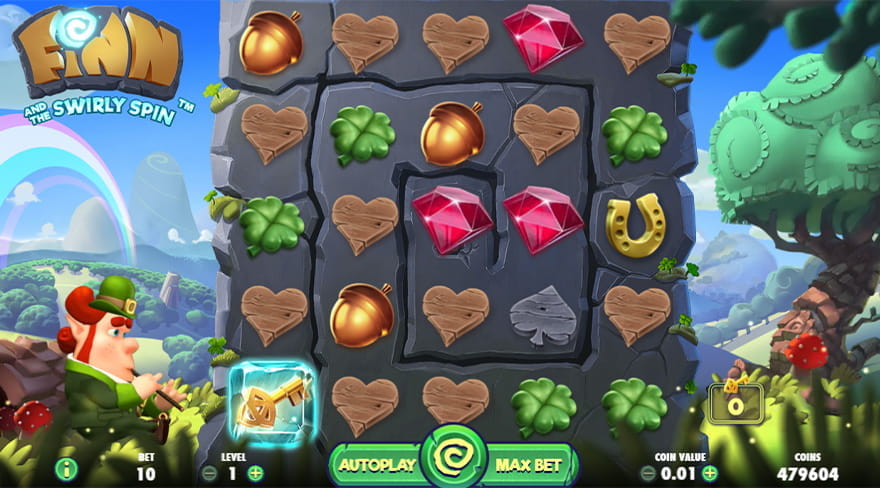 NetEnt continues to break new grounds, even with their own Irish-themed slots. Finn and the Swirly Spin works unlike any other slot, providing hours of fresh fun for even the most experienced of slot players. Instead of a typical reel, the symbols move in a stone swirl, towards a keyhole.
Match 3 symbols horizontally or vertically to earn rewards and guide a key to the end. Then, you can access several bonus games, each providing bigger prizes and different games. Finn will also help you at times by clearing part of the board and bringing you closer to the bonus.
With an RTP of 96.62% and a wild star symbol that can create bigger combos, Finn and the Swirly Spin will provide a fun, casual experience for new players. Veteran players can also enjoy the lush graphics, relaxing soundtrack and the innovative gameplay. This is one Irish slot that no casino player should miss.
2. Racetrack Riches Megaboard – 95.96% RTP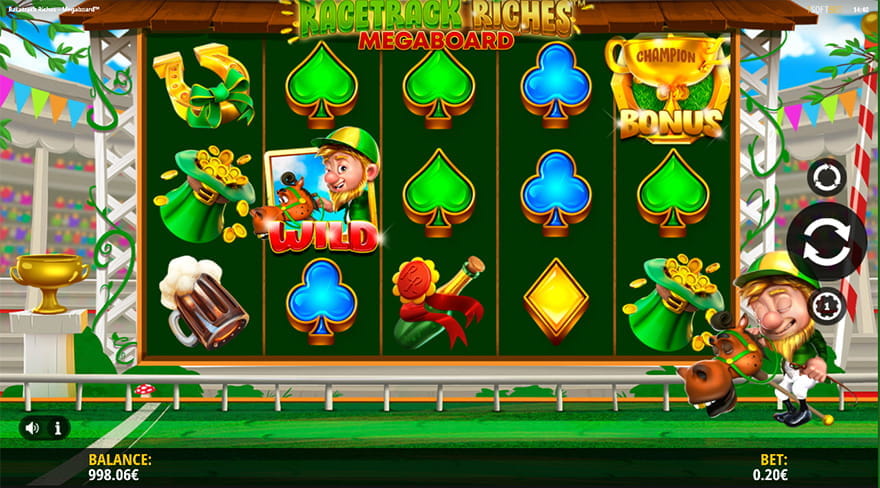 When they're not guarding a pot of gold, Leprechauns enjoy a good race. This is a standard 5-reels slot, but it offers unbelievable excitement. The bonus feature is a race around a track while you gather bonuses. Make sure to complete 3 laps before you get caught by your opponent for the maximum number of bonuses.
There's a ton of symbols, including one that requires only 2 to match for a reward. However, note that the game has high volatility. This means a high risk of no rewards. But that also means you can win a great amount of money with enough luck. That's why the game is perfect for those seeking an exciting thrill.
ISoftBet have made a fantastic high-risk game. There's plenty of features, such as extra wilds and a rewarding bonus game. Those who are dedicated have the chance of a great reward, just like in a real race. With an RTP of 95.96%, veteran casino players will find an exciting game, with colourful graphics and a nice soundtrack.
3. Luck O' The Irish Fortune Spins – 95.05% RTP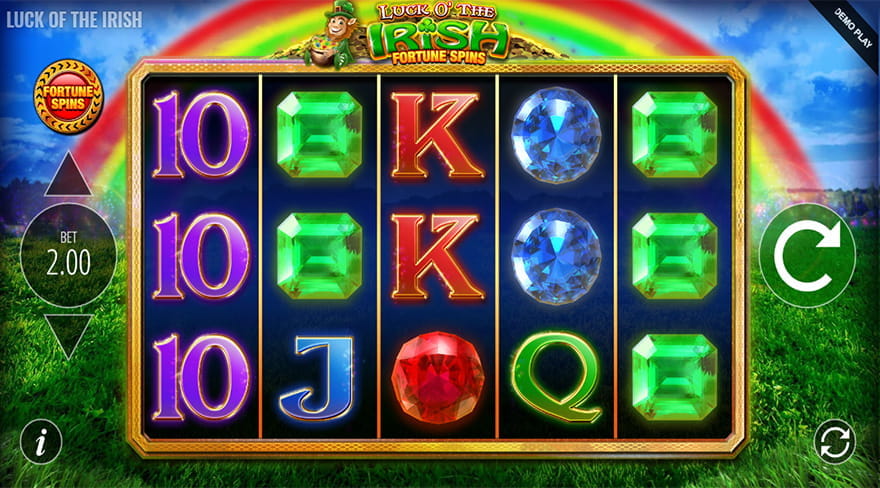 Lucky Irish slots are a common sight. But few can bring you the true Irish luck, and that's what Blueprint Gaming aims to do. The regular slot has a harp playing while you spin and offers 10 paylines that are always active. Betting limits vary, but there's enough flexibility so players of all budgets can play.
What makes this game stand out among other Irish slots online are the fortune spins. In this mode, you can spin four slots at once and win even bigger rewards. If you get the leprechaun symbol 4 times, you can also earn a mystery prize. The RTP of 95.05% remains the same throughout both modes, so you will still earn frequent rewards.
There are no wilds or bonus rounds, so you'll have to rely on a good combination for a win. This can be somewhat disappointing for those seeking more. However, this is a fun and classic experience typical for Irish slots. All types of players can find an enjoyable time under the rainbow.
4. Shamrock Lock – 95.5% RTP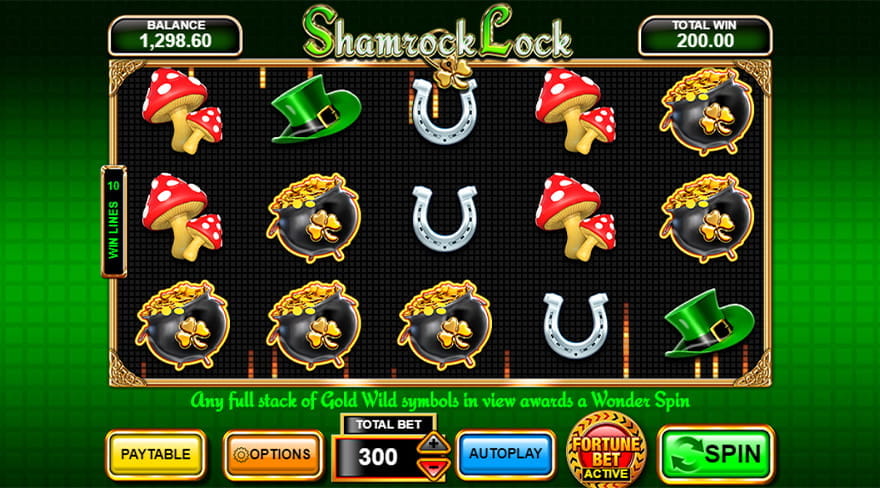 The four-leaf clover is a well-known symbol to anyone seeking luck. That is why Inspired Gaming's brand new slot game aims to simulate that luck, with Shamrock Lock. The game itself is a standard 5-reel slot with 10 paylines Landing the game's logo will net you the biggest reward.
But what makes the game truly great are the special features. For a 50% increase in the bet, you can turn on the random Lock 'n' Roll feature. This feature locks reels 1-3 for a chance to win expanding prizes. If you get a stack of wilds, which is the logo's golden shamrock, you can even enter a bonus game with free spins.
The graphics are simple, and there's almost no music unless you hit the bonus round. However, the game is extremely enjoyable, with a 95.5% RTP. Bet limits have a wide range, so all types of players can enjoy it. With a variety of features, including mystery symbols, this classic slot game will provide hours of fun.
5. Rainbow Ryan – 96% RTP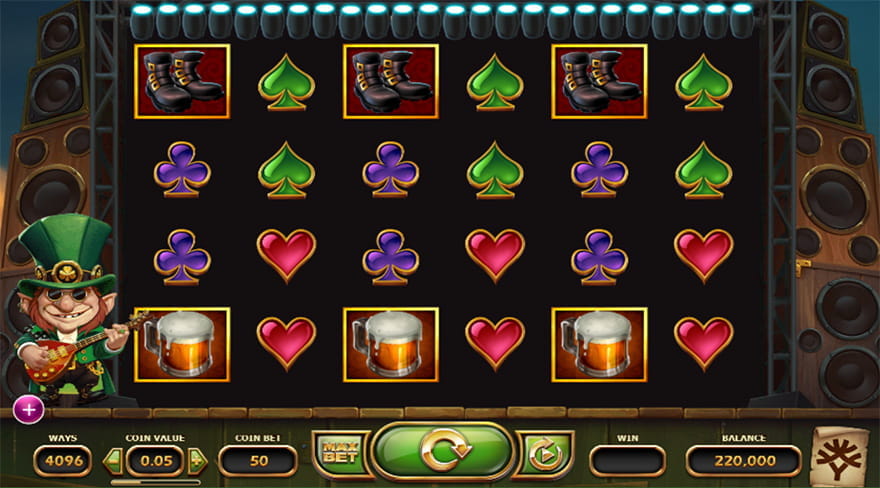 We continue to break the traditional look of Irish slots online, with Rainbow Ryan. Yggdrasil Gaming's rock-inspired leprechaun will bring huge rewards for all players, with a standard RTP of 96%. Bet limits have a wide range so any player can have fun at this unique 6-reels slot.
There is a variety of symbols, but the best ones are the thematic ones, like microphones and boots. Only two are required for a match, and their payout is huge if you get all six. The game is an "all ways" slot, so as long as there are at least three consecutive symbols somewhere, you will always win.
The bonus features include free spins and reels that can sync up with each other to create winning combinations. The wild symbols are also extremely valuable in this type of game. Overall, anyone can rock out to this wonderful game with stylish graphics, a great soundtrack and fun features.
6. Leprechaun's Fortune – 96.14% RTP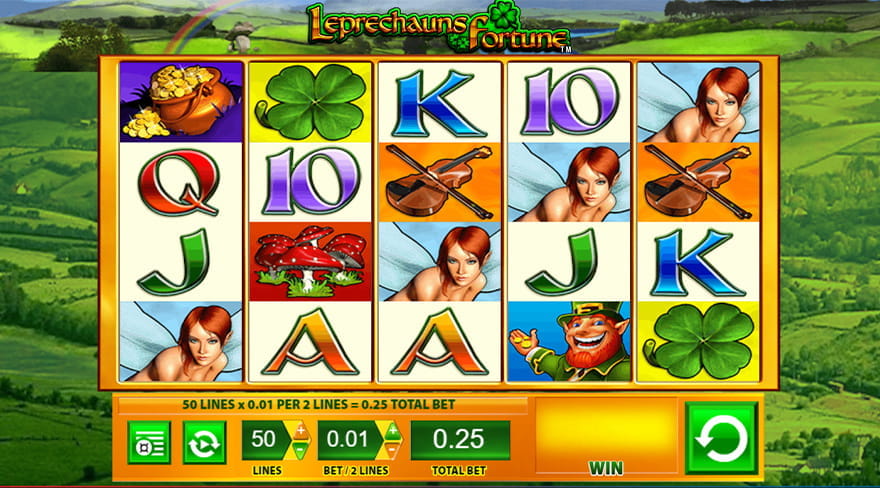 Leprechaun's Fortune is yet another traditional slot with Irish themes. You have 5 reels, 50 paylines and a few interesting symbols, such as a violin and pot of gold. The highest paying symbol is a rainbow over a green field, where you will hopefully find your luck. RTP is a standard 96.14%.
As it is a standard slot, there's not much in terms of features. You have wilds, and 3 gold pots bring you to a free spins game with 10 bonus spins. What's interesting is you can change the number of paylines to a minimum of 2 and anything in between 2 and 50. This allows you to customise your bets and games, however you wish.
While it might seem a bit too basic by modern standards, with a static background of a hill and no music, the game is still plenty of fun. Low rollers and high rollers can both enjoy a game with a lot of customisation. Williams (WMS) bring a true rainbow hunting experience.
7. Celtic Goddess – 93.99% RTP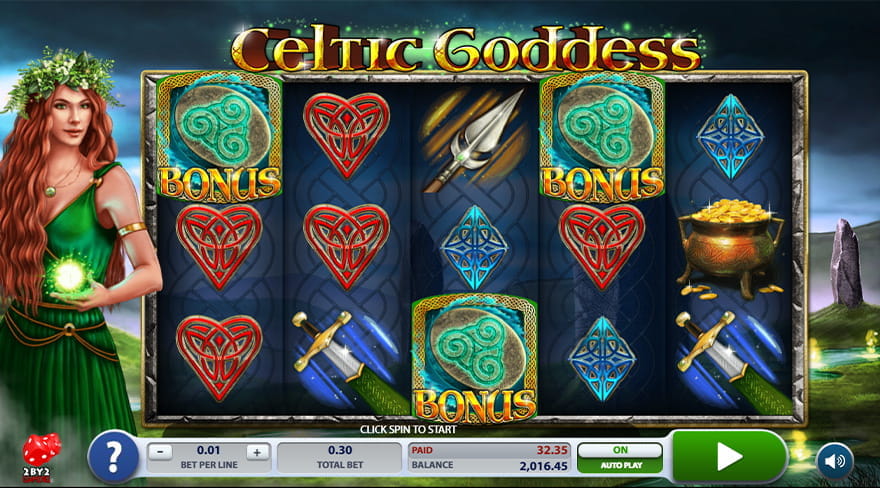 Irish-themed slots are not just leprechauns and gold. The Celtic mythology is also an interesting aspect and 2 By 2 Gaming makes good use of this unique theme. It's a standard 5-reel slot with 30 paylines and an RTP of 93.99%. However, the symbols are refreshingly different, with swords, spears and Celtic stones.
The features of the game are also fun and interesting. If you get at least 3 scatter symbols, that look like stones, you will get a free spins bonus game. The amount of spins depends on how many stones you have. During the free spins, the goddess Dany will help you by turning low-paying symbols into high-paying ones. This feature is guaranteed in free spins but can be activated randomly in normal games too.
The unique theme and graphics will draw you in, and the solid gameplay will keep you going. With a variety of betting options and frequent rewards due to the medium volatility, there's enough excitement even for veteran players. Those seeking a fresh take on Irish-themed slots will find a lot to love in this game.
8. Leprechaun Riches – 97.35% RTP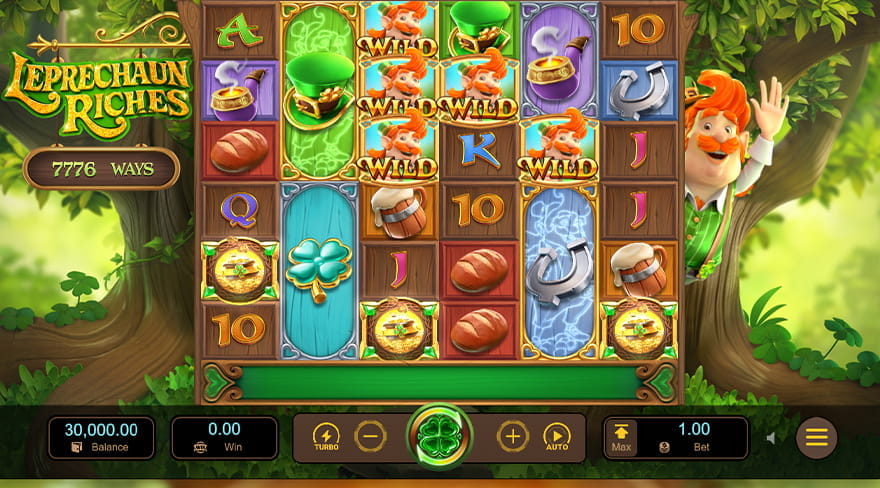 Lucky Irish slots come in various forms. Leprechaun Riches is a slot game that provides a fresh experience with its cascading reels system. Enjoy unique gameplay and a variety of wonderful features. Match at least 3 symbols to destroy them, bringing in new symbols for more combinations.
The slot has 6 reels and up to an amazing 46,656 ways to win. If you land 4 scatter symbols, you can participate in a free spins bonus game, that multiplies the reward with each win. Finally, you have a special system for creating wilds. Symbols with silver frames will turn into gold frames and then into wilds with each further win.
With a high RTP of 97.35% and a low to medium volatility, this is a wonderfully unique slot game. All types of players can have fun, with casual play or aiming for the big rewards. PG Soft has managed to make an outstanding Irish slot, that will bring endless amounts of fun to any player.
9. Shamrockers – 96.2% RTP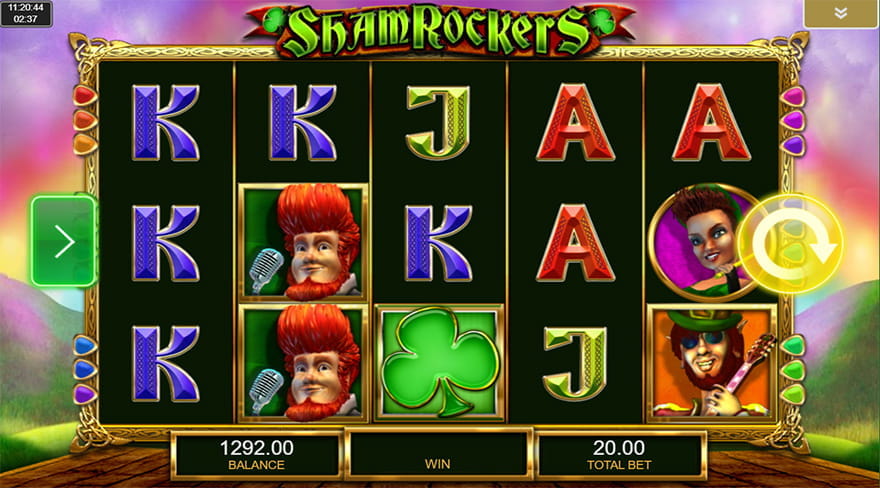 We head to another concert with Shamrockers. The game offers 5 reels and 20 paylines, 96.2% RTP and a medium to high volatility. Thus, this game is perfect for experienced players seeking the thrill of high risk and high rewards.
The game has the standard symbols, as well as the four band members and a wild shamrock. Get 3 tickets to trigger the bonus round, where you get 4 free spins, with one of the members on each spin. If you find the golden ticket on the last round, you can re-spin the bonus game.
The bet limits favour high rollers as you can bet 1000+ coins on a single spin. IGT have created a game that makes you feel like a real rock star. Experienced players and high-rollers can enjoy an exciting life on the edge, with this game that will rock the world of Irish slots online.
10. Lucky Emeralds – 95.71% RTP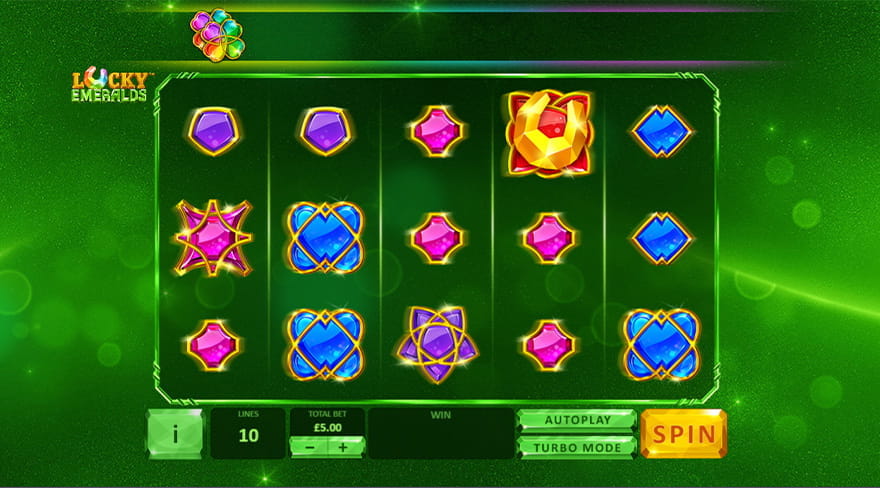 We finish this list with a dazzling game by Playtech. The luck of the Irish can sometimes bring you valuable gems, like this 5-reels slot with 10 paylines. With low volatility and an RTP of 95.71%, this game is great for beginner casino players.
The game itself is very simple and does not have too many features. Match at least 3 gems and you win a prize. Rainbow-coloured clover wilds appear on a bar above the reels. If you get a clover in the middle reel, the ones on the bar will fall, filling up to 3 rows and creating winning combinations.
Aside from the relaxing soundtrack and options for turbo play, there's not much else. However, that is what makes this game a fantastic introduction to Irish slots for all newcomers. Veterans can also increase the bet limit for bigger rewards. Enjoy frequent rewards with this fun and colourful game.
Conclusion – The End of The Rainbow
We hope you enjoyed our top 10 Irish slots list. The Irish theme is popular among casino players who wish to find gold and huge amounts of luck. It can be incredibly diverse, with many innovative games and a huge amount of prizes. Check out some of our other pages for more top 10 slots and even information on how to win big. Until next time, good luck finding your own pot of gold.
FAQ Section
Before we depart, we will provide you with answers to some pressing questions. Jumping into a game can be daunting without the proper information. We aim to help you get started on your quest for gold with this short section. With that, you will be ready to play any of the fine games on this list.
✅ Can I play Irish slots for free?
All of the games on this list have a demo version available for play. Before you start spending real money on them, it's a good idea to try a demo version of the game. This can help you to familiarise yourself with the mechanics. Check out our various game reviews to find demo versions of the games.
🆕 Are there any new Irish slots?
As the Irish theme is very popular, there is almost always a brand new game. Lucky Emeralds is the most recent game, released in March 2020. It's developer Playtech is experienced in slot games, which guarantees the high quality and hours of fun.
🥇 What is the best Irish slot for 2021
All of the games on this list are fantastic, but there's only one that truly stands above all others. Finn and the Swirly Spin is an amazing game, with tons of features and wonderful bonuses. The innovative gameplay will hook in even the most experienced players.
☘️ Which Irish slots are the best for experienced players
All of the games can be enjoyed by veteran players, but Racetrack Riches Megaboard provides the most excitement. It has high volatility, which can bring big rewards with enough luck. The bonus features and bonus round that can multiply your wins up to 5000x are also very enticing.
❓ Where can I play Irish-themed slots?
As it is a very popular theme, there are many casinos that offer slots with Irish themes. We have provided a list of casinos where people can play the games on the top 10 list. They have bonuses to complement the games and even demo versions, so that you can test them out first.