Aztec Slots – Explore the Civilization Lost in Time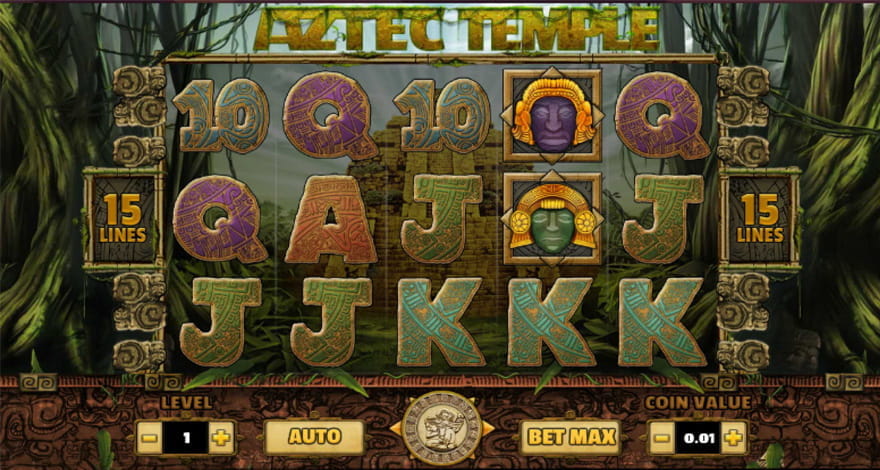 The mystical Aztec civilisation has fascinated the minds of mankind for a long while, with their outlandish traditions and impressive buildings. Throughout the last two centuries, due to the ever-advancing technology, we have unravelled many pieces of the puzzle, lost in time. Nowadays, we try to recreate them in art, movies and video games. Therefore, the topic of this blogpost is the top 10 Aztec slots for 2021. Join us on this adventure into the jungles of this central American civilisation!
The Top 10 Aztec Slot Machines for Real Money Online
Aztec Bonanza
The Aztec Bonanza slot game is the perfect title to start this Aztec slot machines blog. The game was developed by Pragmatic Play and it takes you amidst the thick jungles of Central America. The green landscape and the massive pyramid on the background, accompanied by the thematic soundtrack, instantly transform the atmosphere around you and you will feel as if you are truly there.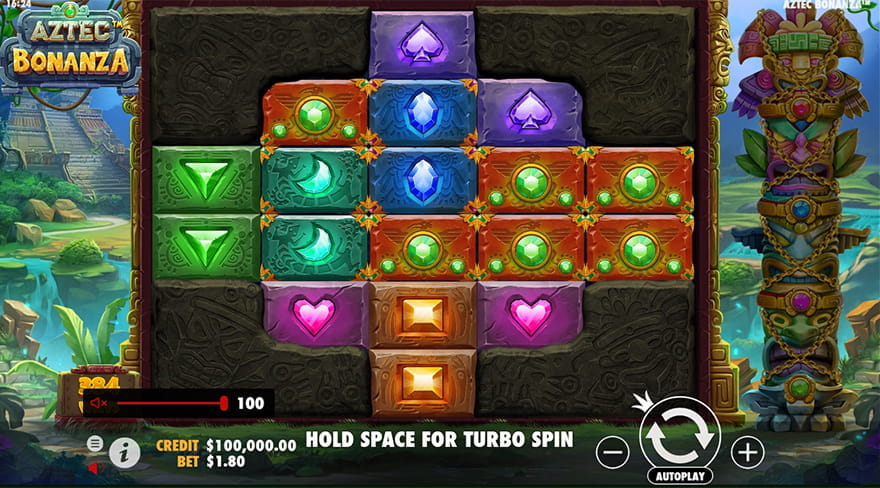 Aztec Bonanza slot machine has 5 reels and 6 rows, but if you trigger the additional bonus symbols, the grid increases even more and with them, your chances to land a win. To be exact, during the free spins round, you can have 7776 different ways to win. Furthermore, we are sure that you would prefer to see the high-paying symbols more often, which are gems with different colours and shapes.
Aztec Warrior Princess
This title is a spectacular creation of Play N' GO, with the loved Aztec thematic. The Aztec Warrior Princess slot machine has astounding graphics and sounds, which contribute to the exciting experience. When you play the game for the first time, you will notice that there are mixed symbols of magical stones and different jungle animals. The creatures that you will meet on your path will either give you bonuses or end your journey.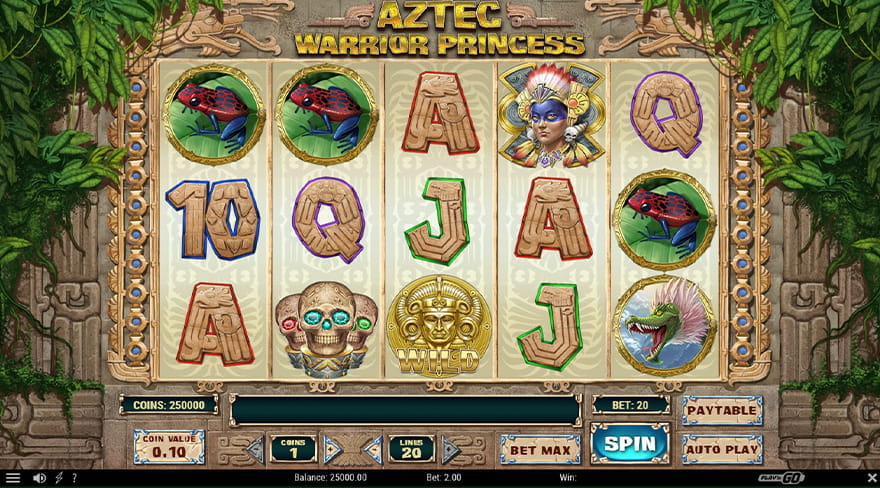 The symbols that you would want to see more often are, simply put, all animal symbols, the wild and bonus logos. If you land more than three from the same animal type, the multiplier starts to get really high. Furthermore, in case you score five wild logos you will reach winnings of 5000x of your bet price.
Azteca
If the name Azteca does not give it away, the game sends you to help a brave explorer on her search to find hidden treasures in long-forgotten tombs. The Aztec casino game is developed by one of the best software companies, Playtech, hence the quality is guaranteed. Jump on an exciting adventure in a hunt for the lost Aztec gold.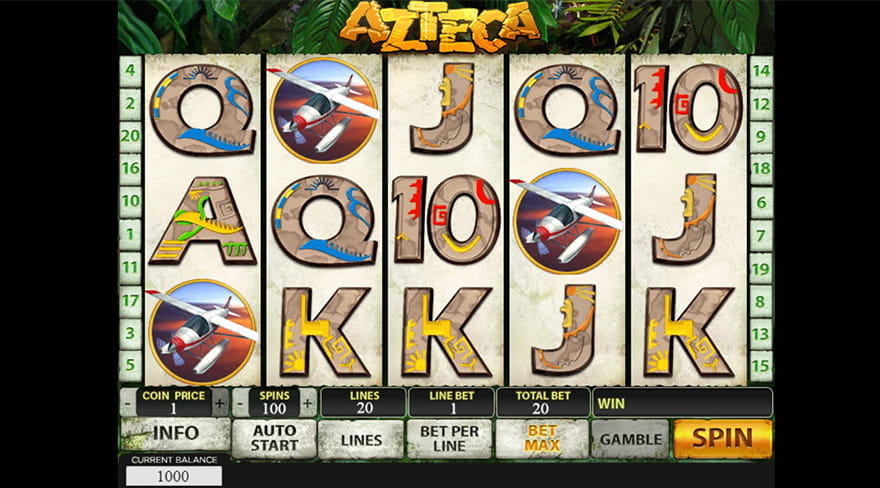 Azteca slot has 5 reel and 20 paylines. The symbols that you would be looking for are monkey, airplane, and a backpack. These symbols are with a higher value, while playing cards icons reward less. Furthermore, in Azteca, there are special symbols as well, a bonus mask and the female protagonist symbol. Finally, the pyramid is the wild symbol which can substitute for all other symbols apart from the other special symbols.
Aztec Idols
Aztec Idols is another Aztec-themed marvel by Play'n GO. The Aztec slot machine's developer is a stamp for stunning graphics, sound effects and exciting in-game features, which are all present in Aztec Idols. The game begins with a short introduction video which narrates you to the actual playthrough.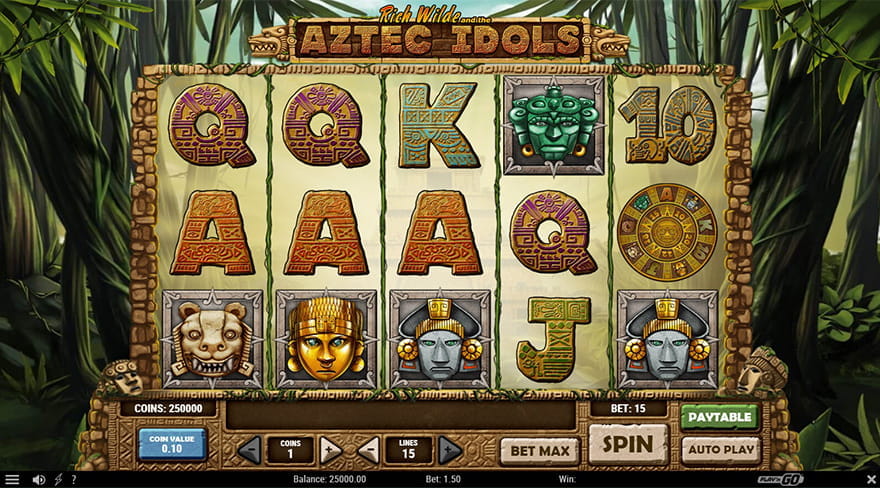 Inspired by the mysteriously lost civilisation theme, the symbols in the game are Aztec face masks and stylised card symbols. The masks provide good win amounts as well. If you get five wild symbols on a win-line, you will earn 500 coins. In addition, when you hit 3 of the Aztec calendar icons, you trigger the table game. The mini bonus game will grant you a free spin that grants you a prize of 150x your total bet.
Aztec Empire
Now, onto another amazing Mesoamerican theme slot machine, Aztec Empire. Many Spaniards and other adventurers have gone to search for the temples of gold and rivers of silver. By creating Aztec Empire, Playson takes us back to the age of colonisation, so we can experience it from first-hand.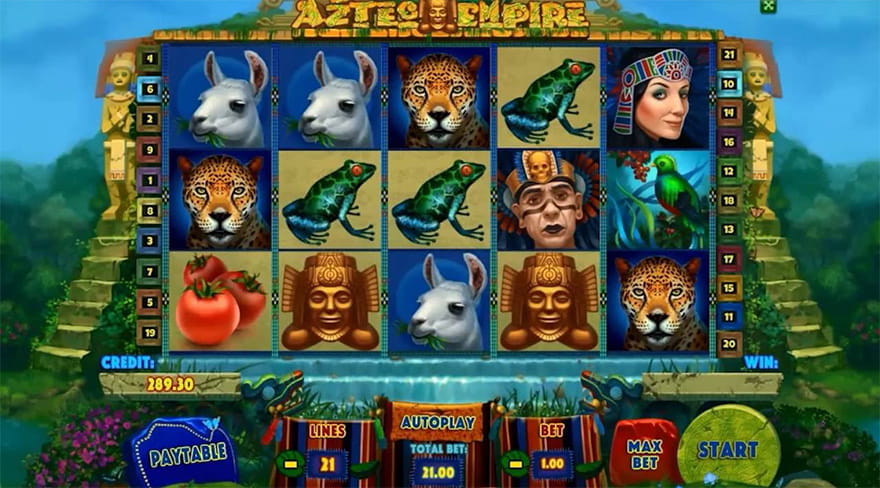 The Aztec slot game consists of a 5-reel grid with 21 paylines, overall. Aztec Empire has many interesting symbols, starting with the most common ones like tomatoes, sweetcorn, frogs, goats, and leopards. They are followed by higher value warriors, princesses, and witchdoctors. If you survive these encounters, you will find yourself fighting for the big temple bonuses.
Amazing Aztecs
Amazing Aztecs is a pure double A grade game with fascinating graphics and unique slot machine symbols, inspired by the forgotten civilisation. Unlike most other slot games, Amazing Aztecs has a hand-drawn style that brings uniqueness and makes the game stand out even more. The latter is developed by Just for the Win studio, partners of Microgaming.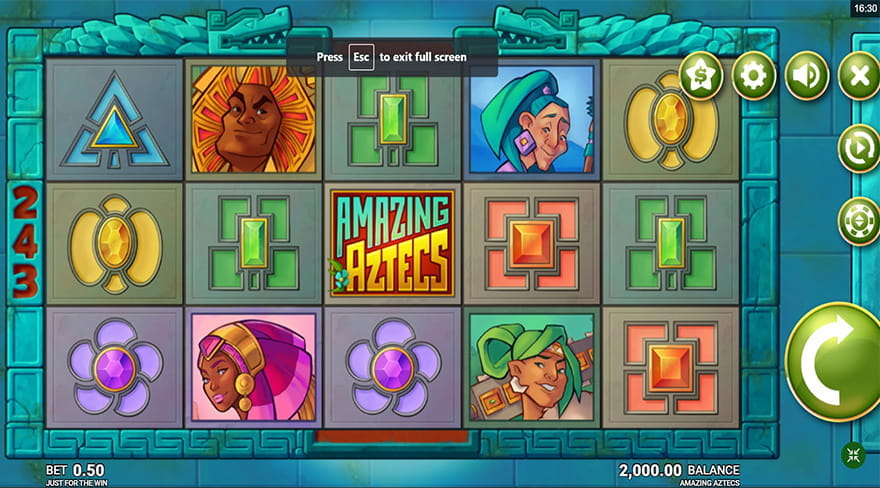 The game is 5×3 and was initially built to be fully mobile-friendly. There are no extra reels and rows coming out from the sides, but massive bonuses and multipliers instead. There are 10 existing symbols and they are divided into high-paying and low-paying ornaments. Anyhow, rewards get even better, when a winning combination is collected, you have a chance to trigger the re-spin feature of the game, granting you even more prizes.
Aztec Glory
Developed by EGT, Aztec Glory is an Aztec slot, with 5 reels and 3 rows. Regardless of its recent release in 2019, the game does not amaze us with any outstanding video graphics or animations. Moreover, one of the first features that we noticed was the betting system. There are fixed betting sums starting from 10 credits up to 200, and there are no customisable options. Apart from that, the other controls are pretty standard.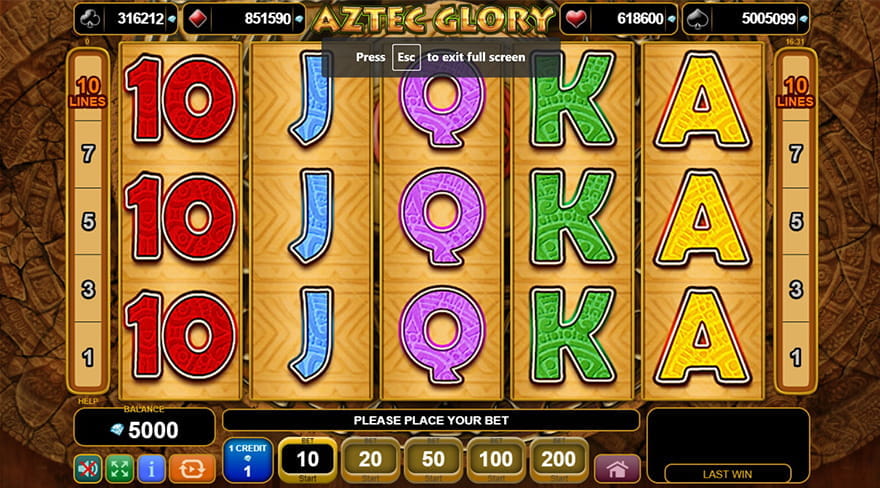 The background is almost completely covered by the slot reels, and you vaguely notice its presence. Talking about the slot machine symbols, they include some classic card icons like jack, king, queen, ace and a ten. Apart from these low-paying icons, you will see a parrot, jaguar, princess, and a shaman, where the shaman is the highest-value symbol. Do not worry as there is a wild symbol too – you will recognise it with its pyramid image. Bonuses and multipliers tend to occur often.
Aztec Temple
The slot, Aztec Temple, takes us to the well-known image of the huge Mesoamerican Temples and lets us explore them from within. The game is created by IGT and is another great addition to the Aztec slots selection. Anyhow, looking at the graphics, the game looks slightly outdated. However, the screen does not feel overcrowded, and the different symbols are easy to learn and to recognise.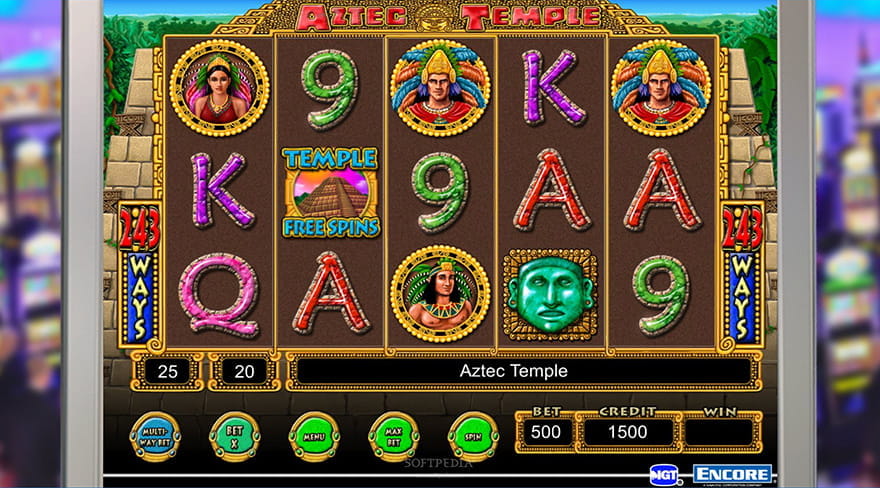 Perhaps, one of the reasons for the clarity and user-friendly outlay might be the play card symbols. They are not engraved on stones and do not even have a square border, which makes the paylines very slick. Aztec Temple has a classic design with 5 reels and 3 rows. There are a multi-bet and max bet buttons, together with the spin button itself, making the game straightforward.
Gemstone of Aztec
Gemstone of Aztec is an enchanting creation done by Fugaso. The slot features a 5 reel and 3 rows grid. The design and sound quality are nothing but fascinating. They will instantly take you to this hidden entrance to a treasure tomb, where you have to get the right symbols to unlock the gates to unthinkable riches.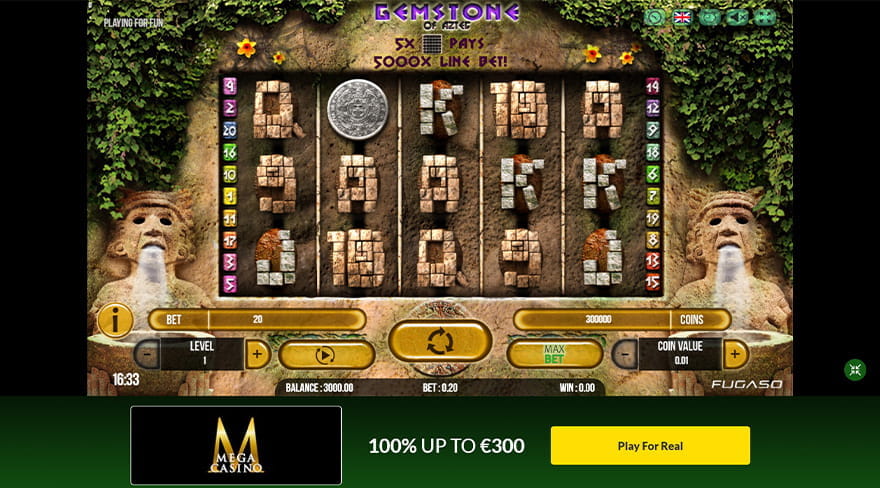 There are plenty of bonus features that can multiply your bankroll by up to 5,000x of your initial stake. In addition, there are free spins, wild, and scatter symbols that can boost your chances of great loot if you are to trigger them. The outlay of the game is really easy to understand, and you will not have any problems to adjust the bet and start rolling.
Book of Aztec
The slot machine, Book of Aztec, is an amazing classic that might be considered outdated by some but is still an emblematic title of the Aztec slot machines theme. Join an attractive female explorer as you delve into the debts of lost temples in a search for treasures and bonuses that will change your life.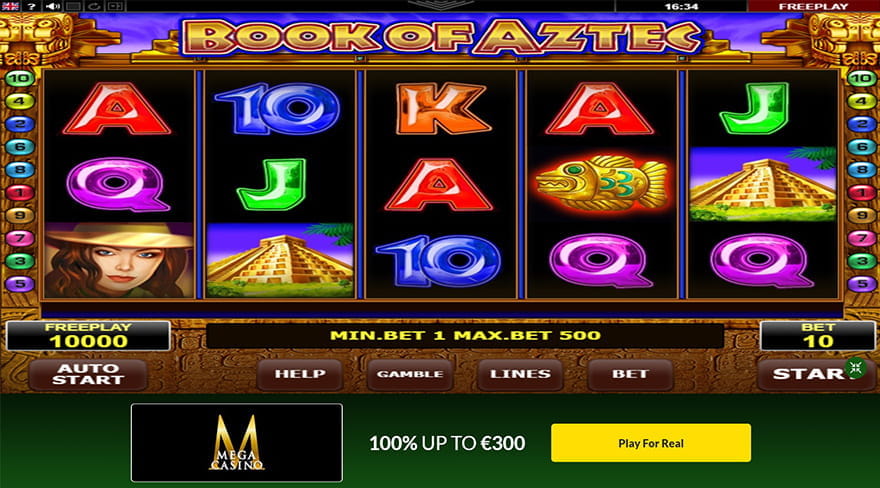 The game has the classic 5 reels and 3 rows grid. There are plenty of symbols with the play cards being the lowest paying icons. What you'd be hoping to get more often are the high-reward symbols such as lion, fish, temple, and the beautiful explorer. There is also the scatter book symbol, and if you get 3 of them, you will trigger the 10 bonus spins and increase your winnings even more.
More Aztec Casino Games
Humankind has always tended to wonder about civilisations lost in time. The ancient Greeks were fascinated by the Trojan and Atlantis myths and that trend carried on throughout the centuries. Brave explorers have gone to every bit of the known world captured by the same motives, and nowadays, we are no different. The Aztec civilisation is just one of the many long-lost cultures that we are so eager to learn more about and experience what was it like there. That is why, to this day, we still create movies, games, and books on that theme, to somewhat satisfy our hunger for the unknown.
More Aztec Casino Games
Aztec Bingo (Excellent Bingo Experience)
Aztec Gold Scratch Cards (Exciting Rewards)
Aztec Gold Megaways (Popular for High Payouts)
Aztec Pyramids (Huge Bonuses)
Aztec Empress (Perfect Aztec Slot for Mobile)
The Aztec themed online games, mentioned in this blog, simply scratch the surface of this enormous world. Therefore, we would like to go a bit further and list a couple of game titles, going beyond the online Aztec slot machine genre. If you enjoy playing Aztec themed games, then you will surely like Aztec Bingo, with its amazing aesthetics and entertaining gameplay. Furthermore, another honourable mention is Aztec Gold Scratch Cards. We are sure that the scratch card fans will just love it as it combines all the best from both worlds, great Aztec theme and amazing scratch card playthrough.
Conclusion
The Aztec slot machines that we described in our review are amongst the best ancient Mesoamerican civilisation themed titles out there. They are all available and can be played at many casinos. If you would like to play these Aztec slots at a safe and trustworthy casino, you can check our dedicated best online slot casinos page and pick one of them. Every provider on that list is licensed by the leading gambling institution, the UK Gambling Commission. If you enjoy exploring the lost ruins of the Aztec empire, we are sure that you will enjoy the reviewed games and win many great prizes!
Frequently Asked Questions
We are sure that after this exciting article, you will have some queries. For your convenience, we have taken the liberty to answer some of the most recently asked questions regarding Aztec casino games.
🎰 Where to play Aztec slot machines?
There are many places where you could play Aztec theme slot machines, especially the ones reviewed in our blog. However, we would advise you going for a licensed and safe casino. You could check out our best online slot casino page.
🥇 Which is the best Aztec slot with 21 pay lines?
A perfect candidate for the job would be the amazing creation by Playson, Aztec Empire. The slot has21 pay lines, five , and three rowsa great slot machines. If you need more information, you can check our Aztec Empire section.
🔋 Are there new Aztec slots games?
If you would like to try out a newer Aztec casino game, then we would suggest one of the brand-new additions to the category, Aztec Temple. Join Games have done a splendid job with creating this marvellous game that can compete with the other representatives of the same thematic.
🏆 Is there a popular Aztec slot by Play N'Go
In fact, there is more than just one popular slot by Play N'Go. The company has released two Aztec slot machines that are distinctive and entertaining, respectively, Aztec Idols and Aztec Warrior Princess. However, as the rating of Aztec Idols is higher, we would suggest you try it first.