Top 10 Music-Themed Slots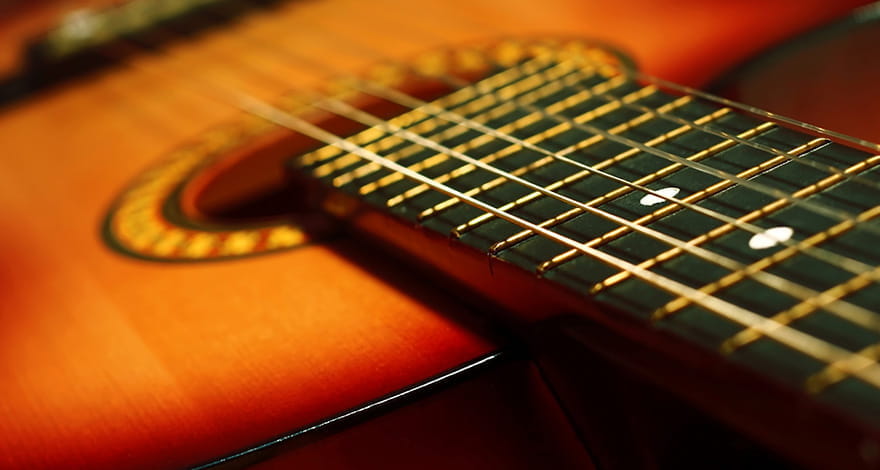 The music-themed slots are the ones you should never mute. They are pure heaven for gamblers with a passion for music and are usually dedicated to a legendary band, solo artist, music style or era. There are so many great music-themed games simply because music engages and creates the most loyal fans and audiences in the world. If you're one of them, turn your volume up and get comfortable as we are about to explore the top 10 slot titles which turn the boring background slot soundtracks into a live-concert-level experience.
#10 Rock 'n' Roller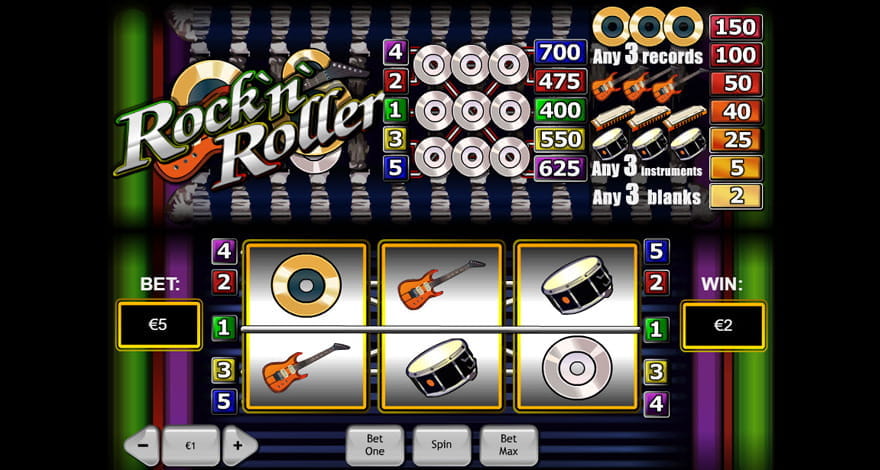 This classic and simple Playtech slot is dedicated to the Kings of Rock – Elvis Presley, Little Richard, and other retro-rock legends. You can't see their faces on the reels, but you can definitely hear and feel their presence. The intro greeting is coming from the famous 'Tutti Frutti' chorus while each win gets celebrated with the Jailhouse Rock guitar riff. Rock'n'Roller has 3 reels, 5 adjustable paylines and bets from £0.05 going up to £25. As most other classic slots, this one doesn't offer much entertainment. No bonus or free spins rounds, its basic idea steps on brilliant music and a few simple rules.
#9 Disco Spins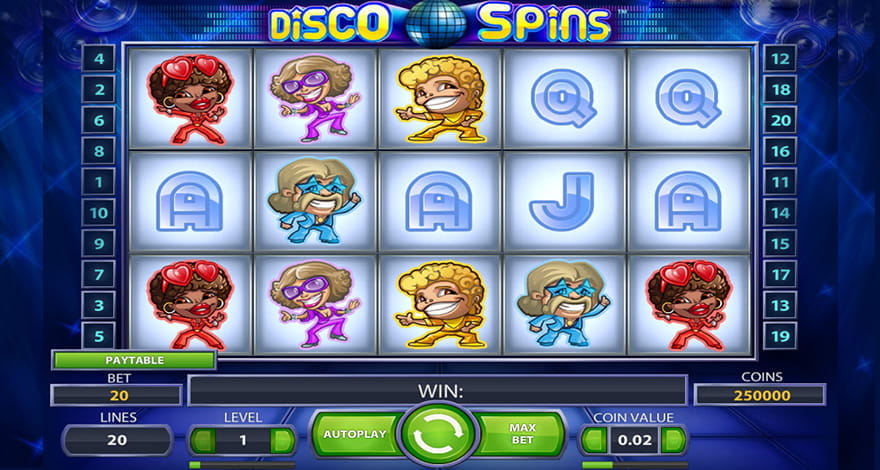 With this NetEnt video slot, we are going back in time all the way back to the 70's when disco music was a total hit! Neon lights, multi-coloured disco dancers, 5 reels and 20 fixed paylines come together in a bright and cheerful disco party. Disco Spins has two bonus modes which trigger 10 or 15 free spins depending on the player's choice. Going for the 10 spins guarantees a crazy disco ball party on the reels, funky music, and super wins. If you have a pair of retro heart-shaped sunglasses and a Boney M. vinyl record in your collection, then this slot will make your soul sing and dance.
#8 Lady in Red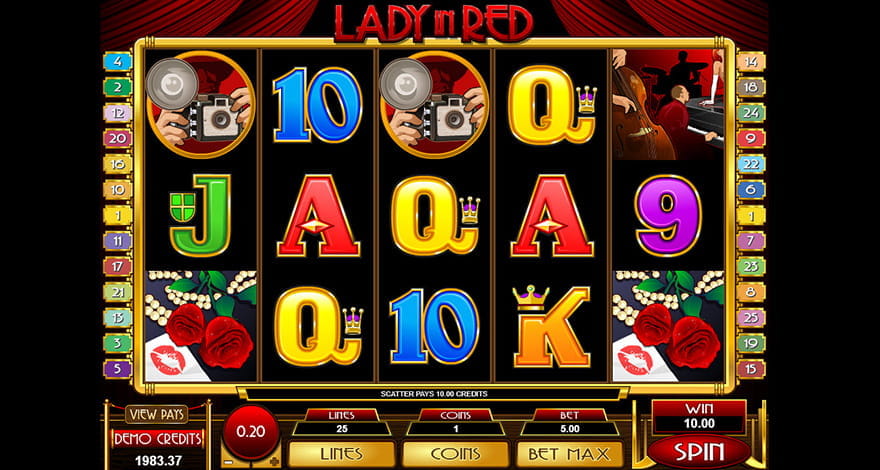 Forget about Chris De Burgh's 'Lady in Red' song! This Microgaming music-themed slot presents a totally new and exciting red-dress appeal! She is a singer at a dark jazz club and is wearing a highly seductive red gown. The 5 reels are black and covered with whiskey, red roses, jazz musicians, and most importantly with smooth jazz grooves. It's the perfect way to go to a bar without leaving your home! However, Lady in Red has way more than a sleek atmosphere! There are up to 25 free spins and Wild multipliers to be enjoyed. I believe that's what a good night out is supposed to look like, right?
#7 Karaoke Party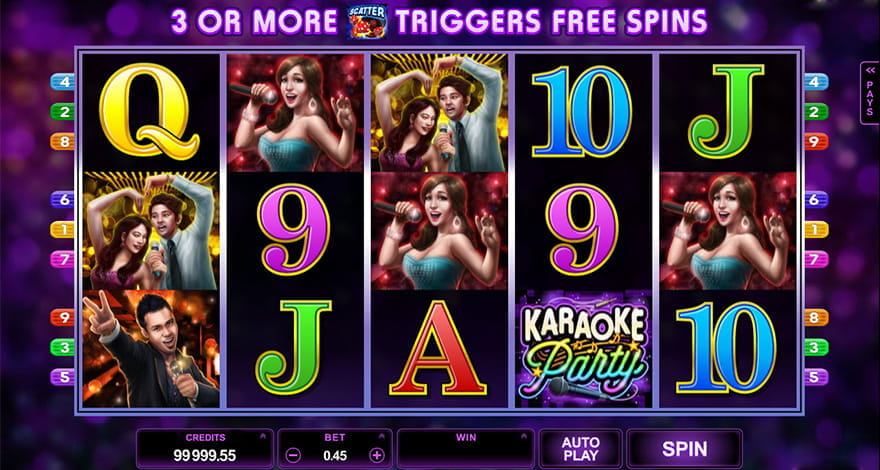 Ok, karaoke surely is the ultimate fun night-out activity! You drink, you sing, and you laugh at that poor guy trying to sing Celine Dion's My Heart Will Go On! This is exactly what Karaoke Party has captured on its 5 reels! All sorts of hobby singers, solo artist, male or female trios, and a romantic duet. They're all on there trying to make it to the spotlight. It feels crowdy and loud but that is how it is on karaoke nights! The game delivers a great amount of entertainment with 30 free spins, x3 multipliers, and Wilds. To be honest, it definitely does miss out on some extraordinary soundtrack, but everything else is fun, bright and super rewarding!
#6 La Chatte Rouge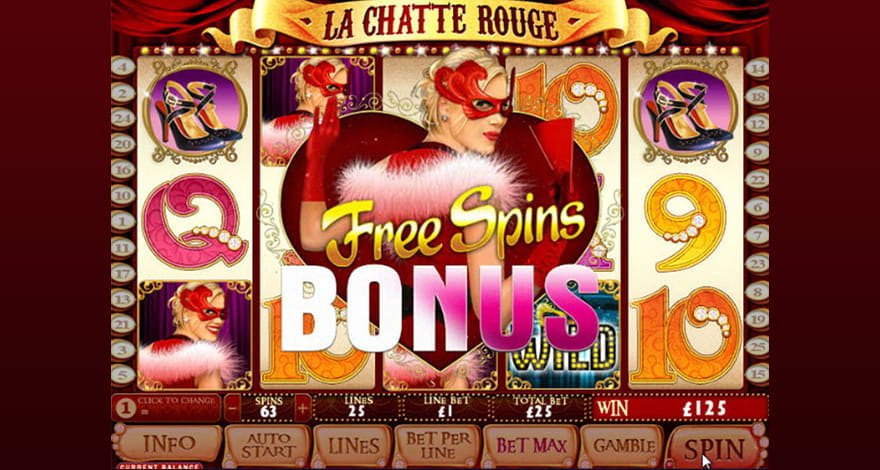 Playtech got their inspiration for this slot from the retro charm of French cabaret, all the jazz, theatrical music, and the beautiful girls dancing and singing. Champagne, high hills, lace and lots of glitter are coming on stage to turn La Chatte Rouge into a never-ending performance. There are 25 paylines, 5 reels, and a spectacular bonus and free spins round. To get your free spins, you have to first pick a sexy cabaret dancer, she will reveal the awarded spin and multiplier number. If you're feeling extra seduced, the gamble feature can turn the heat even higher.
#5 Samba Brazil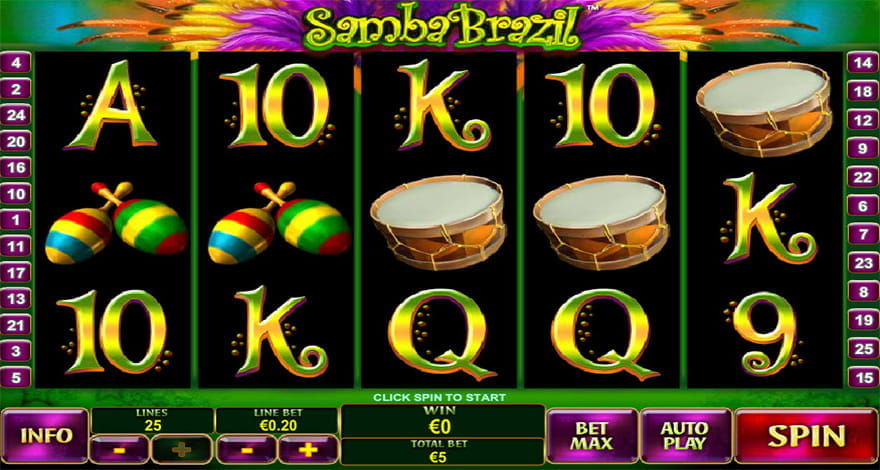 As the title implies, Samba Brazil will definitely bring some hot sun and rhythm to your day! And yes, we are going to Rio de Janeiro to dance along with those half-naked Brazilian dancers. The music is taken straight out of the street carnival and will make you swing your hips. The key star on the reels is the dancer symbol which is weirdly separated into two parts. When you get the whole picture symbol, the awards increase while splitting it triggers a Mix Pay feature. It's wild, loud, and bursting with colour! Dancing along is totally normal so, spin those reels and shake, shake, shake away.
#4 The Phantom's Curse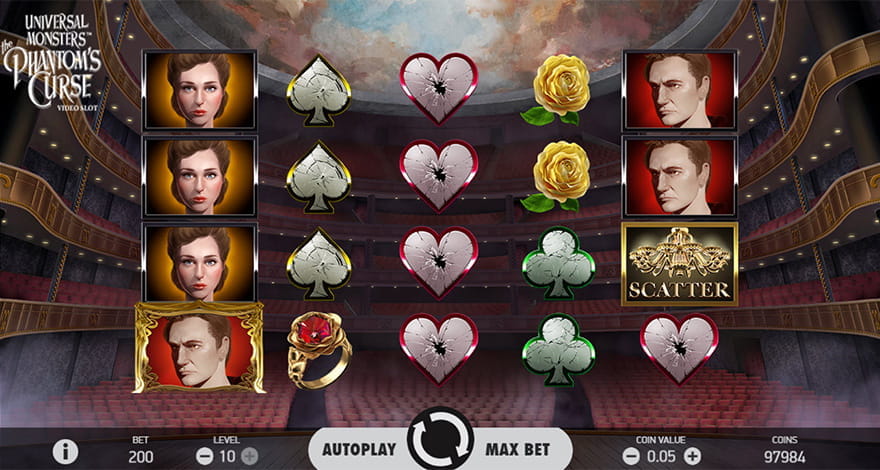 Based on the musical 'The Phantom of the Opera', this NetEnt slot is a true masterpiece taking you on a classical journey with a chilling soundtrack and amazing 3D graphics. The dark theatre background and the captivating opera music transform the reels into an intense visual and graphical experience that will submerge every classic music admirer into the mystery of the timeless story. The slot is also a lucrative deal with its 40 fixed paylines and some beautifully created free spins and bonus features. As part of the 'Universal Monsters'' series, The Phantom's Curse 3D slot is, without a doubt, a great game and a true musical hidden behind an online-slot mask!
#3 The Jazz Club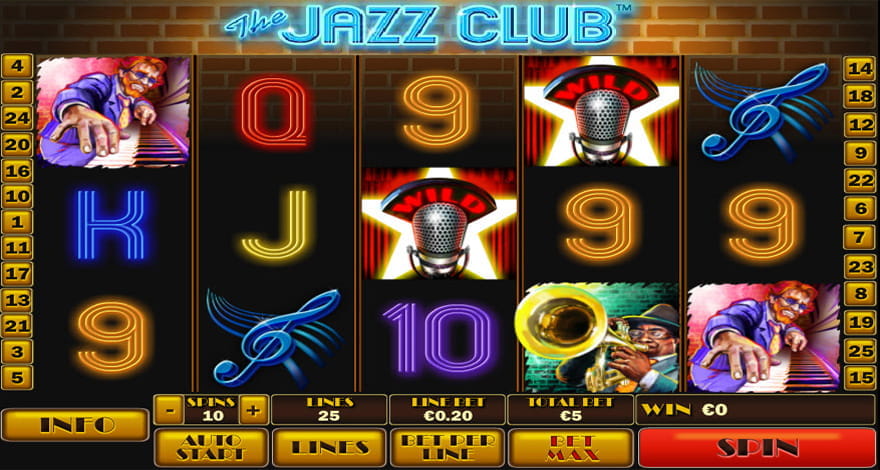 The title of this slot gives it all away! Playtech are inviting us to their greatly designed jazz club for a drink or two and JAZZ! The fans of swing and blues will surely appreciate the authentic and classy look of the club but most importantly – the amazing jazz soundtrack. Each spin triggers piano chords that perfectly match the movements of the reels. And with jazz, it's definitely the small things that make the difference! The band consists of three soloists – piano, trumpet and cello and you can expect a mini-performance every time a winning combination shows up. To ramp up your satisfaction, The Jazz Club awards perks such as stacking Wilds, 14 free spins, and up to x4 multipliers. As the famous Herbie Hancock says: 'Jazz is about being in the moment.', this slot is going to make you want to stay in this moment forever!
#2 Jimi Hendrix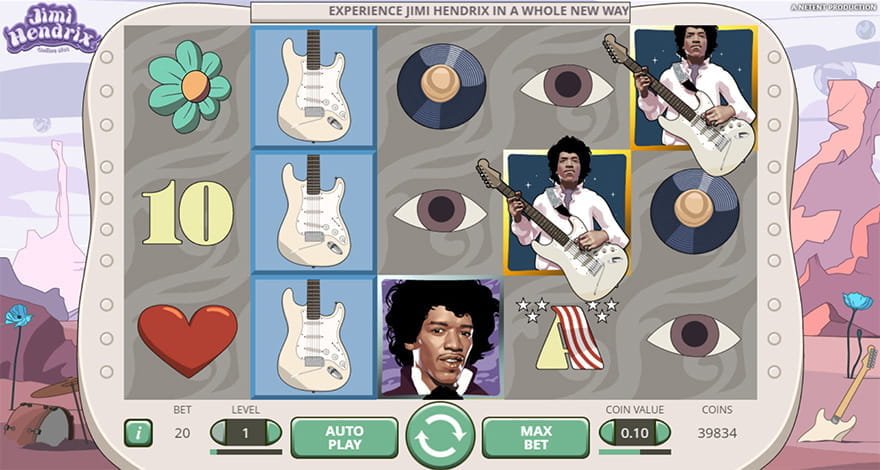 We are now slowly reaching the top of our music-themed chart and the legends are already starting to make their entrance. The most influential guitarist, singer, and songwriter – Mr. Jimi Hendrix needs no introduction. And this NetEnt slot is just as legendary as the guitar genius himself. When playing, make sure to have a good set of headphones on because the slot is the sweetest rock candy for your ears. Jimi's most iconic guitar riffs are playing in the background while the 5 reels spin and peace flowers mark the winning symbols on the screen. The game takes inspiration for its 5 bonus features from the most beloved songs of Mr. Hendrix such as Little Wing and Purple Haze. But thinking that the slot has only good music to offer is a mistake. The rock vibes are just a background for highly awarding free spins, bonus rounds, and 3 special features. Entertainment is guaranteed!
#1 Guns N' Roses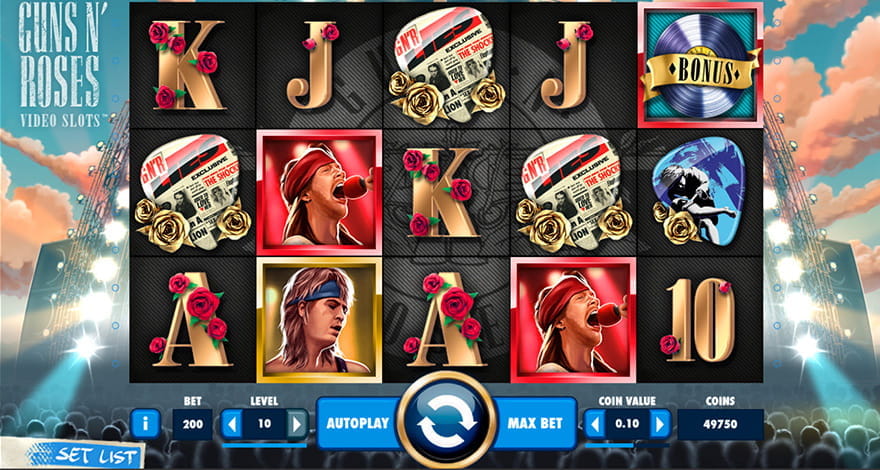 And we saved the best for last! The Guns N' Roses slot by NetEnt is beyond amazing and so close to a real live concert that you might wonder if you're actually playing a slot or you're standing front of the stage watching the best rock show ever! I suggest turning up the volume right when the intro starts! It's the perfect welcome that sets the mood for what's about to happen next. On stage, you'll see the 5 reels filled with band members, guitar picks, and А, К, Q, J, and 10 symbols with roses around them. The setlist is left on your screen and the crowd is going wild every time you score a win! Which happens a lot! There are 3 bonus games with all sorts of treats such as x10 multipliers, free spins and overlaying Wilds. In the end, even if you don't try the other 9 music-themed slots, Guns N' Roses is the one you certainly shouldn't miss!!