The Best Luxury Slots Games Online for 2021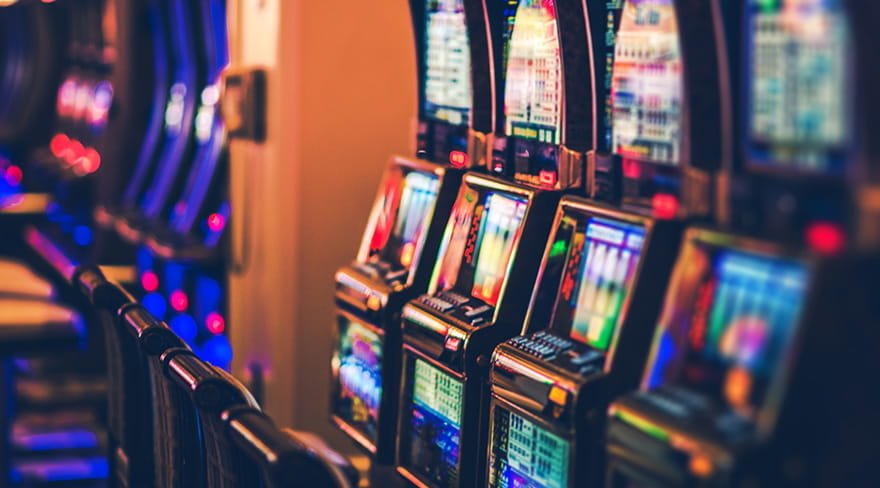 Allow us to paint a picture. It is a beautiful day; you are sipping top-shelf champagne at the deck of a yacht. Well, isn't that the epiphany of luxurious living?! Speaking of ways to escape the mundane, luxury slots are increasingly popular among players.
Therefore, we have put a list of the top luxury slots in 2021 to help you find the best one for you. Before we dive into the details, check out which are the highlights for each game in the table below:
The Top 10 Best Luxury Slot Machine Games Online
1. Luxury Rome
We begin our top 10 luxury slots list for 2021 with Luxury Rome. The game is created by the rising star of the iGaming world – iSoftBet. Embark on a journey back in time, to the Roman Empire, so you can gain many riches with this ancient world-themed game.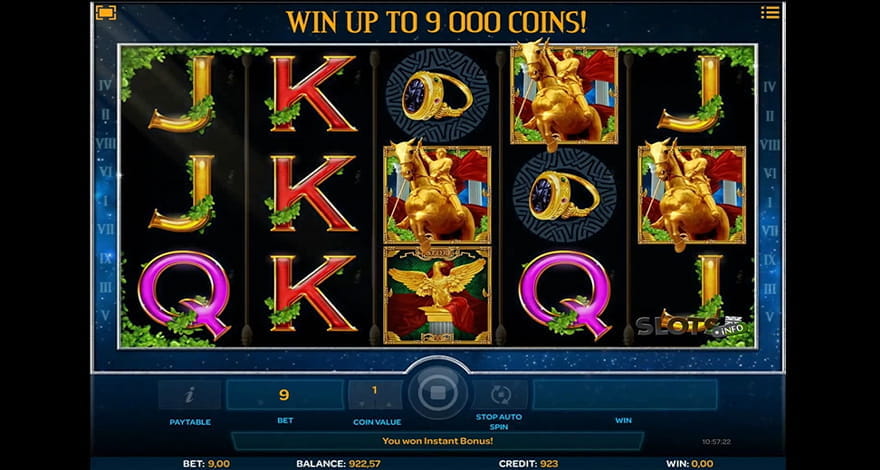 Luxury Rome is played on a classic 5×3 grid. This iSoftBet slot has 9 paylines, an RTP of 96.49% and medium variance. There are, of course, exciting in-game features that you will enjoy – Win in Instant Bonus, Wheel Bonus and Instant bonus. The London-based developer really hit the mark with the quality visual and sound effects.
2. High Society
As we move forward to the second best game in our list of the best luxury slots, prepare to enter the world of expensive cars, big yachts and private jets with High Society. The developer behind the slot is the world-famous software provider, Microgaming. It goes without saying that the theme of this game is luxury.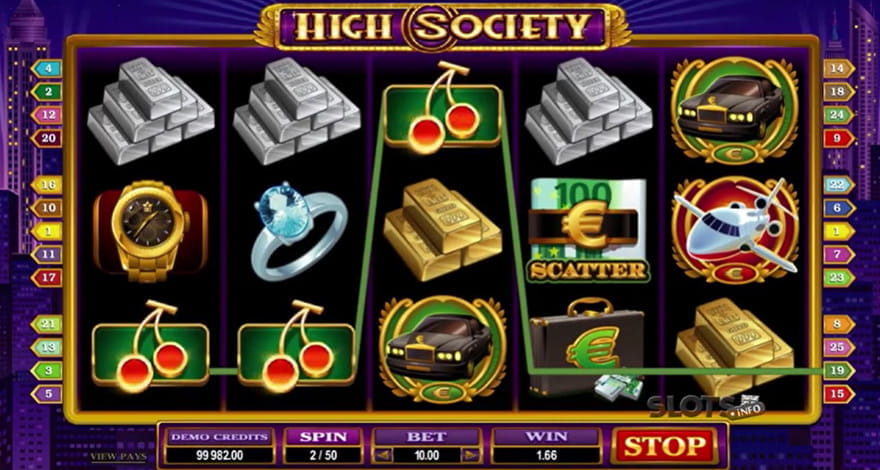 This Microgaming luxury slot has 5 reels, 3 rows, 25 selectable paylines, 96.80% RTP and high variance. Certainly, the special features will amaze you. Also, the graphics run smoothly, and the background music is upbeat jazz, which contributes towards the luxury theme. If you are already feeling lucky, we recommend you test the demo version available in our High Society slot review.
3. Mega Fortune
Next, we have another interpretation of a glamorous lifestyle with Mega Fortune. The premium software developer, NetEnt, offers a slightly different perspective with its luxury-themed game. However, playing this slot allows you to take a glimpse at how and where the super-wealthy spend their fortunes.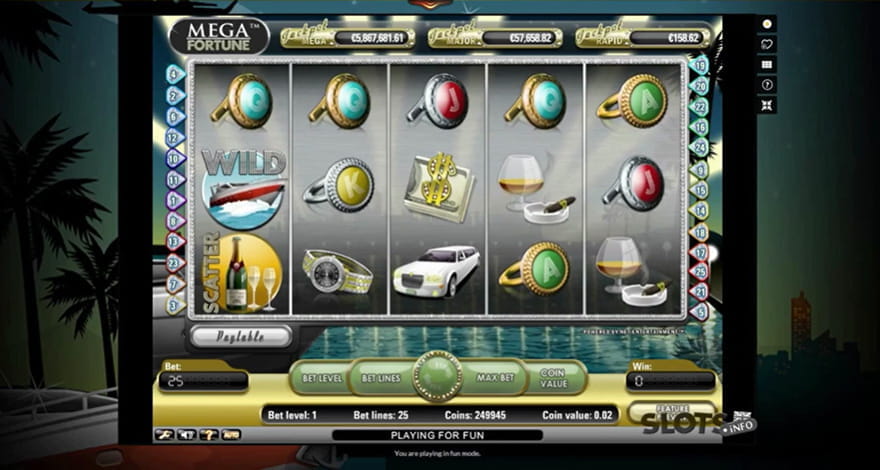 Mega Fortune has a traditional 5×3 grid, 25 fixed paylines, an RTP of 96.60% and medium volatility. Make sure to take advantage of the in-play features, Rapid Major Jackpot, Mega Jackpot, free spins, multiplier and bonus round. NetEnt wanted you to keep your eyes on the prize, so they used lounge music and simple graphics to avoid distracting you.
4. Da Vinci Diamonds
The ever-popular Leonardo (no, not the one with the Oscar!) is most famous for painting the Mona Lisa. This leads us to the next luxury slot in our list – Da Vinci Diamonds. IGT developed this game, where you come across artwork and precious gems, so you can feel what the artist's life was like.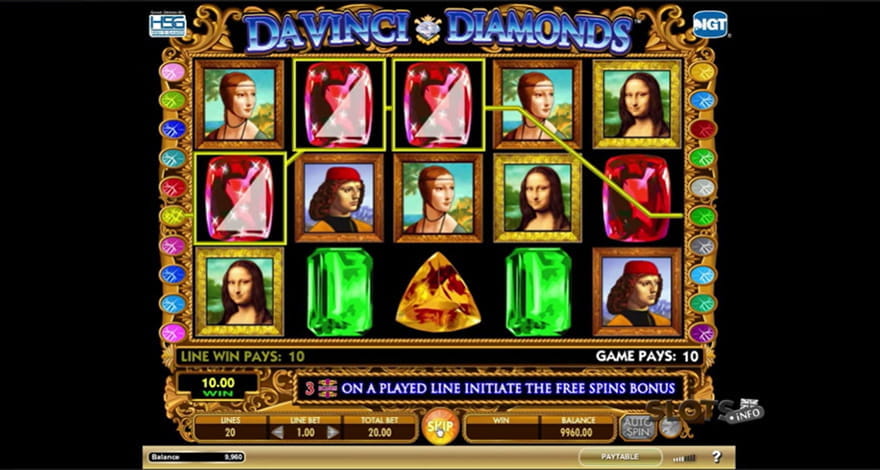 Da Vinci Diamonds is played on 5 reels and 3 rows. Moreover, the slot has 20 fixed paylines, an RTP of 94.93% and low to medium variance. This IGT game offers you two in-play options, a bonus round and the Tumbling Reels special feature. The graphics are sharp and defined, and you can clearly see the artwork, while the sound effects have been kept to a minimum.
5. Piggy Riches
Here, at number five, we have Piggy Riches. So, forget the private planes and fancy cars as this game is definitely not like the previous ones. Now, do not worry, we are not sending you off to a farm. That is just the main character's name who happens to be a pig too. Undoubtedly, NetEnt had fun designing this quirky luxury slot.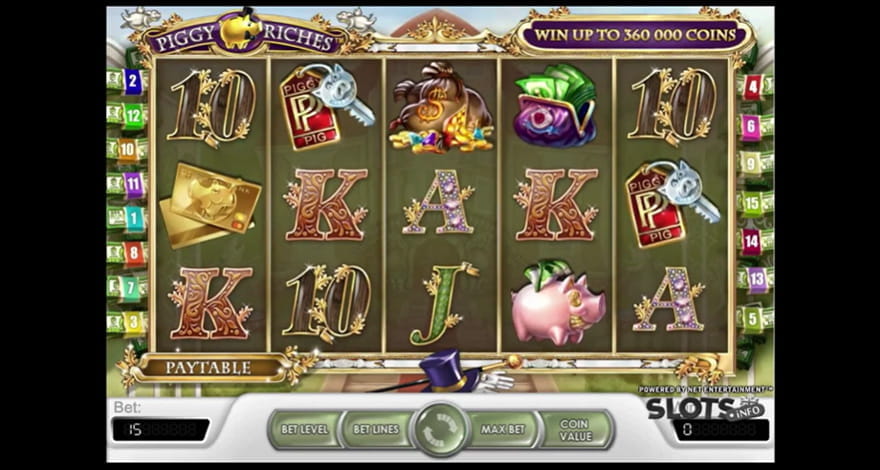 Piggy Riches has 5 reels, 3 rows, 15 adjustable paylines, 96.40% RTP and high variance. Playing this NetEnt game, you can enjoy the free spins and special features. The graphics might not be up to the latest standards but still run smoothly in HD. The sound effects are carefully placed at key moments of the game.
6. Foxin' Wins
Next in our 2021 ranking of the best luxury slots is another slot machine game with cartoon animals – Foxin' Wins. Find out what does the fox say with this luxury-themed slot by NextGen. The respected software developer created a game that allows you to take a look at the life of the rich mammal family.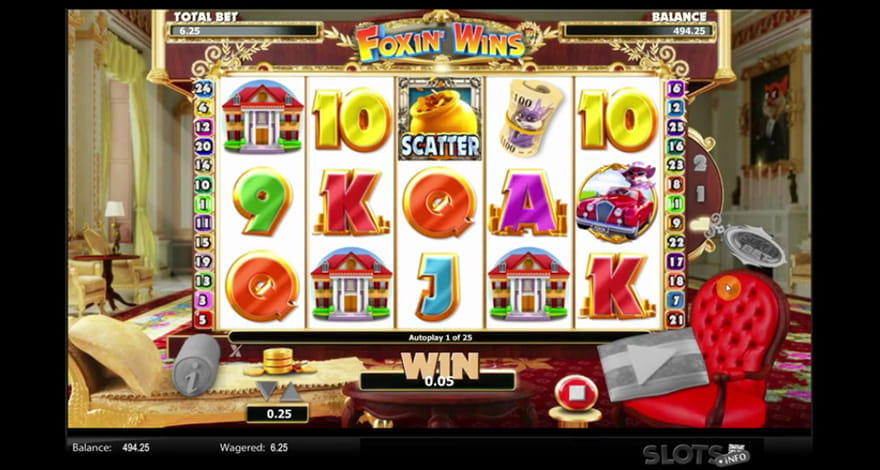 Foxin' Wins is played on a classic 5×3 grid. This NextGen slot has 25 fixed paylines, an RTP of 95.62% and medium variance. Playing this game, you will enjoy the special features, quality graphics and playful sound effects. If you would like to test the slot for free, check out our Foxin' Wins review.
7. She's a Rich Girl
Allow us to set the mood for the next game with a song: 'You're a rich girl, and you've gone too far'. No matter where you are in the world, there will be sugar babes and daddies. IGT decided to give representation to this kind of relationship in the luxury-themed slot She's a Rich Girl.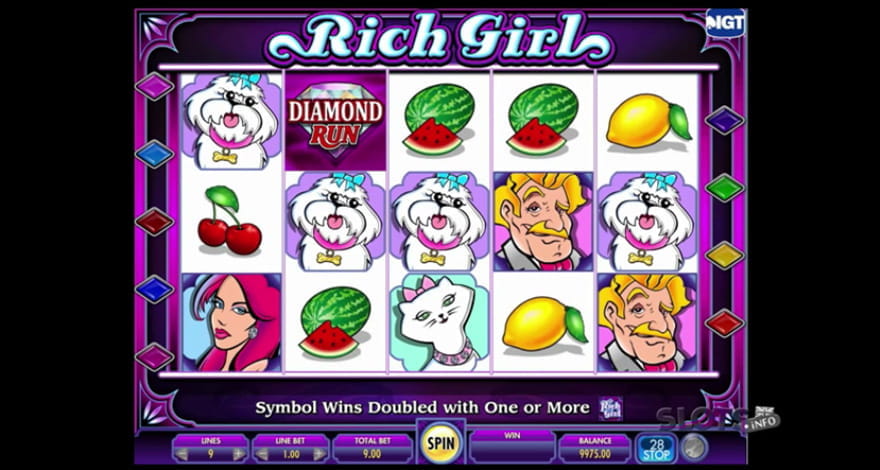 She's a Rich Girl has 5 reels, 3 rows, 9 adjustable paylines, 92.52 – 96.18% RTP and medium variance. Take advantage of the in-game features like the multiplier, free spins and the Diamond Run special feature. Both the graphics and the sound effects incorporated by IGT contribute towards the theme.
8. Kitty Glitter
Moving forward, we have another game featuring fortune and animals. Considering how much cat owners spoil their cute fluffy pets, it is no surprise that IGT developed a luxury themed slot with the adorable animals. Kitty Glitter will charm you with the white cat, an orange Tabby, a Calico, a Siamese and diamonds symbols.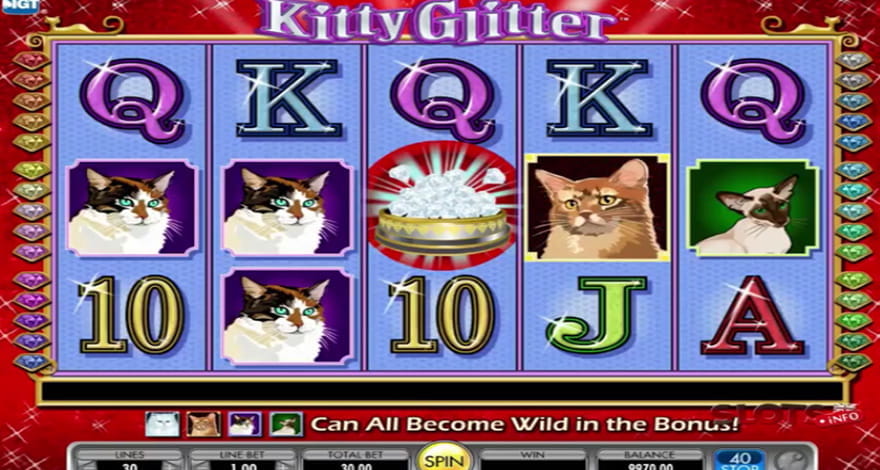 This IGT luxury slot game has 5 reels, 3 rows, 30 changeable paylines, an RTP of 93.51 – 94.92% and high variance. Kitty Glitter offers great in-play features like bonus rounds and free spins. Frankly, the visual and sounds effects reminded us a lot of the 90s and 00s, so we would have to say that they are a little outdated.
9. Pure Platinum
Very few things scream wealth more than excessive use of precious metal. So, to truly capture that sense, Microgaming have chosen to name their luxury game Pure Platinum. As the name suggests, the focus is on the so-called white gold, and all symbols are plated with it.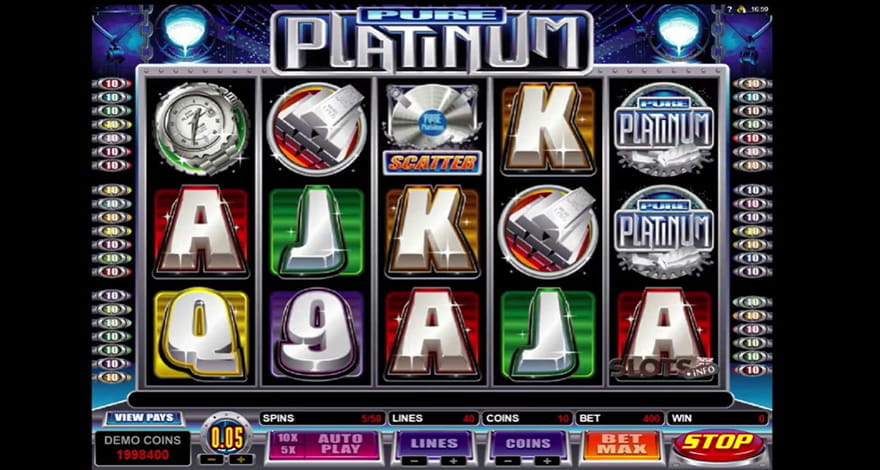 Pure Platinum is played on a 5×3 grid. This Microgaming slot has 40 selectable paylines, 96.49% RTP and low variance. There are a number of amazing in-play features such as up to 50 free spins and up to 5x multipliers in thein the free spins bonus. While the sound effects of the game are a bit retro, the graphics are just spot on.
10. Cashville
We are going to complete our list of the top 10 luxury slots with an all-time classic – Cashville. Released nearly a decade ago, this luxury-themed slot still has something to offer. The game revolves around 4 billionaires – Bill Bullion, Dame, Sir Sterling and Betty Boodle. So, Microgaming added different kinds of money and cigars. In other words, every wealthy person's essentials.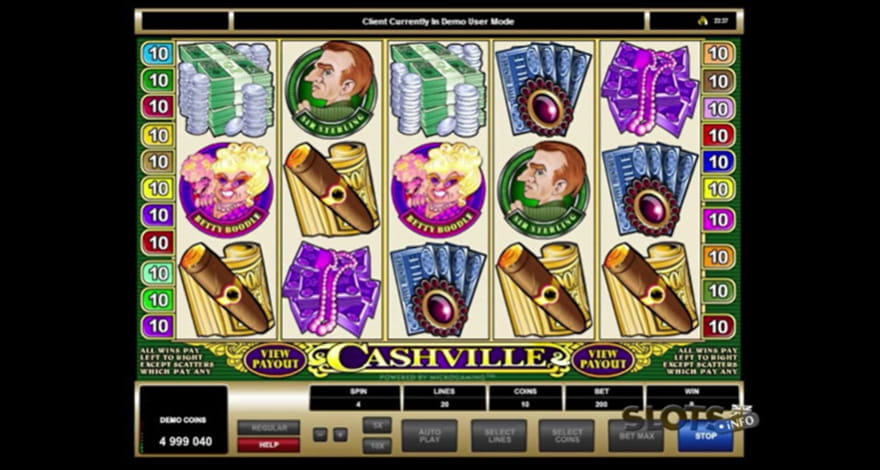 Cashvile has 5 reels, 3 rows, 20 adjustable paylines, an RTP of 95.99% and high variance. Microgaming included in-game features like the Scatter wins and a bonus round. Having said that, this is a 10-year-old slot, and the visual and sound effects are not as impressive as those of the rest of the games in this list.
FAQ Section
We hope you thoroughly enjoyed diving into the world of luxury-themed slots. However, if you happen to have any more queries on the topic, then you are in luck. Below, you will find the most popular questions asked by players, and of course, the answers to each one.
🔝

Which are the top 10 luxury slots online?

Pretty much every major software developer has created at least one game focusing on great riches. But wealth is hard to define. So, today, we walked you through the top 10 luxury slots. Among the popular themes are the lifestyle of the top 1%, as well as animals with fortunes.
🎰

Which luxury slot machine has the highest RTP?

The game with the highest RTP percentage in this top 10 luxury slot 2021 list is High Society. This Microgaming slot machine has a return to player of 96.80 percent. On the grand scale of things, this is a very good rate for gamblers.
🥇

Which is the number 1 luxury slot for 2021?

Ladies and gentlemen, the best luxury slot this year is, pause for suspense, Luxury Rome! This game charmed us for several reasons. Starting with its great volatility score, moving to the brilliant graphics and background music and let's not forget the must-try in-play features.
🎲

Which is the top Microgaming luxury slot in 2021?

In our opinion, the best Microgaming luxury slots is High Society. The game offers high RTP of 96.80% and it focuses on the lavish lifestyle that the top 1% lead. If you want to take a glimpse of the lives of rich and famous, make sure to check it out.