The Best Comics Slots Games Online for 2021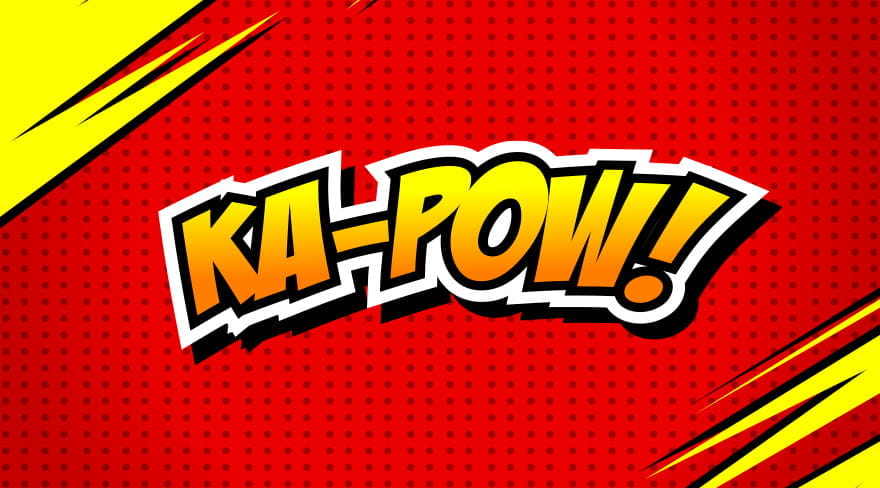 Comic books were popularised during the 30s in the USA, and the demand for these magazines has only increased throughout the years. Especially since Hollywood started making movie adaptations. Of course, software developers did not miss the chance to enrich their portfolios with this genre. In this post, you will find the top 10 comics slots for 2021. Check out the highlights for each game in the below table:
The Top 10 Best Comics Slot Machine Games Online
1. Batman & Catwoman Cash
We begin our 2021 ranking with a game based on one of the all-time classics from the DC universe. The top comics slot for this year is Batman and Catwoman. Playtech took inspiration for the slot from the 1960s Batman TV series. Playing this game, you will fight injustice alongside Batman and Robin, plus you will come across the thieving Catwoman.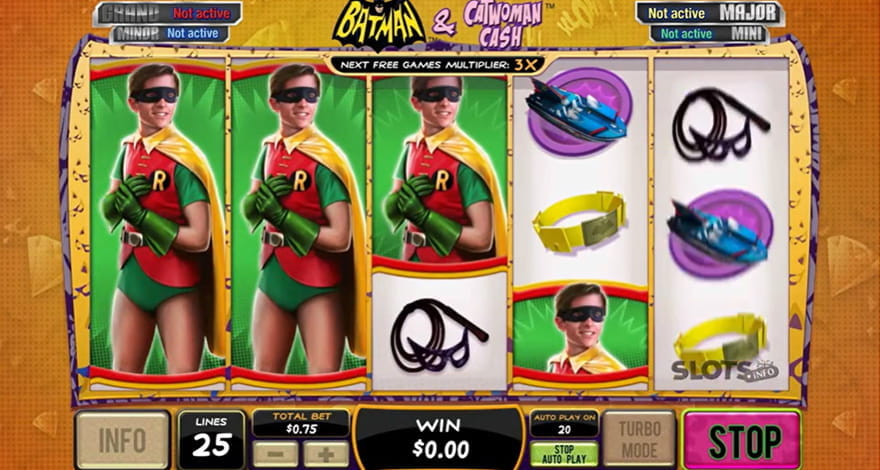 Batman and Catwoman Cash is played on a 5×3 grid, plus it has 25 paylines, an RTP of 95.11% and medium variance. Playtech added amazing in-play features – Increasing Multiplier, Batman vs Catwoman Free Games, Bonus Round, Cat Burglar Bonus and DC Super Heroes Jackpot. Also, the visual and sound effects are following that 60s vibe but are in high-quality for a great user experience.
2. Hellboy
Hellboy slot's popularity brought it to number two in our 2021 ranking. Microgaming recognised the importance of the story and developed a game based on it to meet fans' needs. Even though many of you might remember the blockbuster movie franchise Hellboy, however the story first came into life with the 90s Dark Horse comics.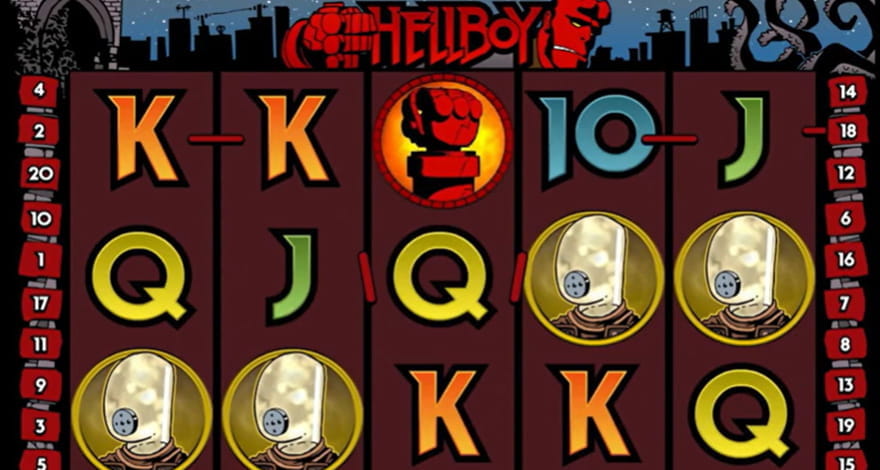 Hellboy has 5 reels, 3 rows, 20 fixed paylines, 97% RTP and high variance. The developers included a special feature – Supermode, that activates randomly for additional suspense. As you would expect, the graphics and animations are wonderfully executed, and the soundtrack helps you fully immerse yourself into the game.
3. Batman & The Joker Jewels
Moving forward in our top 10 comics slots list, we have another game inspired by the crime-infested Gotham City. Playtech also based this game on the classic Batman TV show from the 60s. This time around , the story is about Batman and the Joker Jewels. Of course, Robin is there to help every step of the way, but Catwoman is nowhere to be found.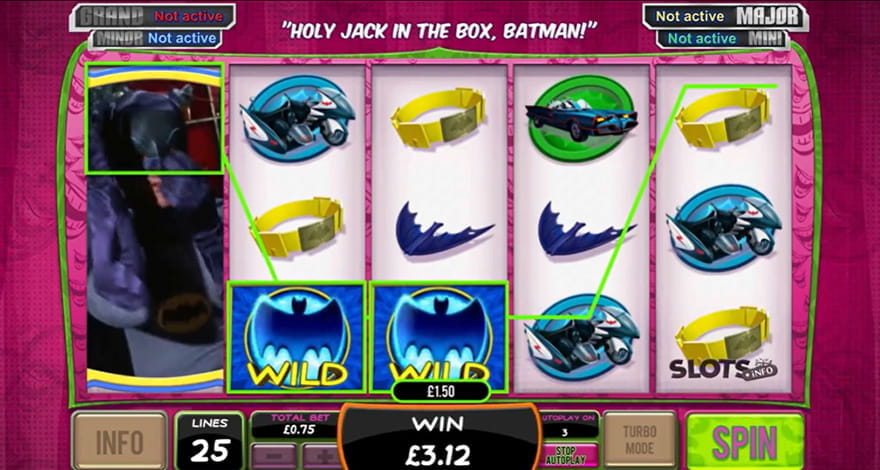 Batman and the Joker Jewels is played on a 5-reels 3-row grid and it has 25 fixed paylines. However, the RTP is average, 95.01%, and the volatility is medium. Playtech added in-game features, such as free spins, multiplier, progressive jackpot and special features. The graphics and background music align with those of the 60s TV show.
4. Jack Hammer 2
The next comics slot in our 2021 list is Jack Hammer 2. NetEnt created a sequel of their hit game with the same name but the storyline is different. Now, Jack must do everything in his power to save the stunning singer Pearl from the cruel gangster Don Crabby.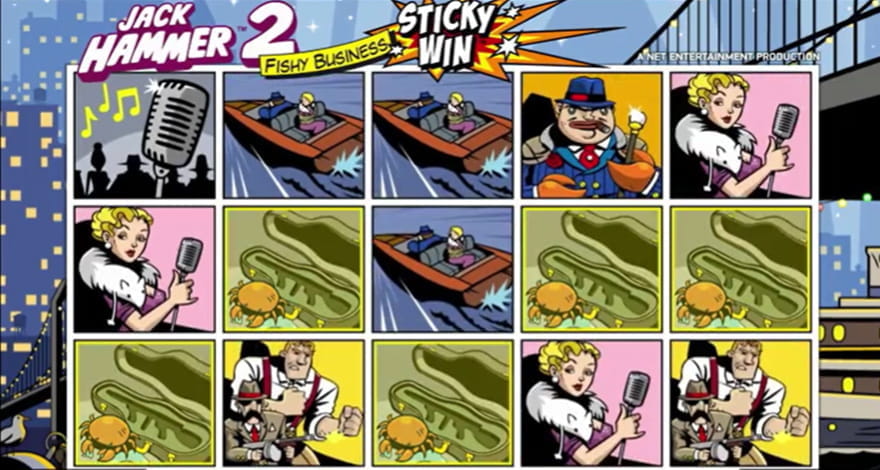 Jack Hammer 2 is played on a 5×3 grid and has 99 fixed paylines, RTP of 97.10% and low variance. When playing this NetEnt slot, you can enjoy a multiplier and two special features – Sticky Wins and Random Wilds. Transport into the 50s with the outstanding pop-art style graphics and authentic sound effects.
5. Green Lantern (by Playtech)
You might have noticed that we have two slots with the same name but by different providers. Well, we ranked Green Lantern slot by Playtech on fifth place in our 2021 chart. As the name suggests, the game is based on the superhero comic book. Embark on an intergalactic adventure and meet Guardian of Oa, Sinestro, Kilowog and Tomar Re.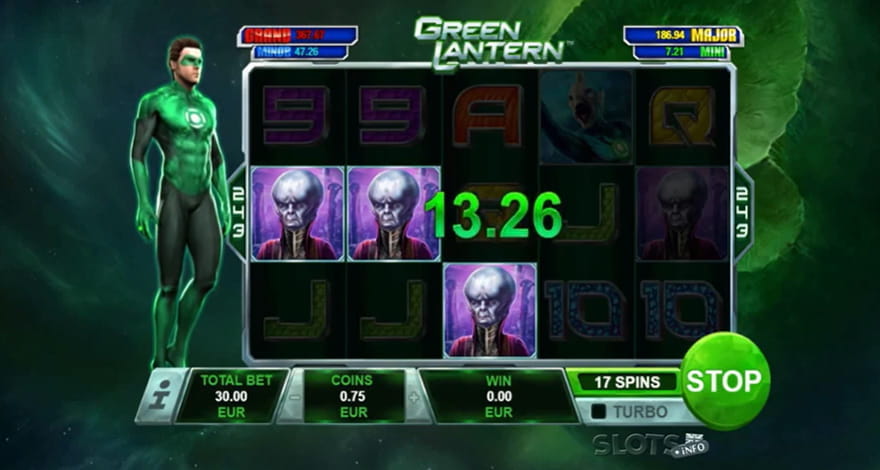 Playtech's Green Lantern slot has a 5×3 playing grid, 243 fixed paylines, RTP of 94.95% and low variance. The game developers added great in-play features, namely Dynamic Multiplier, 10 Free Spins, 3 Mission Games, DC Progressive Jackpot and a Collapsing Feature. The movie-like graphics, animation and soundtrack contribute towards the overall great experience.
6. Jack Hammer
Next is Jack Hammer – a slot inspired by crime-solving detectives and reckless criminals. The world-class software developer NetEnt is behind this comics-themed slot. The game focuses solely on Jack's epic battle against Dr Wüten, who wants to destroy the city.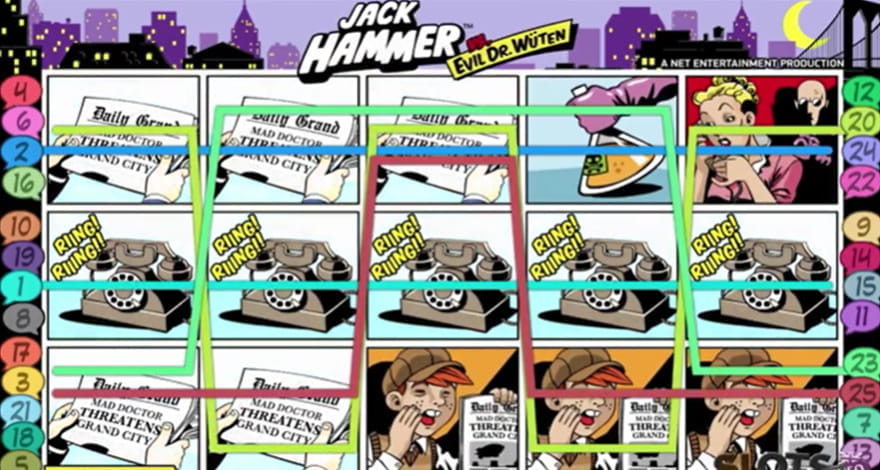 Jack Hammer has 5 reels, 3 rows, 25 fixed paylines, RTP of 97.00% and medium-high variance. NetEnt has chosen to include a multiplier, free spins and the Sticky Win special feature in the game. Playing this slot, you will enjoy the superb graphics and simple sound effects, both of which align with the crime-solving comic book theme.
7. Man of Steel
It's a Bird… It's a Plane… It's Superman! As you might have guessed by now, at lucky number 7, we have Man of Steel, based on the 2013 Marvel movie with the same name. Playing this game, you get a chance to help the Krypton born hero win against the evil General Zod in two epic planet battles.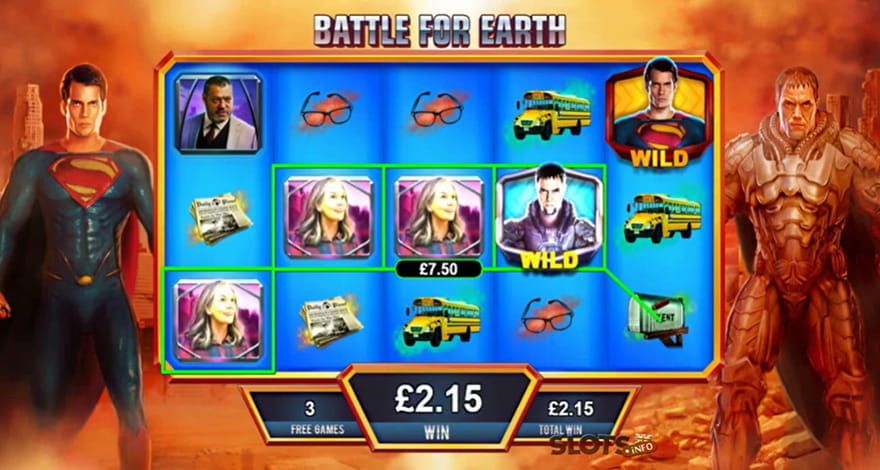 Man of Steel slot is played on a simple 5×3 grid. The game has 25 fixed paylines, RTP of 95.05% and low-medium variance. The in-play features are the DC Super Heroes Jackpot, the World Engine Bonus, free spins, shifting wilds and extra paylines. Considering who developed the slot, it goes without saying that the graphics and sound effects are exceptional.
8. Green Lantern (by NextGen)
Here, we have NextGen's Green Lantern comics slot, which tells the story of the 1940s classic superhero. Despite that there is a newer version of the game, by another provider with better graphics and far more paylines, NextGen's slot still has a very loyal fanbase. Therefore, it made our list today.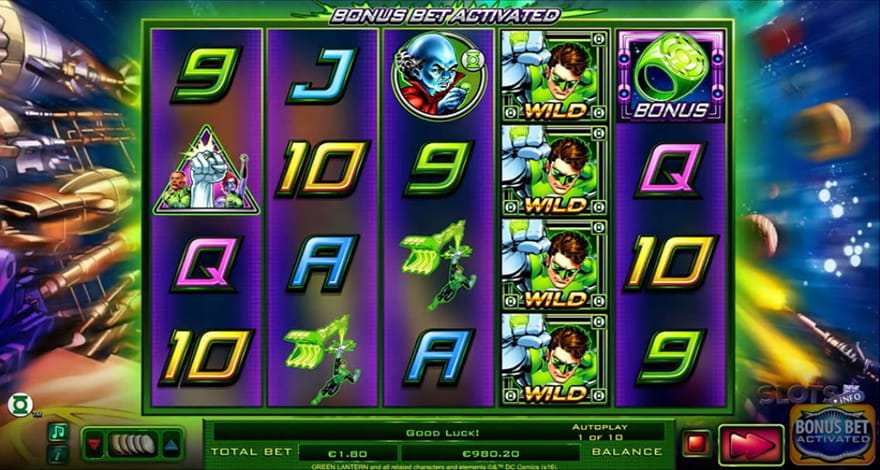 NextGen's Green Lantern is played on 5 reels and 4 rows. The comics slot has 50 fixed paylines, RTP of 95.34% and medium volatility. The software developer built an exciting in-game experience by adding The Ring Feature, 24 free spins and a 4x multiplier. The graphics and animations run smoothly in HD, and the sound effects match the theme perfectly.
9. The Matrix
You might as well have lived under a rock for the last two decades if you have not heard of The Matrix franchise. With each movie premiere, a comic book series with the same storyline and name were released. Fight Agent Smith with Neo and his team, when playing The Matrix by Playtech.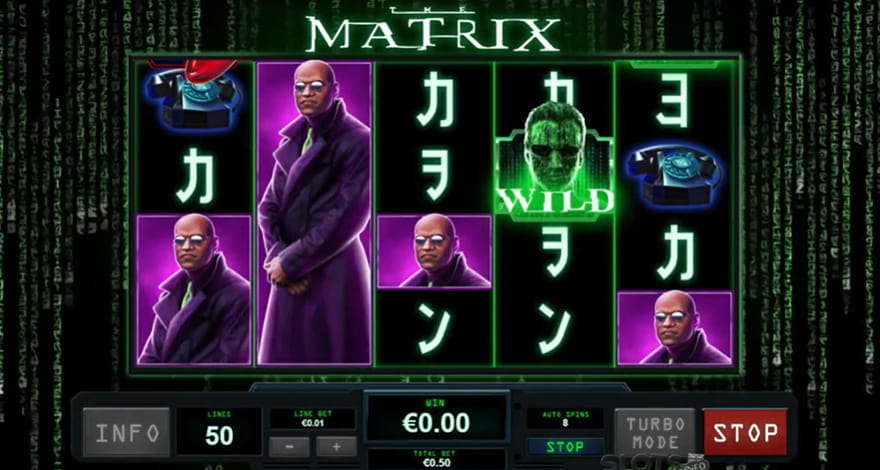 The Matrix slot has 5 reels, 3 rows, 50 fixed paylines, 95.14% RTP and low-medium variance. Players can enjoy 2 free games modes and the special feature, Déjà Vu Shuffle. Playtech did a brilliant job developing the game, and just as you would suspect, the graphics, animations and sound effects are based on those of the movie franchise.
10. Superman 2
This top 10 comics slots 2021 list has come to an end. At #10, we ranked Superman 2 slot, where the famous Kryptonian makes a strong comeback. This Playtech game is based on the 1980s movie and follows the same storyline. So, you get a chance to meet Lois and save the Earth from Zod and his cohorts.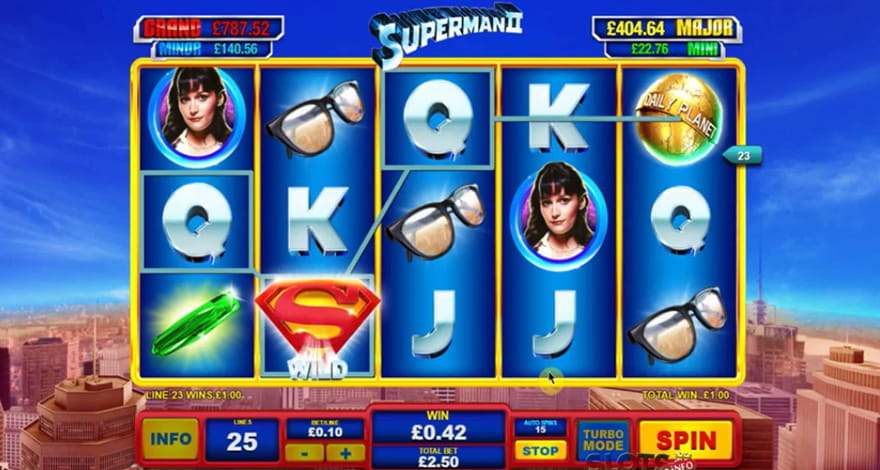 This Playtech's game is played on a 5×3 grid. The Superman 2 slot has 25 fixed paylines, RTP of 95.03% and low-medium volatility. The developer has added great in-game features – DC Super Heroes Jackpot, Unlimited Free Spins, Superman Wild and Increasing Multiplier. Of course, the graphics, animations and sound effects match perfectly with those of the original movie.
Frequently Asked Questions
Hopefully, at the end of this piece, you have made your decision about which game you would play next. However, if you happen to have any unanswered queries, then you are in luck. We have listed below the most asked questions by players and provided the corresponding answers below each one.
🥇 Which is the #1 comics slot for 2021?
After looking closely into each game, we believe that there is only one answer to this question. The top comics slot for 2021 is… drumroll, please… Batman and Catwoman Cash! This game has immersive graphics and sound effects as well as brilliant in-play features.
🔝 What are the top 10 comics slots?
Here, we presented you with the top 10 comics slots for this year from a range of respected software developers. Hellboy and Man of Steel are just a couple of the games that got in our ranking, check out the rest in the table at the beginning of this post.
🦸‍♂️ Which is the best Green Lantern slot?
In this post, we decided to include two slot adaptations of Green Lantern. You might have noticed that one ranks higher than the other. In our opinion, Green Lantern by Playtech is the better option due to the superior graphics and in-game features. However, NextGen's version is not one to miss out!
👨‍💼 Which are the top Superman comics slots for 2021?
The first name that comes to mind when you hear DC Universe is likely to be Superman. No wonder, there are a number of slots based on this character. The top one on our 2021 chart is Man of Steel. However, if you are after a classic version, then check out Superman 2, based on the 80s movie.